Surfing the web is not always the safest activity out there. Violent content or mature websites make the virtual space a risky place for juniors. But that's where a kids-safe search engine comes in.
Firstly, you should make an informed decision regarding the best privacy-focused browsers for adults. Now that that's out of the way, you can find safe kid-friendly search engines, specifically created for them.
When it comes to children, there are filtering options such as Google SafeSearch that can block sensitive content for the youngest ones. Yet, it doesn't offer full shielding against aggressive web content as it's not 100% accurate.
If that's not helpful, you can always rely on safe kid-friendly search engines that can automatically erase undesirable content for juniors. More so, there is desktop monitoring software that you can use to track kids' activity online.
What do kids search the most on the Internet?
According to statistical reports, children search for information regarding video game reviews on YouTube, cartoons, or online vlogs from various content creators the most.
Besides that, kids also look for trending music, famous games, or popular toys they would like to get. But that does not necessarily mean they are sheltered against inappropriate content coming their way at full speed.
So, here's the big question: is there a SafeSearch engine for kids? The answer is certainly positive and here are our top picks:
Kiddle – Best kid-safe search engine
KidzSearch – Child-safe Internet search engine
Fact Monster – The most educational safe search engine
DuckDuckGo – Greatest privacy filters for kids
Kidtopia – Designed for elementary students
You can use multiple search engines developed for kids. But can parents turn on SafeSearch? Indeed they can. We believe that every parent should be able to activate SafeSearch from the browser settings.
The good news is that there are efficient browsers with parental controls that come in handy for most homes.
👉 We recommend Opera, a one-of-a-kind browser that delivers parental control features and improved security for the ultimate safety net of kids.
What are the best search engines for kids?
1. Kiddle – Most used by kids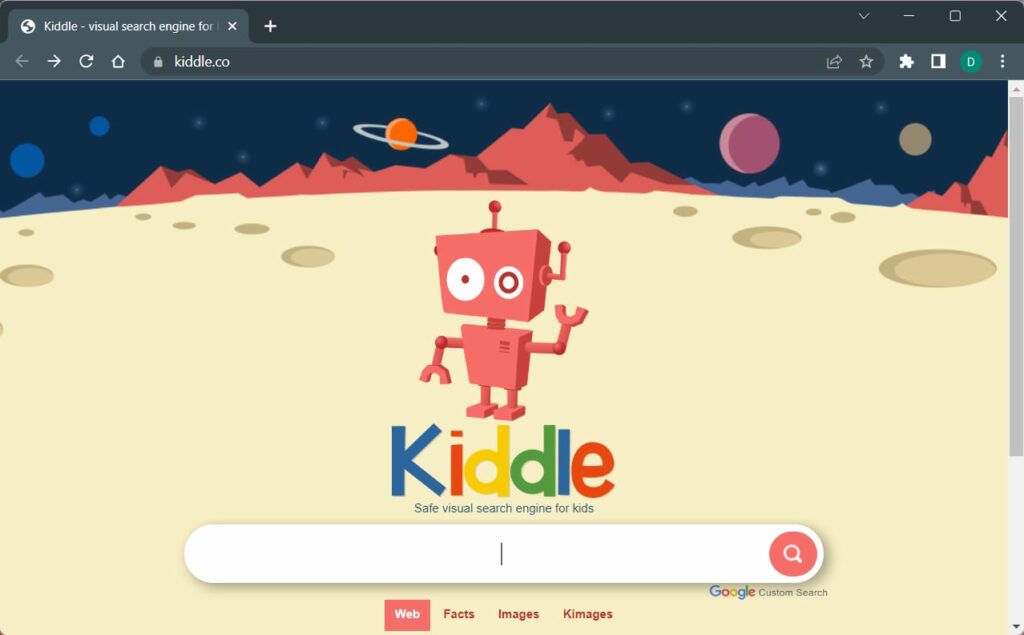 Topping our list, this search engine designed for children comes with results suited for kids navigating online.
Namely, there are filtered search results by Google SafeSearch or verified by the editors and classified on the search results according to the complexity and level of reading.
⭐ Is Kiddle owned by Google?
No, this search engine is not owned by Google LLC or affiliated with the company. It was mistaken with the famous search engine, but it's only powered by Google SafeSearch.
2. KidzSearch – Enhanced by Google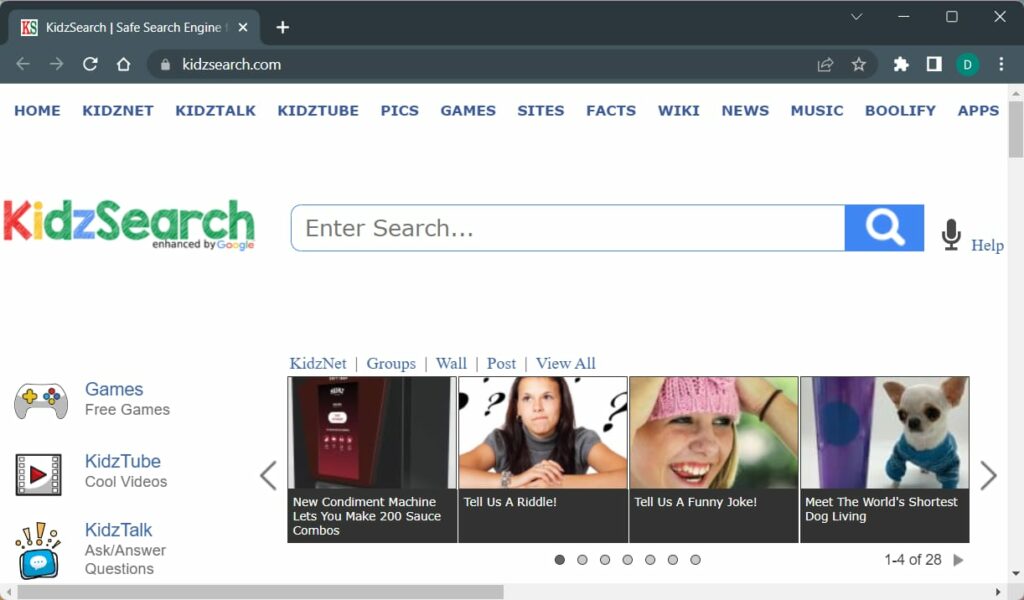 The next kid-friendly search engine is KidzSearch and it breaks sensitive content with advanced filtering tools powered by Google.
First, you have enhanced privacy and a multi-stage search process that ensures precise results with educational-oriented information.
🧸 Is there a kid-safe version of Google?
There is no evidence of a dedicated search engine developed by Google for kids. However, most of the engines here are enhanced by Google and offer filtered results from the giant company.
As we all know, it's possible to go Incognito and browse the web on Google privately without any history traces. Even more, anyone can learn to hide Incognito bookmarks in Chrome and erase web evidence.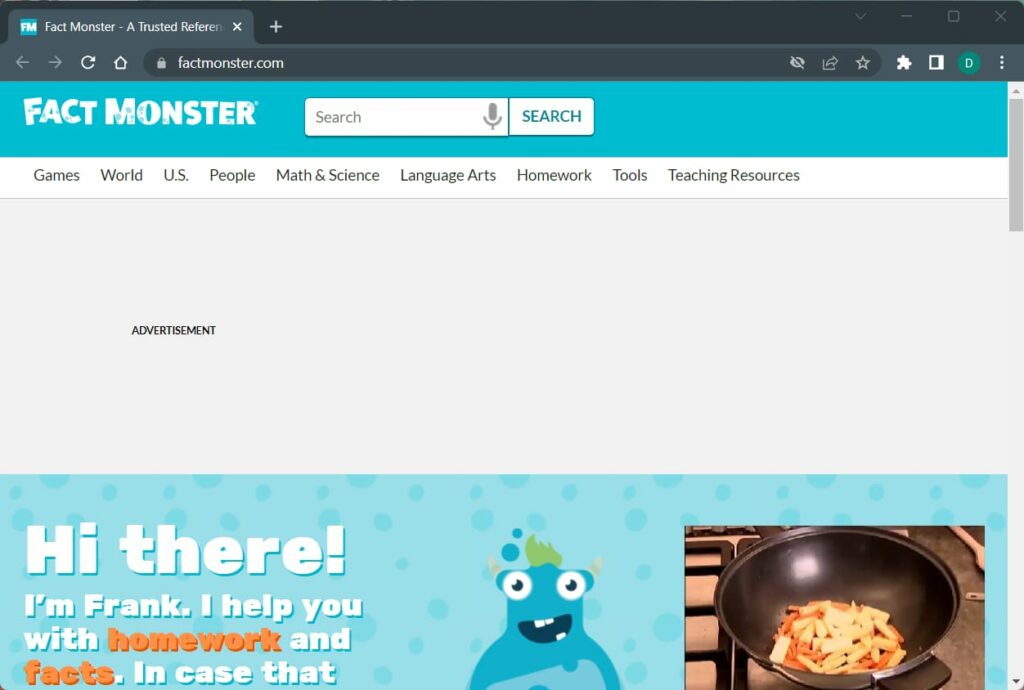 This long-lasting search engine is out there for twenty years and it puts one aspect before everything: education.
With this solution, the kids have an insightful resource about educational topics and can search for anything without reaching inappropriate content of any kind.
It includes big thumbnail results, suitable fonts for improved readability, and quizzes for learning practically.
4. DuckDuckGo – Safe kid-friendly search engine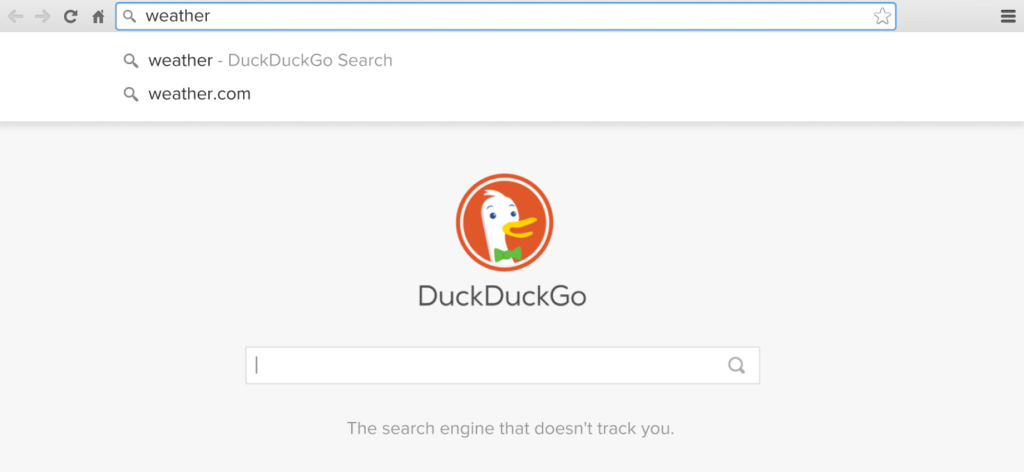 DuckDuckGo is among the safest browsers and search engines that exist on the Internet. Even though it's not designed specifically for kids, you can keep it confidently for little curious minds.
The search engine is built with the latest privacy search tools and content filters, anti-tracking scripts, and secure encryption to keep dangerous websites away from your kid.
In addition to this, we highly suggest looking for extremely private browsers to find the most suitable one for kids' screen time.
5. Kidtopia – Designed for students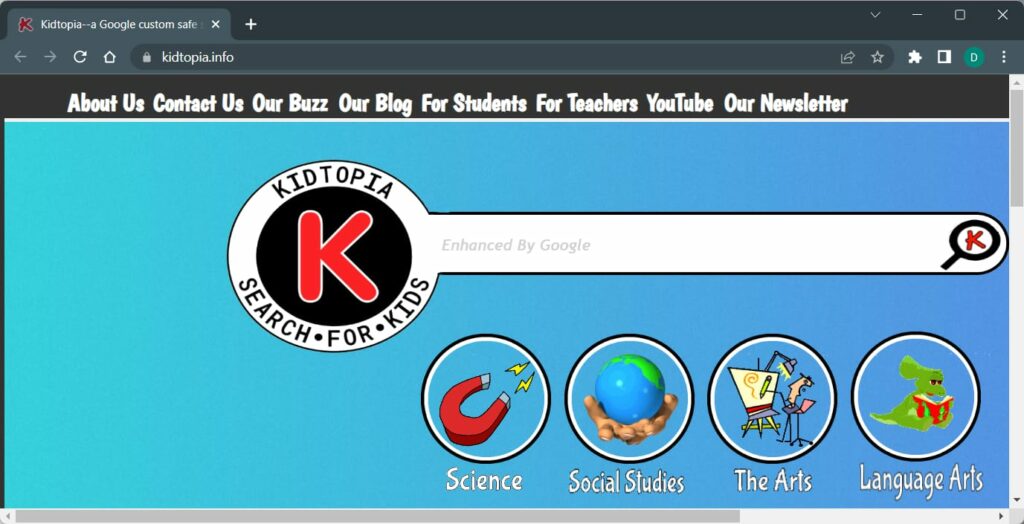 This innovative search engine is mainly created by librarians to support both teachers and children to collaborate and learn.
So, the platform includes various educational subjects you can choose from, whether it's social sciences, science, or language studies.
In other words, this web directory contains Google custom search results that are age-appropriate and verified by teachers and librarians.
All being said, we encourage you to try these pure search engines from this list and tell us your experience with each of them.