Nowadays, you can do almost everything online and there are even web apps for desktop monitoring that can be accessed from everywhere in the world.
By just opening a website on a browser you can access a whole application and that eliminates any risk of losing any data.
Desktop monitoring software is designed to keep track of all that happens on endpoint computers and it's usually set up on enterprise networks.
Why do I need a desktop monitoring app?
These kinds of apps have the role of supervising operations performed by the users and reporting back any significant changes.
Of course, the reports can include a whole set of data based on your requirements, from what apps and websites the user used to tracking the time they've spent on certain applications.
Therefore, desktop monitoring apps have a wide array of usage purposes, but mostly surveilling the work of the user on the business device.
What are the best desktop monitoring web apps?
1. ActivTrack – Perfect for employee monitoring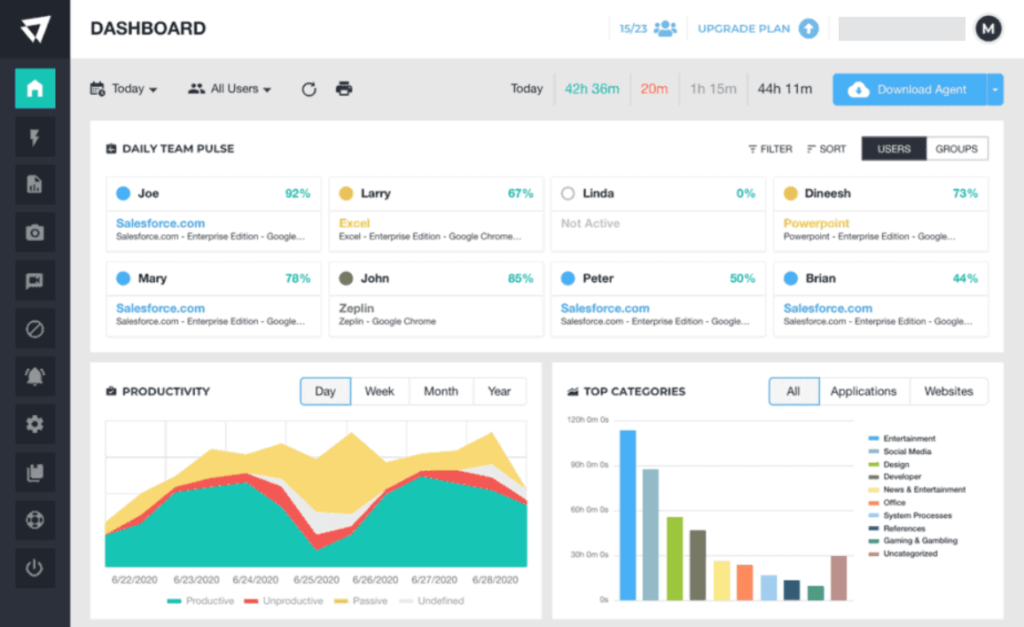 ActivTrak is certainly one of the top apps for endpoint monitoring and surveillance with key features for productivity assessment.
The tool supervises the employees' computers and offers a lot of detailed real-time reports based on the administrator's requirements.
Among the features, ActivTrack will allow you to take screenshots of the monitored devices. However, the software keeps your private information safe.
It provides full information about the application and system usage and the complete online activity.
The web-based interface of ActivTrak is very friendly and can be accessed on any browser, whether you're on a mobile device or a desktop.
It's also straightforward to install, and all the data will be stored securely on Amazon Cloud.
Here are the key features of ActivTrack:
Protect systems and networks by restricting the access to malicious or unsavory websites
Completely monitors the employees' activity
Records statistics on how and when applications are used
Generates charts visualizing the time that was spent on various apps
Can be installed remotely by using ActiveDirectory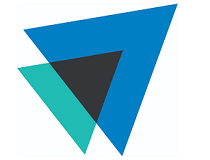 ActivTrak
This smart web app will track all the user activity including the applications usage and online browsing.
2. Time Doctor – Great for time monitoring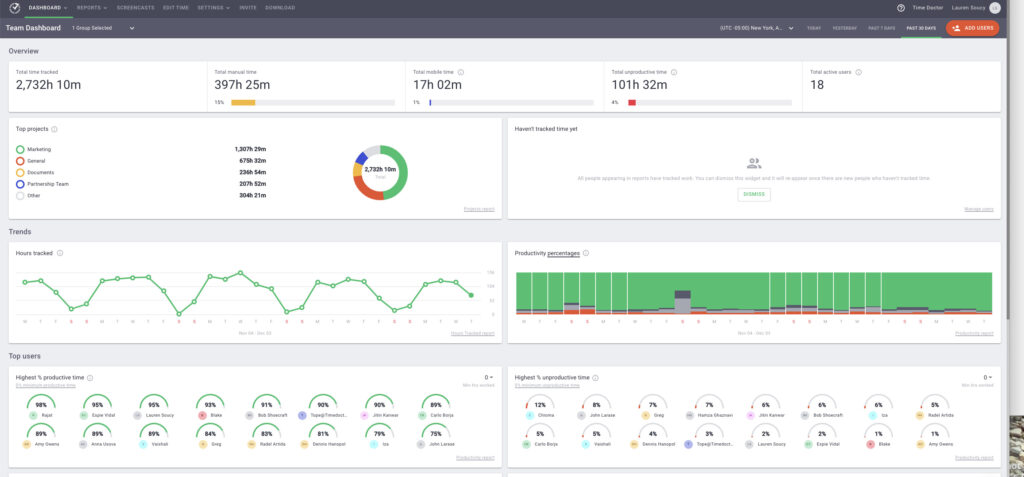 If you have employees from all over the world and you want to monitor the time they spend on a project, Time Doctor is ideal.
This tool offers complex time-tracking features that can be used both on PC and mobile devices.
However, the dashboard is a cloud-based web app so the administrator can supervise the activity from any browser wherever he is.
Time Doctor is fully interactive because after you create a task, the employee presses an on/off button to start the activity, and thus it automatically begins recording the time spent on that task.
After the user connects to the business workspace, the monitoring starts automatically, without any need for intervention.
In the end, the solution provides reports for all your projects and the total time spent on them.
Other key features of this web app include:
Distraction Alerts for excessive use of social media or other unproductive apps/websites
Provides automated screenshots of user's activity
Offline time-tracking
Private & Secure sessions with SSL encryption & customizable user permissions
Project management features
Integrates popular employee apps like Trello, GitHub, Asana, Basecamp, Slack, QuickBooks, and more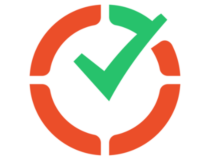 Time Doctor
Keep your business tasks and projects completely supervised with a great time tracking app.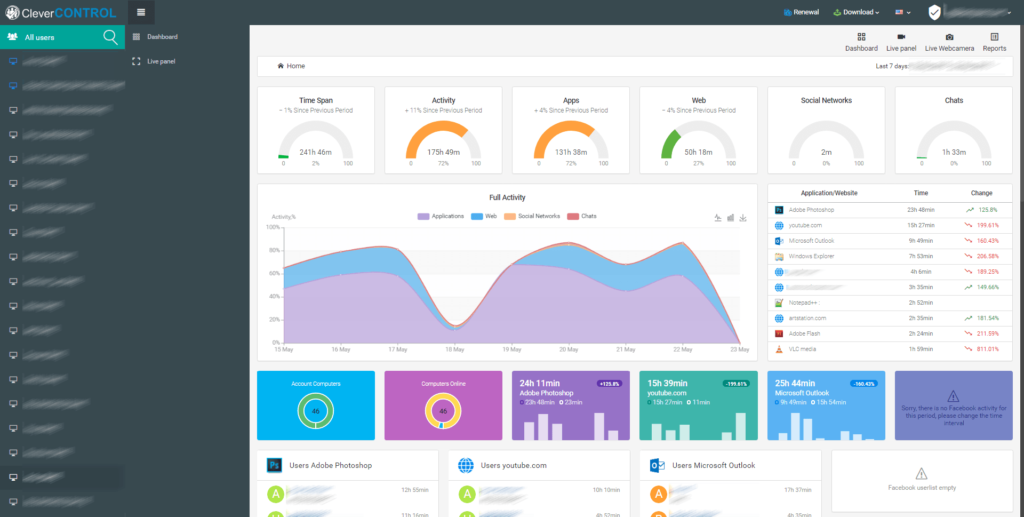 If you need a tool to control your endpoints with just a secure web account, CleverControl Employee Monitoring might be the right choice.
You can use it for employee monitoring purposes but it can also serve as a great parental control tool.
The solution records all computer activity and sends the data straight to your online dashboard for analyzing and reporting.
PC control also includes blocking websites or just filter certain keywords and prevent them from being used.
The admin will be able to monitor all URLs from the devices anyway so you will see exactly what websites the user accessed.
Let's review some of its best features:
Full control of all the employees' devices
Web-based cloud dashboard accessible from any device
Set keyword filtering and block websites
Monitor and filter websites visited by the users
Easy to implement and use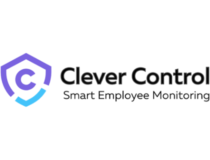 CleverControl Employee Monitoring
Control endpoints remotely and monitor all their activity from a web-based dashboard seamlessly.
4. DeskTime – Great for billing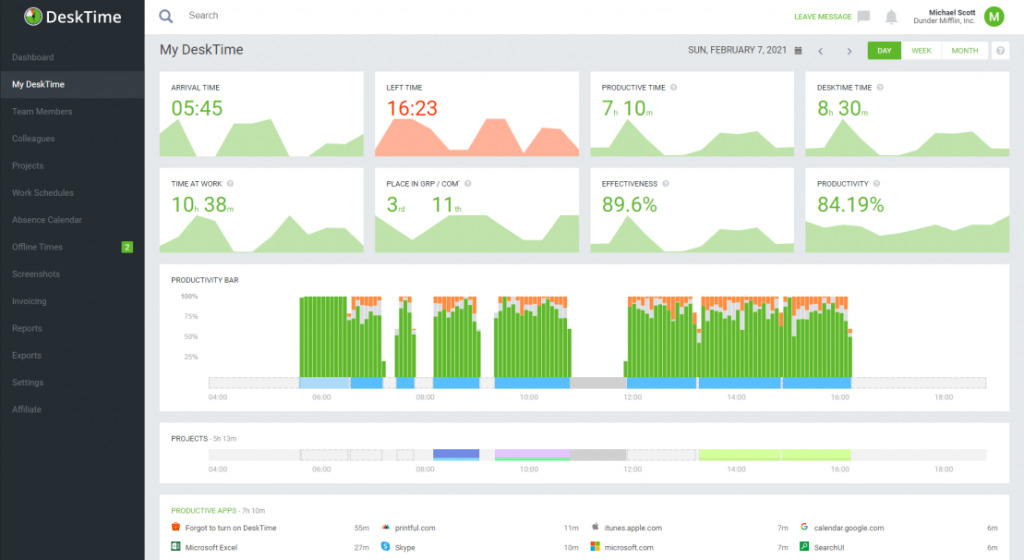 DeskTime is basically a time tracking app with online dashboard capability that will help you raise the efficiency of your employees.
This solution is capable to monitor all the daily activity of the users, wherever they are in the world.
It can monitor app and browser usage, keep a record of the offline time and access detailed data regarding the behaviour of your employees.
The tool offers your auto screenshots and activity rate trackers that will help you assess the time spent on certain projects or tasks.
Check out its best features below:
Accessible from mobile and desktop platforms
Track apps, URLs, and offline time
Automatic screenshots and activity rate trackers
Monitor the daily activity, sick leaves, overtime work, and vacations of your employees
In-depth insights and reports for billing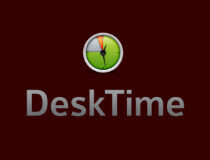 DeskTime
Monitor all daily activities of your employees and get all the reports necessary for billing.
5. Teramind – Great for behavior monitoring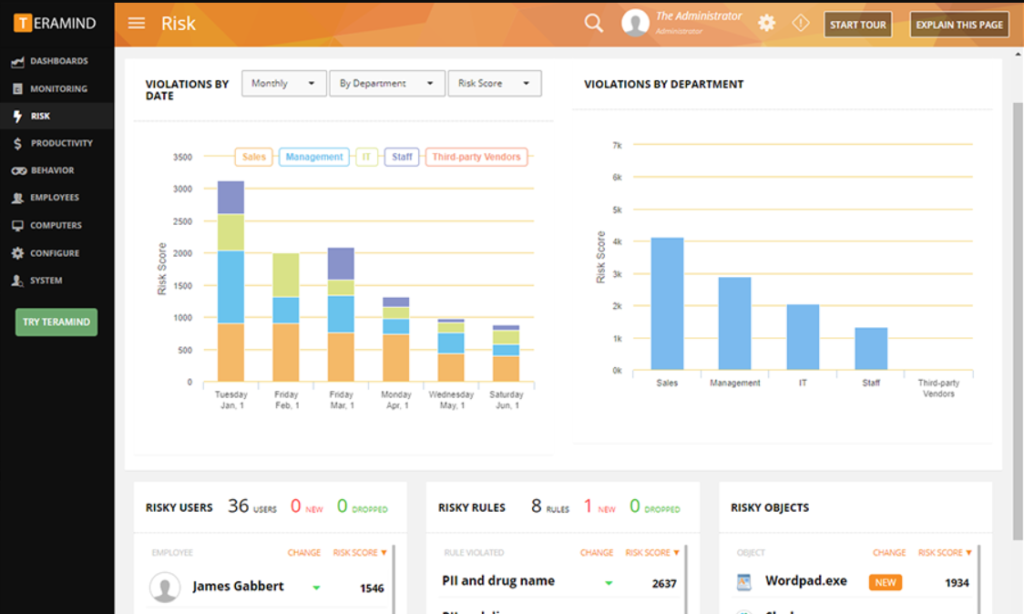 The whole idea behind Teramind is to reduce security incidents and data leakage and thus secure your business.
This solution comes with both cloud-based dashbord and on-premise installation options to comply with any organization's requirements.
Teramind monitors employees' activity to identify possible risks to your business and analyze the behavior of the users.
With this tool, you can also impose restrictions and rules for any apps and online navigation activities connected to the business activity.
Teramind also records and provides logs for all activity, to analyze sessions metadata and take action.
Take a look at its best features:
Cloud-based dashboard and on premise installation options
Full or part time options for control
Customize alerts and monitoring settings to tailor the platform to your needs
Access all features from the software's platform
Enhance both security and productivity
Here we conclude our list of the best desktop monitoring web apps and we hope you found the best one for you and your business.
As you might have noticed, all these solutions come with a cloud-based dashboard so they can be accessed from virtually any browser.
Thus, your administrator can provide monitoring reports from any corner of the world where they have Internet access.
And while we are on the business and communication side, take a look at the best browsers to use with Zoom.
If you have allready used any of the tools above, tell us all about your experience in the comments section below.