How to Fix Return YouTube Dislike Not Working [2023 Updated]
4 min. read
Updated May 18th, 2023
Published May 18th, 2023
---
Readers help support BrowserHelp. When you make a purchase using links on our site, we may earn an affiliate commission.
Read the affiliate disclosure page to find out how can you help BrowserHelp effortlessly and without spending any money. Read more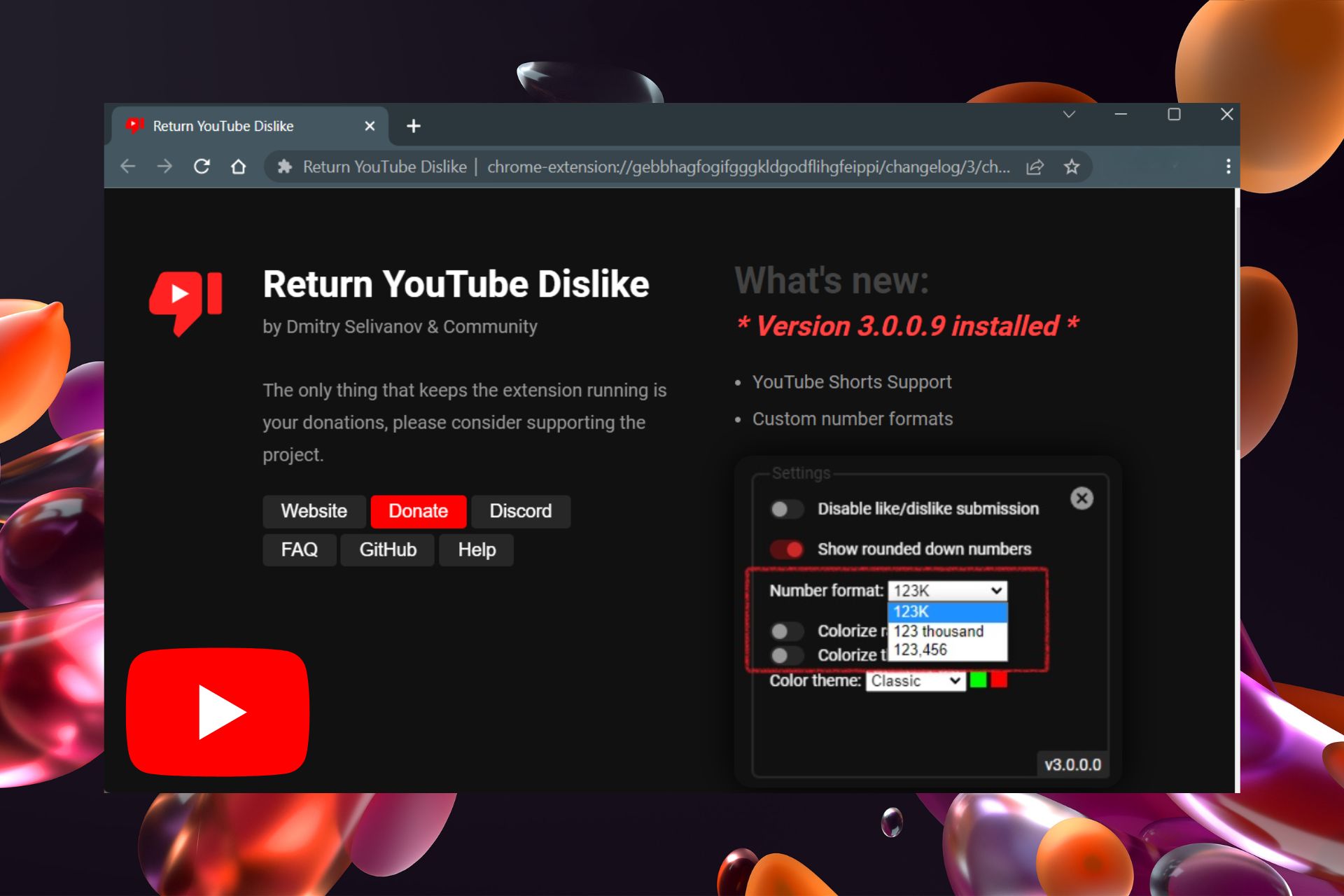 For some time now, YouTube removed the Dislike button and changed its UI in order to secure content creators from dislike counts.
As you may know, not every user was happy with this decision and they required the return of the dislike button. The officials from YouTube communicated that the Dislike button will remain suspended from their API and it won't be brought back even with browser add-ons.
However, there is a browser extension whose purpose is to activate the YouTube dislike button for anyone to use today. The issue is that Return YouTube Dislike is not working on multiple browsers. So, how does it work?
🎯 How does Return YouTube Dislike work?
In a simple manner, the extension YouTube Dislike works due to its algorithms that activate YouTube API data to collect information about people that pressed the button on the video-sharing platform.
🦺 Is Return Youtube Dislike safe?
Generally, this YouTube extension is indeed safe because it uses its API to make the dislike button appear again.
So, you don't have to worry about viruses or unwanted software if you're using the extension on your browser.
Why is Return YouTube Dislike not working?
There can be many culprits behind the Return YouTube Dislike not working issue, such as:
Corrupted browser files
The extension is outdated

Conflicting extensions on your browsers

Browser update issues
You can face issues with this browser extension due to any of these factors, so start by verifying them to fix it. Otherwise, if you need to bring back the YouTube Dislike button effortlessly, using Opera is the right move.
Besides its reliable navigation tools and enhanced privacy, you can put its extensive add-on library to good use and pick a dedicated extension to bring back Dislikes in YouTube in no time.
How do I enable YouTube dislikes again?
1. Check if the extension is turned on
The easiest way to fix the problem is by turning on the extension in case it's disabled in your browser. This is how to do it and get the YouTube Dislike extension on Firefox and Chrome as well.
1.1 Return YouTube Dislike in Firefox:
On the browser homepage, click on the puzzle icon.

Go to the Extensions tab.
If the extension is added, it will appear there.
Enable the extension in case it's turned off.

1.2 Return YouTube Dislike in Google Chrome:
Open the browser and click on the three dots.
Select More Tools and click on Extensions.

In this window, make sure the YouTube Dislike is on.

Close the window and check the platform again.
2. Verify the Internet connection
Go to Settings and select Network & Internet.
Search for Network troubleshooter in the search bar.
On Other troubleshooters, choose Internet Connection and click on Run.

Follow the steps and see the diagnostic for your Internet.
3. Make sure the browser is updated
Open your browser and go to Settings. (e.g Chrome)
Scroll down to the bottom and select About Chrome.

In this pane, you can choose to update the browser.
Afterward, relaunch the browser to finish.
In addition, you could try this method to repair YouTube keeps buffering in Chrome as well, as it may be a cause for buffering videos on the platform.
Then again, we advise you to apply this method to other browsers. For instance, you can quickly fix various YouTube bugs on Firefox at the same time.
4. Erase the browser cache & cookies
Start on the Settings page and click on Privacy and Security tab.

Select the Clear browsing data option.
On Basic, select the time range you want to use. (ex. 4 weeks)
Check the Cache images and files and cookies boxes.

Press the Clear data button and you're done.
Applying this method can solve the issue because it removes browsing data that may interfere and block the YouTube dislike extension, so it is worth a try. Also, that may help you solve other issues like Chrome sound being too low on YouTube.
🎯 Will YouTube bring back the Dislike button?
There is not a definitive answer to this point, yet the YouTube board announced the decision will not be changed soon.
Regardless, the opinions are divided as the YouTube CEO agrees with the removal of the dislike button, while the co-founder declared it was a poor decision.
In the end, we hope that you solved the issue by now and it's possible to see the dislike button again on YouTube.
Do you have other suggestions or need additional help on this topic? Feel free to comment below and we'll provide more useful advice.