McAfee is one of the most popular antivirus software brands in the world. It is one of the few antivirus companies offering security software for Windows and Mac computers.
However, some users have reported that McAfee sometimes changes the default search engine to Yahoo. You may also experience the same issue where the Safari search engine keeps changing to Yahoo.
This can be pretty annoying, especially if you are used to another search engine and get results you don't desire.
Why did McAfee change my search engine to Yahoo?
WebAdvisor provides antivirus protection while browsing the web, but it also installs itself as your default homepage and search engine unless you uninstall it or change your settings manually.
This is not a coincidence or a problem with the browser itself but an intentional change made by McAfee. To change your default search engine back to Google or another provider, you need to adjust it manually.
Sometimes, McAfee changes your default search engine because of a virus infection on your computer. This can happen if you have downloaded any malicious software or visited some websites which contain viruses.
This might get you thinking: Is McAfee's secure search any good? McAfee safe search is a browser extension that helps you search for information on the web without having to worry about finding malicious content or getting scammed.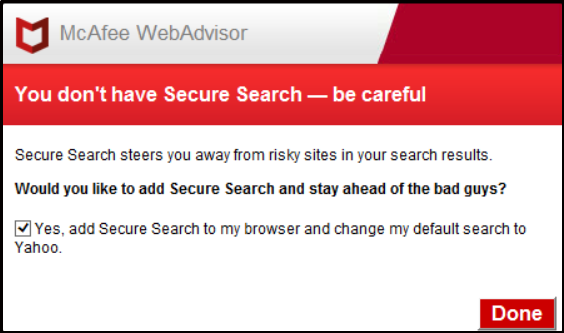 It does a pretty good job at protecting users from malicious sites, phishing attacks, and other threats found on the web so that you can count on it.
How do I stop McAfee from changing my default search engine?
1. Turn off McAfee safe search
Navigate to your browser (in this case, Chrome).
Click on the three vertical ellipses on the top right corner, select More tools and click on Extensions.
Find McAfee WebAdvisor and toggle off the disable button.
Remember, when you turn it off, you may get the McAfee secure search is off – be careful message which warns you that your system may be at risk. This is because it won't be able to detect any malicious sites.
2. Uninstall McAfee WebAdvisor
To make sure no trace of this app is left on your PC, use CCleaner to scan your registry. It has a dedicated category for apps and displays a full list of all entries found. Select all the entries related to the WebAdvisor and remove them.
3. Reset your browser to default settings
Navigate to your browser (in this case, Chrome).
Click on the three vertical ellipses on the top right corner and select Settings.
Select Advanced, then click on Reset and clean up.
Hopefully, you have successfully changed to your preferred search engine using one or more of the above solutions.
If the problem is more persistent on your PC, we have a dedicated guide on what to do when your browser keeps switching to Yahoo.
Let us know what solution worked for you in the comments section below.