How to Stop McAfee from Changing Search Engine to Yahoo & More
4 min. read
Updated May 11th, 2023
Published May 10th, 2023
---
Readers help support BrowserHelp. When you make a purchase using links on our site, we may earn an affiliate commission.
Read the affiliate disclosure page to find out how can you help BrowserHelp effortlessly and without spending any money. Read more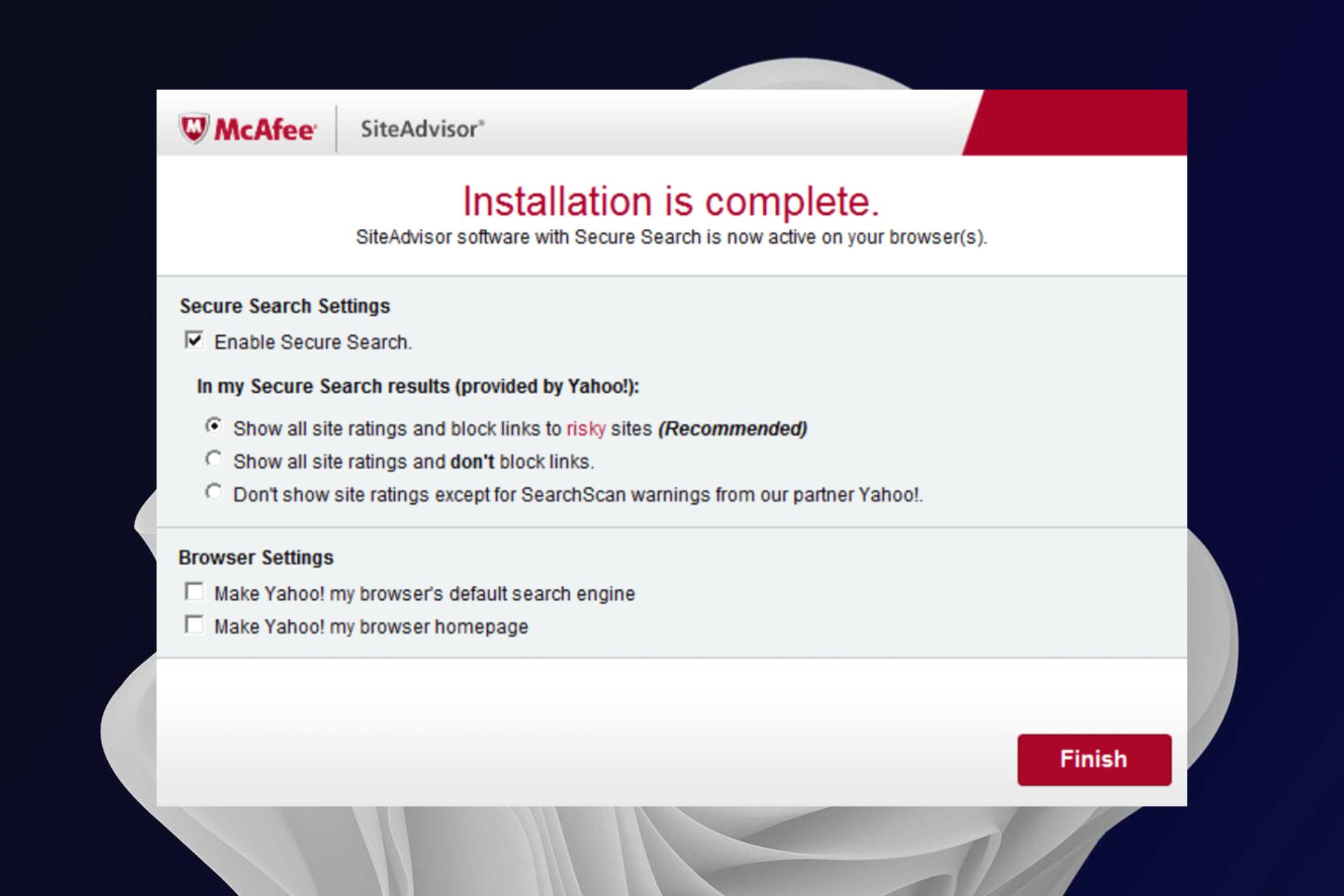 McAfee is one of the most popular antivirus software brands in the world. However, it's not error-free. For instance, numerous users point to specific anomalies in its behavior such as McAfee changing the search engine to Yahoo, or sometimes other options.
That's far from being unheard of. For instance, you may have experienced the same issue where the Safari search engine keeps changing to Yahoo.
This can be pretty annoying, especially if you are used to another search engine and get results you don't desire. But why does McAfee change the search engine all of a sudden?
Why is McAfee changing my search engine?
↪️ WebAdvisor provides antivirus protection while browsing the web, but it also installs itself as your default homepage and search engine unless you uninstall it or change your settings manually.
This is not a coincidence or a problem with the browser itself but an intentional change made by McAfee. To change your default search engine back to Google or another provider, you need to adjust it manually.
🎯 While we're at it, we recommend you give Opera browser a try. It's secure and private, plus it allows you to customize its homepage with the desired search engine, no questions asked.
↪️ Sometimes, McAfee changes your default search engine because of a virus infection on your computer. This can happen if you have downloaded any malicious software or visited some websites which contain viruses.
So, is McAfee's secure search any good? McAfee safe search is a browser extension that helps you search for information on the web without having to worry about malicious content or being scammed. 
It does a pretty good job at protecting users from malicious sites, phishing attacks, and other threats found on the web so that you can count on it.
How do I stop McAfee from changing my default search engine?
1. How do I turn off McAfee secure search?
Navigate to your browser (in this case, Chrome).
Click on the three vertical ellipses in the top right corner, select More tools, and click on Extensions.
Find McAfee WebAdvisor and toggle off the disable button.
Remember, when you turn it off, you may get the McAfee secure search is off – be careful message which warns you that your system may be at risk.
This is because it won't be able to detect any malicious sites. However, you should be fine as long as you activate other protective means.
2. Uninstall McAfee WebAdvisor
To make sure no trace of this app is left on your PC, use CCleaner to scan your registry. It has a dedicated category for apps and displays a full list of all entries found.
Select all the entries related to the WebAdvisor and remove them. That's another straightforward method to try if you want to know how to stop McAfee from changing search engines.
3. Reset your browser to default settings
Navigate to your browser (in this case, Chrome).
Click on the three vertical ellipses in the top right corner and select Settings.
Hopefully, you have successfully changed to your preferred search engine using one or more of the above solutions.
If the problem is more persistent on your PC, we have a dedicated guide on what to do when your browser keeps switching to Yahoo.
Let us know what solution worked for you in the comments section below.