If you didn't know, Starlink is a fascinating internet service owned and operated by SpaceX. It provides internet access to 32 countries across the world on four continents.
SpaceX does this by having thousands of low orbiting satellites as a constellation above the Earth. The internet provided via Starlink is a low-latency and high bandwidth service. It's pretty impressive what the company managed to do in a few short years.
Companies are trying to do the same thing, such as Viasat and HughesNet, launching many low-hanging satellites. But Starlink has a decent headstart above them.
In early February, founder Elon Musk revealed a new premium internet service with an expected top speed of 500 Mbps. Things continue to look up for Starlink as the EU invested 6 billion euros into the company.
Expect to see Starlink pop everyone in the coming years. The company is hard at rolling the service out worldwide, starting with more rural areas first.
Right now, you can purchase a connection for a residential house, a business, or an RV. However, be aware that the service is relatively expensive because you'll have to buy the dish and pay a monthly subscription.
Be prepared to pay several hundred dollars upfront. But once you do, you'll get access to some pretty fast internet.
Where can I get Starlink internet?
Starlink rolls out first to rural areas and countries with either poor connections or that are small. Large portions of the European Union have access to Starlink internet and large areas of the United States.
But in the United States, a large portion of it still doesn't have access to Starlink. For example, the Appalachian mountains don't have Starlink or some of the biggest cities.
For example, Los Angeles and New York, the two largest American cities, won't get Starlink internet until 2023. You can check out Starlink's global map to see which countries do or eventually will get Starlink internet.
You even see countries that will probably never get Starlink internet. So those countries are greyed out, while the countries with Starlink are light blue.
The reason why those countries will never get Starlink internet is probably due to global politics. Unfortunately, Russia is one of those countries, and they're currently involved in an unpopular conflict.
China and North Korea are on that list due to other political problems. However, Cuba and Venezuela are on there, although they're not currently involved in any wars or closed off as others.
Regardless of political standing, below is a brief list of the countries and regions slated to get Starlink over the coming year.
Q2 2022
Q3 2022
Q4 2022
2023
Countries
Columbia
Ecuador
Panama
The entire continent of Africa
Dominican
Republic
Peru
Paraguay
Central America
Albania
Bahamas
Argentina
Brazil
Jamaica
Bolivia
Peru
Uruguay
Serbia
Greenland
Japan
Scandinavia
Southeast Asia
South Korea
Saudi Arabia
Kazakhstan
Turkey
As you can see, most of the world is slated to get Starlink connectivity sometime in 2023. This list doesn't list every country out there, but it gives you a pretty good general idea of where things are going.
Some notable countries that weren't listed include Australia, Chile, and Canada. They don't have 100 percent Starlink coverage but will see expansion during 2023.
Starlink speed test: device vs. router
Testing the speed between your device and a Starlink router is tricky because you need to access Starlink's internet and purchase the equipment. One, the equipment is costly.
It's almost $1000 for the whole thing. This guide is being written in a place where there is no Starlink access. The company hasn't brought its service everywhere across the United States.
Fortunately, the YouTube channel All Media Services has provided a sample of what people can expect from Starlink and its internet speeds. However, don't look at this data as definitive and the standard for Starlink.
It's only a sample of what Starlink can do. All Media Service has a video and a post on the Starlink Community Forums detailing their experience with the service. It's recommended that you check out both to get the complete picture.
The speeds are discovered by using the Starlink app, and there are three tests it conducts. Test one checks the connection speed between a device and router, which obstacles can influence.
Test two checks the speed from the router to the satellites in orbit, providing you with the internet. Finally, test three shows you the bandwidth limit of your connection; think of it as the possible full potential of your relationship.
Don't think this is how fast your internet is because that's not what the test tells you. Just how fast you can go. Before showing the results, it's important to point out that All Media Services did two types of tests.
One was done with a 2.4 GHz Wi-Fi connection and the one with a 5 GHz. The 2.4 GHz is slower than the 5 GHz but has a farther reach. 5Ghz has a strong signal up close but can be quickly interrupted.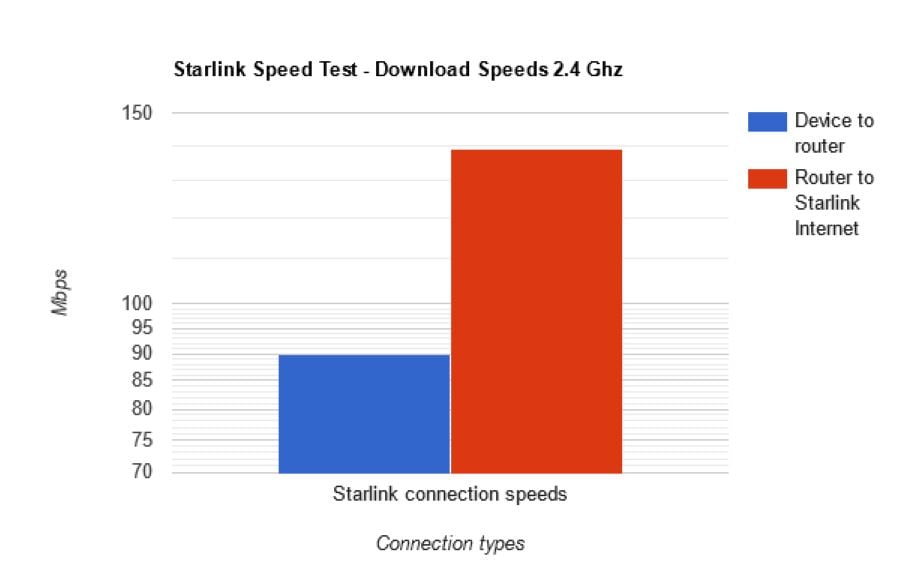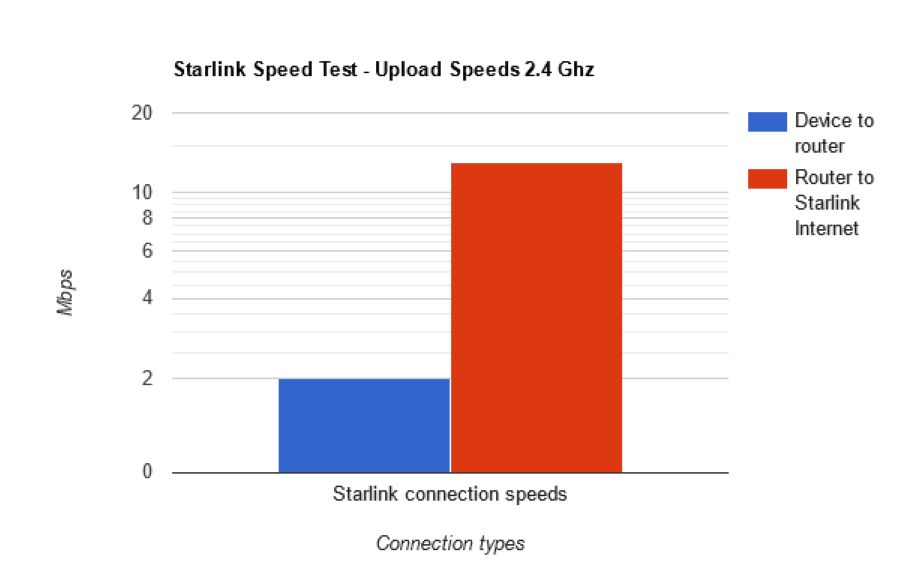 This first graph is done under the 2.GHz Wi-Fi and ignores the third test; it's irrelevant. As you can see, the connection between the device and router has an average of 90 Mbps. From the dish to the satellite, it's 139 Mbps.
According to All Media Service, this is a little slower than expected, but they mention seeing results over 100 Mbps. They also remind people that Starlink satellites are constantly moving and switching.
This can result in varying levels of connectivity. Under the 5 GHz network, things got a little bit better for the device to router test.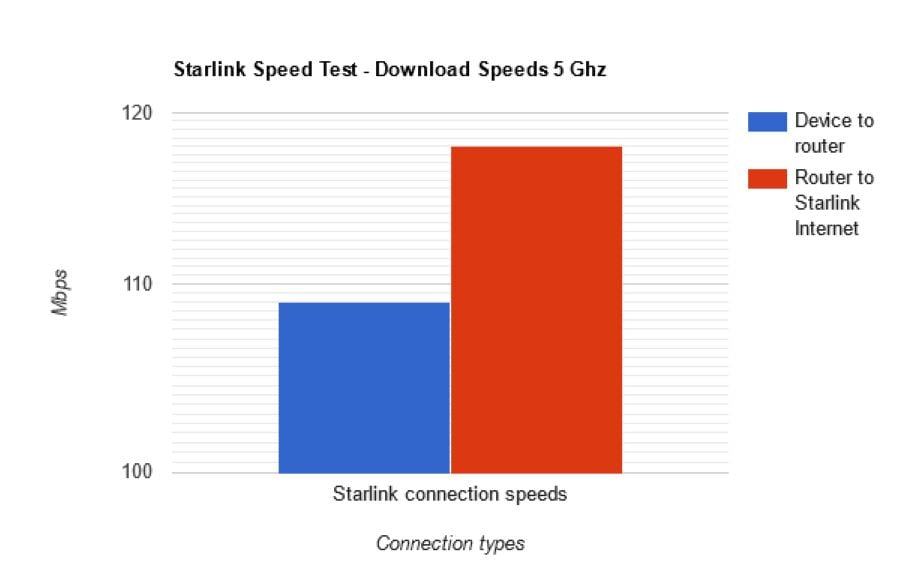 The test shows that the device to router connection got a bit better with a faster Wi-Fi connection. On the other hand, the router to the satellite connection got worse than before. But, again, these satellites are moving and quickly interrupted.
Don't obsess over these numbers too much. These are simply examples of what Starlink is capable of using two different Wi-Fi connections.
The main thing to take from this example is that your connections may be slower than expected, but that's normal and to be expected. Starlink is still a new service and working through the problems right now.
Starlink speed and latency
Now let's take a look at how Starlink stacks up with other satellite internet providers and a personal connection. It would be unfair to compare Starlink directly to broadband internet service providers.
These companies have been in the business of providing internet for much longer than Starlink and have been established for much longer.
But even then, Starlink still offers a pretty good service comparable to broadband which is why a personal connection will be included in the graphs. Full disclosure: the personal connection will be through Spectrum, and it's the base plan.
The other satellite internet providers will be Viasat and HughesNet, which are the biggest rivals to Starlink. And as you will see in the graph, Starlink has the fastest speeds.
The information comes from Ookla, an online service that provides a free internet performance analysis looking at download speeds, upload speeds, and latency. They're also the owners of Speed Check.
As you can see from the download and uploads alone, Starlink is compatible with a base plan from Spectrum. However, this information comes from a report published in February 2022, so the speeds may have improved.
Currently, Starlink is in beta as it's still rolling out and fixing any bugs that may appear in its service. After all, it's not a perfect service, but it's still doing a pretty good job. A 104.97 Mbps download speed is on average with other ISPs.
It wouldn't be surprising to see Starlink become even better in 2023. However, one more critical speed stat hasn't been mentioned, and that is latency. This is where Starlink truly shines.
Don't let the bars fool you. The higher the bar is, the worse the latency. HughesNet and Viasat do terribly when it comes to latency. High latency can cause your connection to lag and move at a snail's pace.
One of the most annoying aspects of having lousy internet. Starlink's fantastic performance with latency alone makes it worth the subscription. Imagine going out to a rural area and having fast internet.
It's even faster than the personal connection. Starlink's latency is on par with premium connections. Also, be aware that this information is based on the average according to all the data Ookla had.
This information comes from the United States, with a pretty uneven internet infrastructure. For example, if you look at that Ookla report, the fastest speeds in the US are in the state of Maine and the western portion of the country, namely the southwest.
States like Colorado, Minnesota, Washington, and Michigan have zones where Starlink speeds are fast, whereas other states are slower. And what's more, is that Starlink is continuously getting better.
Starlink's latency comes from Speed Check, which conducted multiple tests to keep track of Starlink's performance during 2021. And as you can see, Starlink's connection has been steadily getting better.
The same thing happens to the download and upload speeds: steadily getting better over time. Again, Speed Check's results come from an averaging of the rates. These numbers are consistent throughout all of Starlink's networks.
We are as curious as you are about whether Starlink can be used for gaming. Fortunately, we were able to undertake some tests on gaming platforms in order to answer this question, and the results were quite promising.
Things are always subject to change. Hopefully, Starlink will become even faster and provide lightning-fast internet throughout.
Feel free to leave a comment below if you have any questions on other Windows 11 apps or if you have some that you recommend. Also, feel free to leave comments about guides that you'd like to see or information on other Windows 11 features.