Fix: Sorry, there was a problem communicating with Netflix
7 min. read
Updated May 24th, 2023
Published May 24th, 2023
---
Readers help support BrowserHelp. When you make a purchase using links on our site, we may earn an affiliate commission.
Read the affiliate disclosure page to find out how can you help BrowserHelp effortlessly and without spending any money. Read more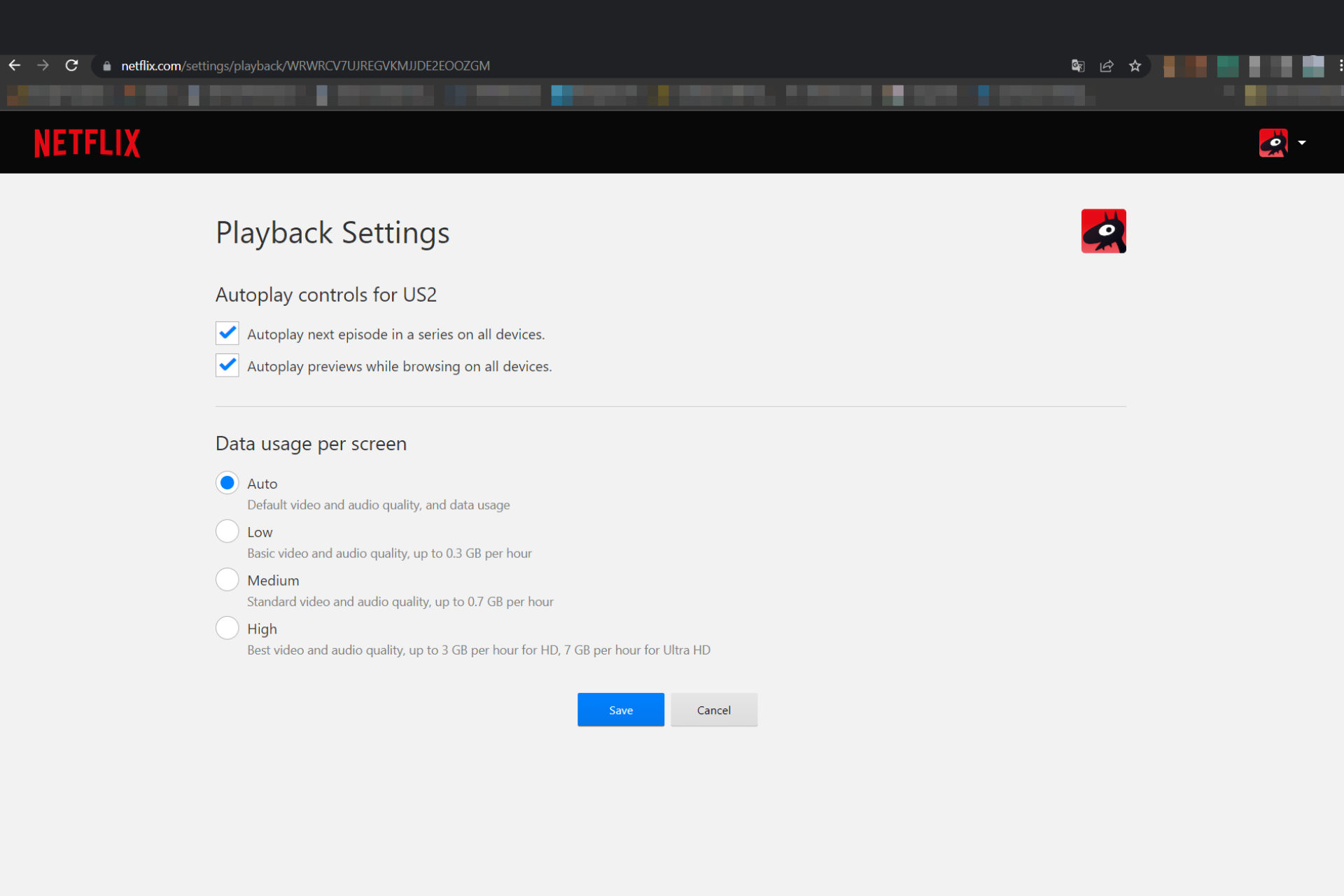 Netflix displays error messages whenever there's something wrong with the online streaming service. Sorry, there was a problem communicating with Netflix. please try again. (t1) (r1-u7135-1935-205005) is one such error and it keeps coming back.
Thankfully, most errors – including this one – are accompanied by a code that you can use to look up solutions in the Netflix Help Center.
That being said, you can find more alphanumerical descriptions for the same Netflix error code T1 in Windows 10 PCs or more recently, in Windows 11.
Here's what you can expect to find aside the sorry, there was a problem communicating with Netflix. please try again error:
(r1-u7135-1935-205005)
(t1-h1-w80072efd)
(h403), (h302)
Netflix error u7034, h3-u7135-1101
The code may differ but the problem remains invariably the same. So, what does r1 u7135 1935 205005 mean on Netflix?
Why does my Netflix say there was a problem communicating with Netflix?
According to Netflix, it usually indicates a network connectivity issue. Now, the official website provides a few troubleshooting steps: restart your computer and router, enhance your Wi-Fi signal, switch to wired mode, and restore your default connection settings.
But we don't think these instructions go deep enough to help users find a resolution to this matter. A stuck connection loop is by no means a Netflix-exclusive issue and there can be many culprits responsible for it.
Of course, you'd need to start your investigation by checking the connection itself – and that's exactly what we'll do, but that does not mean other factors such as OS requirements, the browser you use, and so on are to be ignored.
How do I fix Netflix communication problems?
1. Run an Internet speed test
Make sure you're connected to the Internet.
Visit Speedtest by Ookla and press the big round Go button.
Wait until the website measures your connection speed.
Review your download speed.
Here are the Internet connection speed recommendations made by Netflix:
0.5 Mbps – Required for broadband
1.5 Mbps – Recommended for broadband
3.0 Mbps – Recommended for SD quality
5.0 Mbps – Recommended for HD quality
25 Mbps – Recommended for Ultra HD quality
Still seeing the sorry, there was a problem communicating with Netflix. please try again error message? If your Windows PC doesn't fulfill the requirements, try these solutions:
🟢Go to Task Manager and disable any unused processes and services that consume the network bandwidth (additional web browsers, torrent clients, gaming clients, etc.).
🔵 Update your network drivers.
🟢 Temporarily switch from Wi-Fi to wired mode to see if your Wi-Fi adapter or router is faulty.
🔵 Reboot your router:

Disable QoS (Quality of Service) in your router admin panel.
If you have a Gigabit router, connect to the 5GHz network instead of 2.4GHz (you might have to move closer to the router).
2. Check web browser settings
Various browser settings can interfere with Internet streaming, preventing your computer from reaching Netflix.
Here's what you can try:
Disable browser extensions.
Clear cache and cookies.
Restore browser settings to default.
Try using a different web browser.
If you're looking for a web browser recommendation, consider using Opera. It's not only an excellent browser to access high-traffic websites such as Netflix but overall a great tool to rely on if you want to enjoy the web in a secure environment.
It delivers excellent performance and comes with its own free VPN, which can sometimes unblock Netflix libraries unavailable to your region.
3. Use a VPN that won't get blocked by Netflix
The Netflix Help Center recommends disabling any VPN or proxy server you might be using. That's because the streaming service is quite successful at detecting and blocking region-circumvention tools.
Since most free VPNs for Netflix use public IP addresses, it's easy to see why they fall in this category. But a premium VPN is more reliable.
Plus, if your ISP is throttling your bandwidth due to streaming, using a VPN is necessary to hide the fact that you're watching Netflix.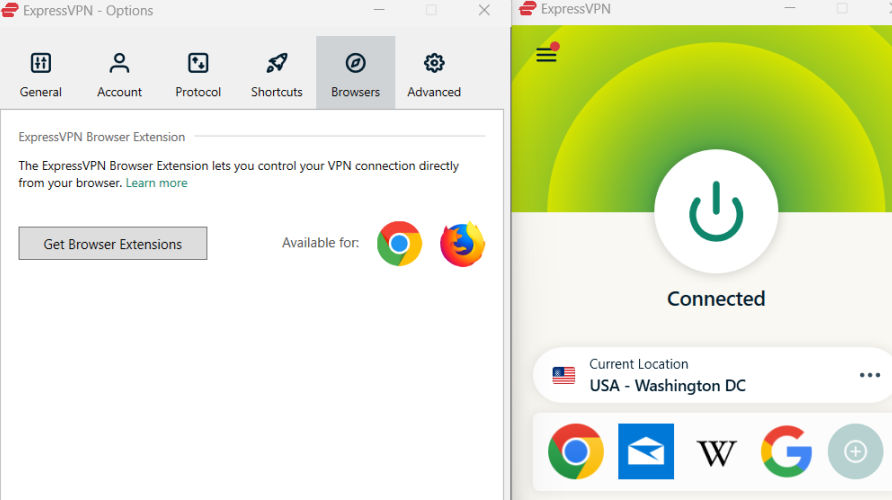 ExpressVPN is a great example. You can explore various US cities to unblock the biggest Netflix regional catalog, no matter where you're living or traveling.
Besides Windows, you can set it up on Mac, Android, iOS, Linux, and even routers. It also works with other streaming services apart from Netflix, such as HBO Max or Paramount.
And speaking of it, you can also take a peek at these top browsers to use with Paramount Plus for an enhanced streaming experience.
4. Update your device drivers
Access the Control Panel and click Device Manager.
Expand the Display adapters menu.
Right-click your display adapter and select Update driver.
Now, click Search automatically for drivers.
Follow the on-screen instructions to complete the process.
A computer cannot manage video cards, computer programs, sound cards, or other hardware; they must be managed by a driver instead. Now, Netflix might be experiencing streaming issues due to your outdated graphic driver.
If Microsoft fails to find a newer version for your GPU, you have to manually look it up on your manufacturer's website. Note that you can only manually update drivers if you have a thorough understanding of the drivers your PC requires.
5. Lower your Netflix video quality
Sign in to Netflix in your web browser.
Go to the Account section.
Scroll down to Profile & Parental Controls.
Select a profile.
Find Playback settings and click Change.
Click Save.
Note: If the Sorry, there was a problem communicating with Netflix error is caused by network connectivity issues, you can set up a poorer quality for all Netflix videos if it doesn't bother you.
6. Use the Netflix app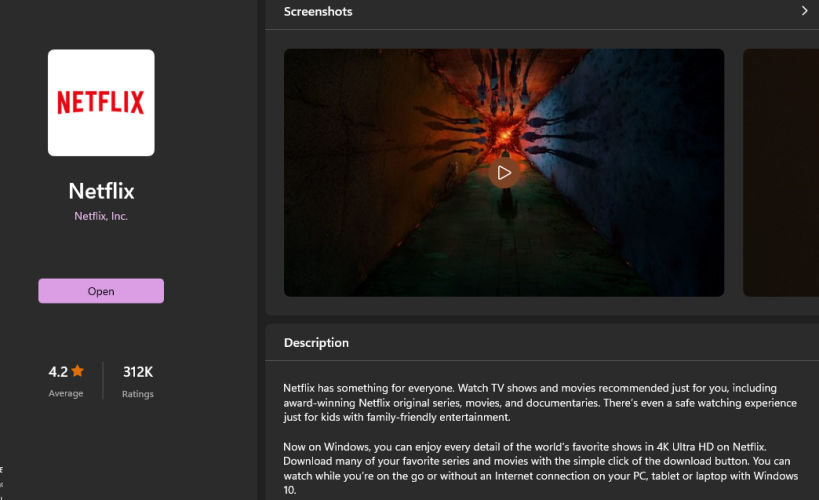 Instead of watching Netflix in your web browser, download the official app from the Microsoft Store. It should solve any streaming issues caused by your web browser.
This is a classical move recommended for a broad spectrum of video-rendering issues involving browsers and streaming services such as YouTube lagging in Chrome, and more.
On the other hand, if you're encountering a Netflix communication issue on the app, you can reinstall it. It might also be necessary to update your video driver.
7. Get the latest updates for your Windows PC
Click the Start button and type Windows Update.
Open the tool and click Check for Updates.
Download any available updates.
It's essential to keep Windows updated with the latest features, improvements, and security patches. Also, Netflix needs Silverlight to work properly, which is covered by Windows Update.
To summarize, you can repair the Sorry, there was a problem communicating with Netflix error by running an Internet speed test and troubleshooting network connectivity issues.
It's also a good idea to check browser settings as the problem can just as well come from there. If you're using Brave, here's a quick guide to help you diagnose and fix Brave not connecting to Internet issues.
Don't worry, the steps are pretty similar regardless of the browser you are using, so it's a good place to take inspiration even if you use something else.
Are Netflix servers down right now? Here's another thing to consider. Additionally, you can update your device drivers to the latest version, or decrease the Netflix video quality.
Did we fail to mention something important? How did you manage to fix the Netflix communication issue on your computer? Let us know in the comment section below.