Project management can make or break your whole operations. That's why we looked closely at the Plaky project management web app.
It's a modern and easy-to-use tool that will help you boost your team's productivity. It helps you manage projects and tasks, collaborate with teammates, and get status live reports with just one click.
But the best of all, it's free! For an unlimited number of users, and an unlimited number of projects.
In this article, we're going to talk about its best features and how you can use it to keep a close eye on all your projects easily.
How can Plaky help me manage my projects?
Let's see a few points on how this modern cloud-based app will help you handle even the most complex projects.
For starters, Plaky helps you write all the to-dos organized in one place and assign your team members for all tasks you need to complete.
You can color code any stage or project individually, to keep everything clean and clear. You may also do that by adding notes and indications.
Most importantly, the tool doesn't force a unique way of doing things. You will discover a full collection of pre-designed templates for a number of project types like events, product launches, strategy plans, and a lot more.
However, you can still create everything from scratch if you have another structure idea that fits your project better.
And while the project is in development, you can collaborate with your teammates by sharing files and inserting comments.
Also, on any changes, including if you receive a new task, you will be notified immediately. And as a project manager, you will be able to view the work development from any angle you need by using filters to sort any activity.
Now that we have a broad understanding of Plaky, let's highlight its best features more closely.
What are Plaky's best features?
1. Smart task management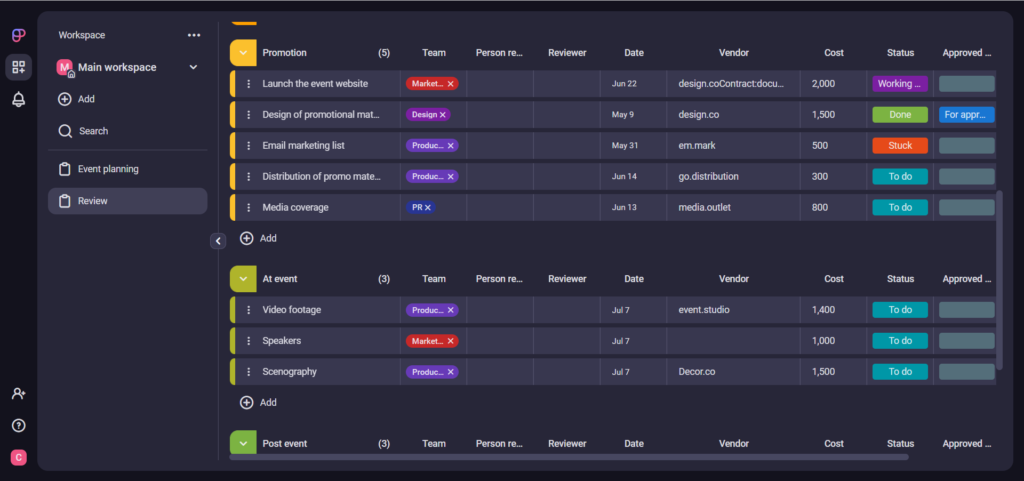 The core and most important part of Plaky is the easy-to-use task management feature. After you create a board for your project, it's easy to add the stages and tasks for it.
You can assign a team, set a deadline, the cost of the project and you will actually see the status of each task.
Everything is color-coded so, as a project manager, you will know exactly where to look and provide the necessary input if an activity is stuck.
Of course, you can always order the tasks by any of your columns to find the information you're looking for quickly.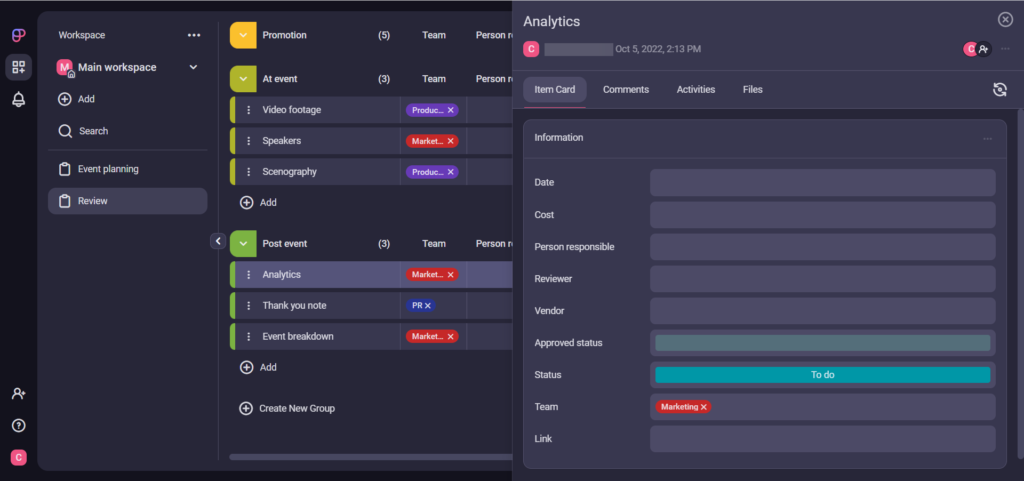 Also, here you can add the related files related to the projects and see any meaningful comments related to the task.
A big hint is that you can integrate Plaky with the free Clockify time-tracking tool and actually track the timing of tasks.
2. Great selection of boards and templates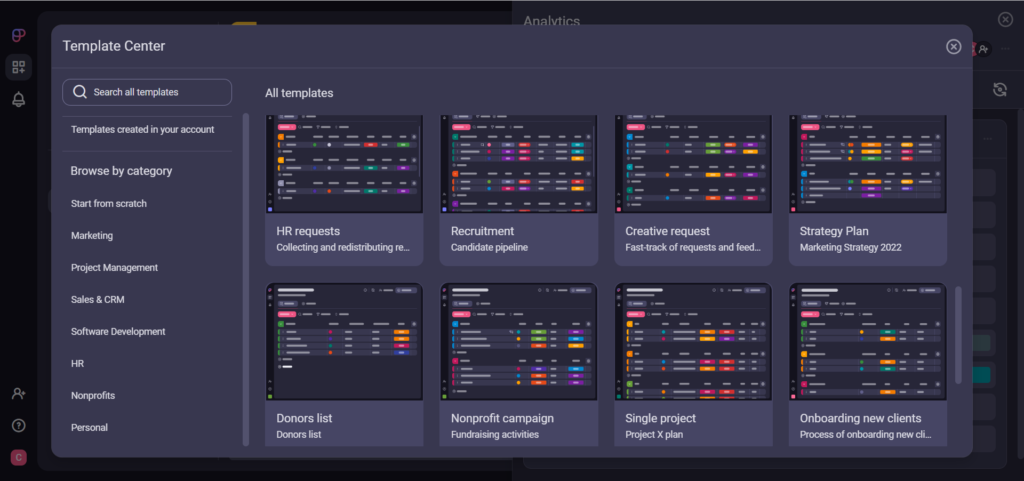 If you're dealing with a lot of head scratching to select the correct structure for your project management board, Plaky softed it all out for you.
That's because it comes with a library of searchable board templates to choose from. You may either select a category from the left pane including general project management, HR, Sales, or even personal, or you may just browse for the one that strikes your eye.
Of course, you may also start from scratch and create your own board to look like the ones you may have used before.
And all the templates will come with prefilled tasks that are meaningful for that type of project. However, you can delete the ones you don't need and add new ones as you please.
3. Team collaboration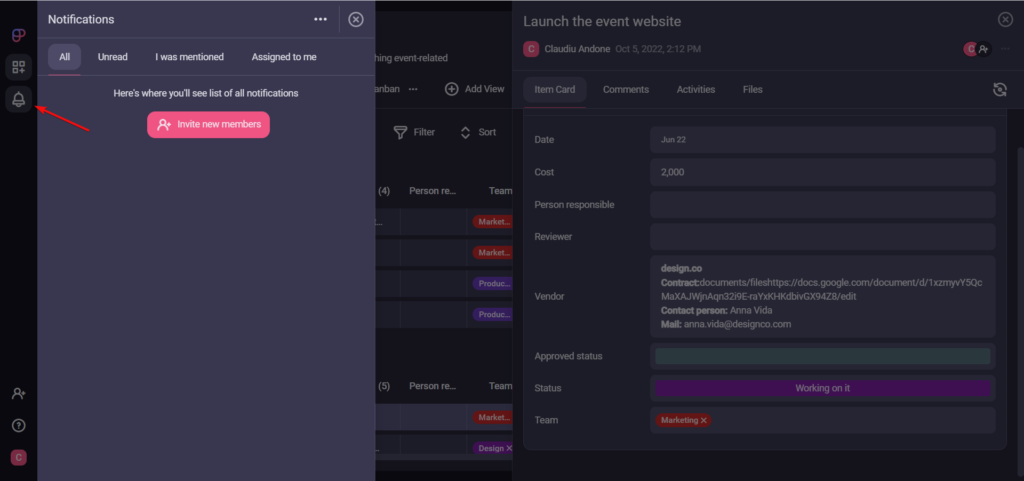 On Plaky, you are always in continuous communication with your team. If you see a red dot on the notifications bell from the left, that means someone made a comment in any of the projects you are on.
Here, you will also see if you were mentioned or if a task or activity was assigned to you.
But you can also comment on any project to report the status or respond to any comments. And within the project, you can actually upload the file you are working on and request input or opinions from your team members.
Plaky doesn't have an actual online chat option but actually, this can keep your communication a lot cleaner.
4. Administration from a single dashboard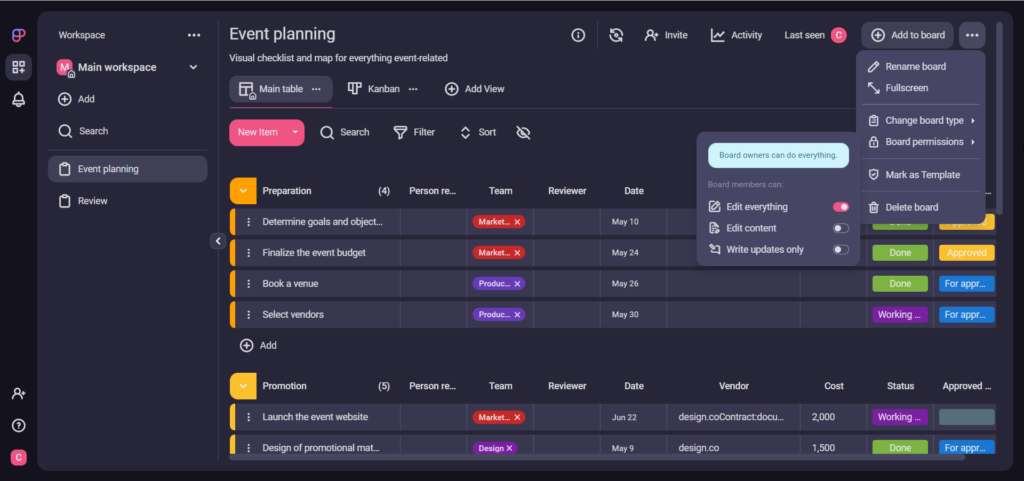 As a project manager, you can decide and set permissions for any member or any board. You may even add different workspaces for different departments if you need them.
The boards can be public or private and that will allow you to control who sees what on any given project.
And the members may have different permissions on each workspace, board, or project individually.
It sounds complicated but with Plaky, the menus are so simple and intuitive that everything will seem easy.
5. Quick activity tracking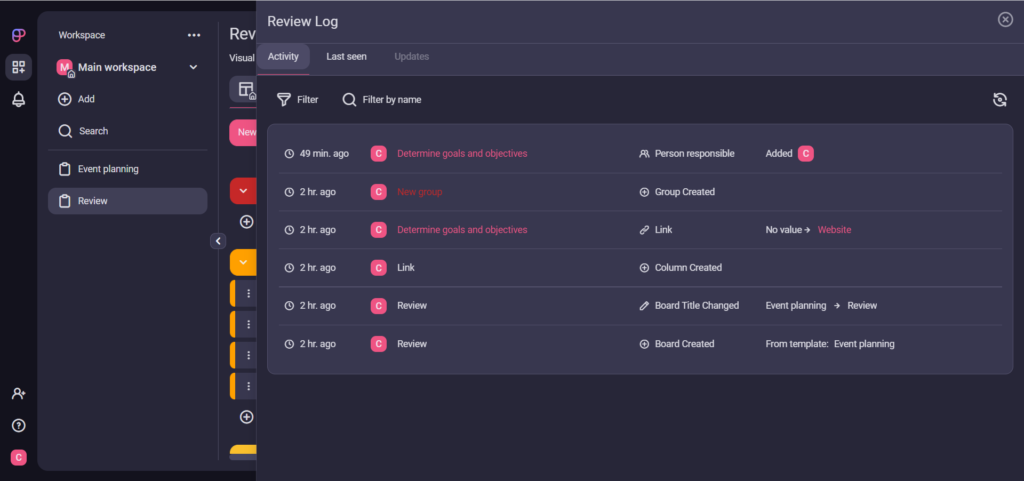 If you want to see who is busy as a bee, it's enough to click on the Activity tab from the top-right of your board.
There, you will see all the actions performed by each member on the project, and clicking on it will provide the exact information.
It's an efficient way to see who's doing what. But, as a big hint, you can integrate Plaky with the free Clockify time-tracking tool and actually track the timing of tasks.
This way, any member can punch the clock on any task, and you will have clear activity feedback.
How do I get Plaky and add members?
That's the simplest part because you don't need to download anything, just visit the Plaky website and create a free account or log in with your Gmail account, or Apple ID and that's it.
Then, you just add your members by clicking on the dedicated icon from the bottom left. You have the option of sending an invitation link or adding their email and hitting the Invite button.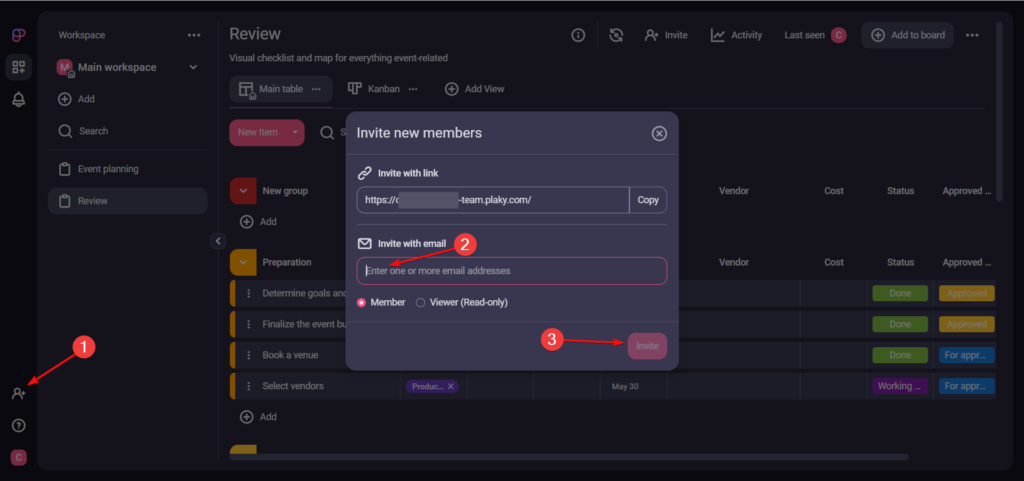 After you get all your team in one place, you may start assigning them tasks and including them into projects.
The process is so easy and straightforward that it doesn't need too much tutoring. However, Plaky offers a lot of tutorials and how-to guides on their website, so they don't leave anything to chance.
| | |
| --- | --- |
| Pros | Cons |
| Great collection of board templates | It doesn't have online chat |
| Integration with Clockify time tracking app | |
| Modern and intuitive interface | |
| Built-in collaborative features | |
| Free to use for unlimited members and projects | |
Final notes
Project management is not an easy job and keeping things organized can be a painstaking operation.
Well, as we've found out, Plaky takes care perfectly of this part and it comes with all the tools necessary for you to plan your projects in detail.
And if you combine it with Clockify, which offers free time-tracking and clock-punching for free, your projects will come to completion perfectly.
The app is completely free and all the menus are very intuitive and which will help you map out all your stages and activities in no time.
Probably the best part is that everything works on a browser, and everything is saved in the cloud so you can always continue from where you left off whether you're at the office, at home, or on the field on mostly any device.
Of course, Plaky is not magical, you still need a project manager to coordinate the team and lead it, but we're sure that you've got this part covered.
We hope that you found our information useful and that you will give Plaky a try. You may also check our article on the best productivity apps and boost the efficiency of your teams.
If you've already worked with Plaky, your input will be very appreciated by all the readers in the comments section below.