How to Delete Autofill on Chrome: Clear Input Entries & Disable
6 min. read
Updated May 22nd, 2023
Published February 27th, 2023
---
Readers help support BrowserHelp. When you make a purchase using links on our site, we may earn an affiliate commission.
Read the affiliate disclosure page to find out how can you help BrowserHelp effortlessly and without spending any money. Read more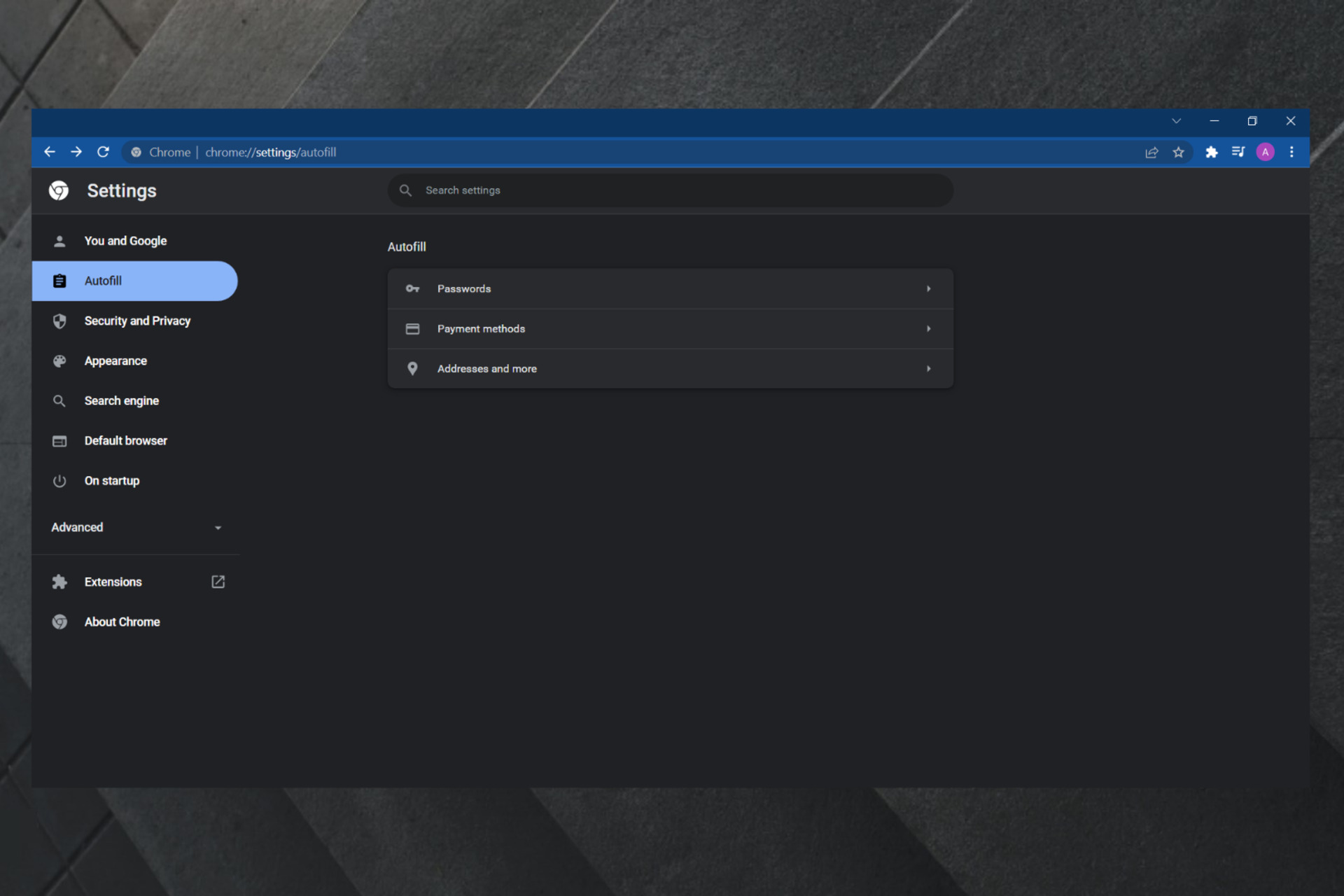 If you want to delete autofill Chrome entries, you're in the right place. We'll show you how to remove unwanted suggestions en masse or only delete specific ones, as per your needs.
Like many other modern web browsers, Chrome uses a data feature to show all recent inputs. This allows you to see all your previous entries and choose from a form-like menu, thus speeding up the entire process.
You can even use a dedicated extension to auto-fill forms in Chrome if you choose to, so there is no shortage of options.
Although this feature is useful, it will list sensitive information such as your email address. Fortunately, there are ways to protect your sensitive data., as follows:
You can delete a single Chrome autofill form
Clear the Google autofill search memory
Delete specific Chrome autofill suggestions or all of them
Even disable the feature entirely
🎯 How do I make Chrome Autofill disappear?
Click the ellipsis icon in the upper-right corner to open the Google Chrome menu.
Next, click on Settings and select Autofill in the right pane.
You will see 3 different sections listed here: Password Manager, Payment methods, and Addresses, and more.
Expand the area corresponding to the section you want to disable (or all of them).
Finally, toggle each option to Off.
This will not only clear your autofill data on Chrome but disable the feature altogether.
What is autofill data and why can't I delete it in Chrome?
Autofill facilitates quick access to frequently visited websites and stores repetitive input information to help you save time in various contexts.
However, it's not flawless and one of its major drawbacks is that it's not really equipped to deal with sensitive information.
On occasions, Chrome autofill won't delete. Consequently, some users mentioned they cannot delete autofill Chrome suggestions. If such is your case, you might want to check if the entry is also bookmarked and remove it from there first.
Note that you can also be dealing with a hidden Incognito bookmark, so check the settings thoroughly.
There can be many reasons why you want to delete autofill on Chrome, but one of the main problems is usually related to security risks and related accidents.
🎯 Quick Tip:
If you need to clear your auto-fill data because of security reasons, then maybe you should replace your browser entirely with a more secure alternative.
Here comes Opera, a web browser built using the same Chromium engine as Chrome, but with more emphasis on security (native ad-blocker, tracking-blocker, and VPN with no traffic limit).
As far as Chrome autofill is concerned, you can fortunately control this feature in more than one way.
The quickest way is to clear the browsing data from Chrome's settings. Chrome uses autofill to help you save time when you insert credentials and other personal data.
After that, you can delete specific auto-fill data or use the shortcut option. To learn how to clear autofill on Chrome, check the steps below.
How do I delete unwanted autofill entries in Chrome?
1. Clear autocomplete Chrome via browsing data
Use the following keyboard shortcut to open the Clear browsing data page: Ctrl + Shift + Delete.
There, click on the Advanced tab.
As you can see, removing auto-fill data from Chrome using this method is quite simple. However, it offers very limited options.
You can't delete specific auto-fill data, and you can only delete auto-fill data from the past hour, day, or week. There's also an option to delete auto-fill data from the last 4 weeks or all auto-fill data.
We have to mention that this method will remove all auto-fill data, so keep that in mind.
2. Delete specific Chrome autofill suggestions
Press on the Windows key, search for Chrome and open the first result.
From the top-right corner of the page, click on the three-dots menu, then navigate to Settings.
Once you open settings, navigate to the Auto-fill section located in the left window pane.
Now you should see your auto-fill information (Passwords, Payment methods, and Addresses).
In the Passwords section, click on the 3 dots next to the autofill entries you want to delete, then choose to Remove each of them.
Although the previous method is simple and fast, some users prefer a more advanced approach. If you want to see your auto-fill data and choose which entry you want to remove.
As you can see, this method allows you to see specific information before you remove it. This is quite useful if you only want to remove certain entries from auto-fill settings.
However, if you want to remove all auto-fill entries quickly, we suggest that you use the previous method.
3. Use keyboard shortcut to delete suggested input from forms
Go to the website that gives you auto-fill suggestions.
Click the input field and start typing your input.
After a suggestion appears, use the arrow keys to select the input that you want to remove.
Now press Ctrl + Delete or Shift + Delete shortcut. By doing so you'll delete that entry from auto-fill suggestions.
Repeat the previous step for all entries that you want to remove.
One of the easiest ways to remove certain auto-fill entries from Chrome is to use a keyboard shortcut. This method is rather simple since it doesn't require you to change any settings.
We have to mention that this solution is quite simple, but it requires you to delete autofill entries manually. In addition to manual deleting, you'll have to visit a specific website to delete auto-fill entries for it.
This isn't a problem if you want to delete entries for a website or two, but if you have multiple entries, you might want to use a more advanced solution.
Just like many other browsers, Chrome can save your passwords and allow you to log in to your favorite websites quickly. This is quite useful if you don't share your Windows 10 PC with others.
If you share it with your roommates or friends, you might want to remove your auto-fill data. This is a simple process, and you can do it by following the above steps.
Don't forget to leave any other questions or possible solutions in the comments section below.