If Firefox is suddenly not loading pages, a recent update performed at the browser or operating system level might just be the cause. Firefox problems after update are not uncommon and many users have reported similar situations.
Obviously, you must deal with outdated browser warnings, however, it sometimes turns out that keeping Firefox in check can also cause a fair share of disruption.
If you're also dealing with the Firefox problem loading page, you're in luck because we're going to show you a couple of methods that you can use to fix this and get back to browsing.
Instead of wondering what is wrong with Firefox lately, you'll be able to troubleshoot, identify the culprit and act to remove the blocking factor. But first, let's see what you're up against. Here's what our readers reported:
If your computer or network is protected by a firewall or proxy, make sure that Firefox is permitted to access the web.
Firefox can't load websites but other browsers can (but Chrome does, for example)
Firefox not working after update/after Windows update
Hmm, we're having trouble finding that site Firefox error (If it's a specific website page that Firefox won't load, you're also likely to see the err_cache_miss error.)
Firefox stops loading pages until restart
Firefox not loading Google sites
Why is Firefox not opening websites after update?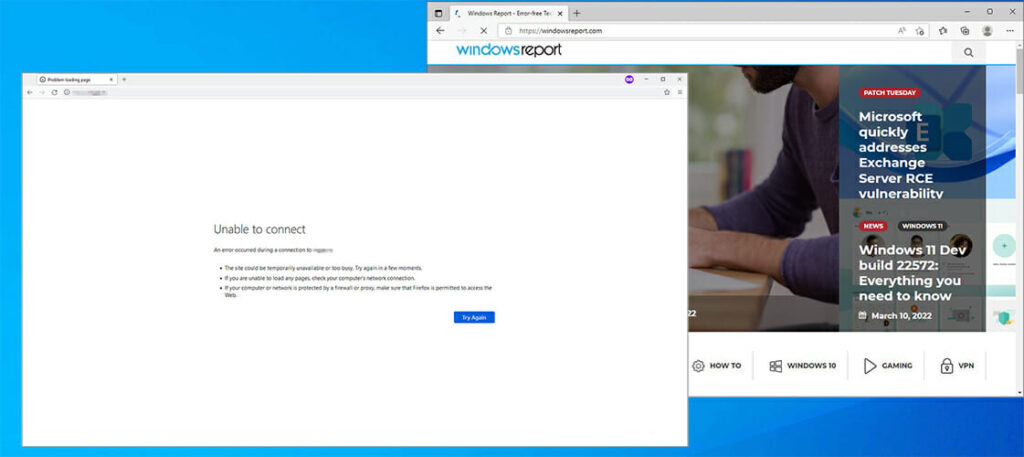 Here's a quick answer to why are websites not loading on Firefox: it's usually because of your firewall Thus, it's advised to check its settings and make sure that Firefox is allowed to access the Internet.
Furthermore, the issue can be linked to your proxy or DNS settings, so you'll have to adjust them to fix it.
Security software (firewall, AV, etc) is blocking Firefox
Firefox connection settings
Full/corrupted cache memory
Malware infections
Problematic extensions
→ Your firewall no longer recognizes the updated version of Firefox.
→ You need to whitelist the new Firefox version, set appropriate exclusion rules for it, and/or add it to the list of trusted programs again.
Firefox update issues are usually caused by your settings, so you might have to find and disable certain options:
→ Proxy
> IPV6
→ DNS Prefetching
A corrupted cache can also lead to this issue, so be sure to remove your cache and try again.
In case your Firefox installation is damaged, you can also experience this problem, so a quick reinstall or a malware scan might be the best option.
There are a few reasons for this issue, and the first one might be a bad extension. If your extensions are interfering with Firefox, you might get this problem on your PC.
It's not uncommon for browsers to get stuck in endless connection loops and Firefox makes no exception.
However, Firefox not loading pages after update is a particular case that requires particular resolution methods. Here's how to fix the latest Firefox update problems.
How do I fix Firefox not loading pages?
1. Disable HTTP3
Open Firefox.
Restart Firefox.
2. Use a different browser
Sometimes your browser installation might be damaged, thus causing issues such as this one. If that's the case, you might want to consider using a different web browser.
Is there a problem with Mozilla Firefox today? No more wondering what is wrong with Firefox. Opera is a great alternative to Firefox, and it's based on Chromium, so it works with Chrome's extensions.
Regarding privacy, the browser has a built-in ad blocker and VPN, so you can rest assured that your browsing sessions are private.
And speaking about that, if you want to know more about Firefox's privacy scores, make sure you take a closer look at our in-depth comparison of Safari vs Chrome vs Firefox vs Brave.
3. Disable extensions
In Firefox, press Ctrl + Shift + A.
This will open the Add-ons page.
Click the switch icon next to the add-on that you want to disable.

Repeat these steps for all add-ons.
Once all addons are disabled, restart Firefox.
If the issue is gone, enable extensions one by one until you manage to recreate the problem. Once you find the problematic extension, disable or remove it.
4. Disable Enhanced protection
Restart Firefox and check if the problem is resolved.
5. Make sure that Firefox is allowed through your firewall
Select Firefox from its installation directory and click on Add.
Finally, click OK to save changes.
Keep in mind that this solution only works if you're not using a third-party firewall. In case you're using one, change its settings and make sure that Firefox is allowed through it.
6. Try cleaning the cache
Once the cache files are cleared, restart Firefox.
7. Check proxy settings in Firefox
8. Disable DNS Prefetching
Finally, restart Firefox.
These are just some of the solutions that you might want to try if Firefox is not loading pages after an update. If they don't work for you, then you might want to consider reinstalling your browser.
Did you find a fix to the Firefox problem loading page on your own? Feel free to share it with us!