Brave vs Chrome vs Edge: Which Is Better? [Safety, RAM Usage]
8 min. read
Updated March 2nd, 2023
Published March 2nd, 2023
---
Readers help support BrowserHelp. When you make a purchase using links on our site, we may earn an affiliate commission.
Read the affiliate disclosure page to find out how can you help BrowserHelp effortlessly and without spending any money. Read more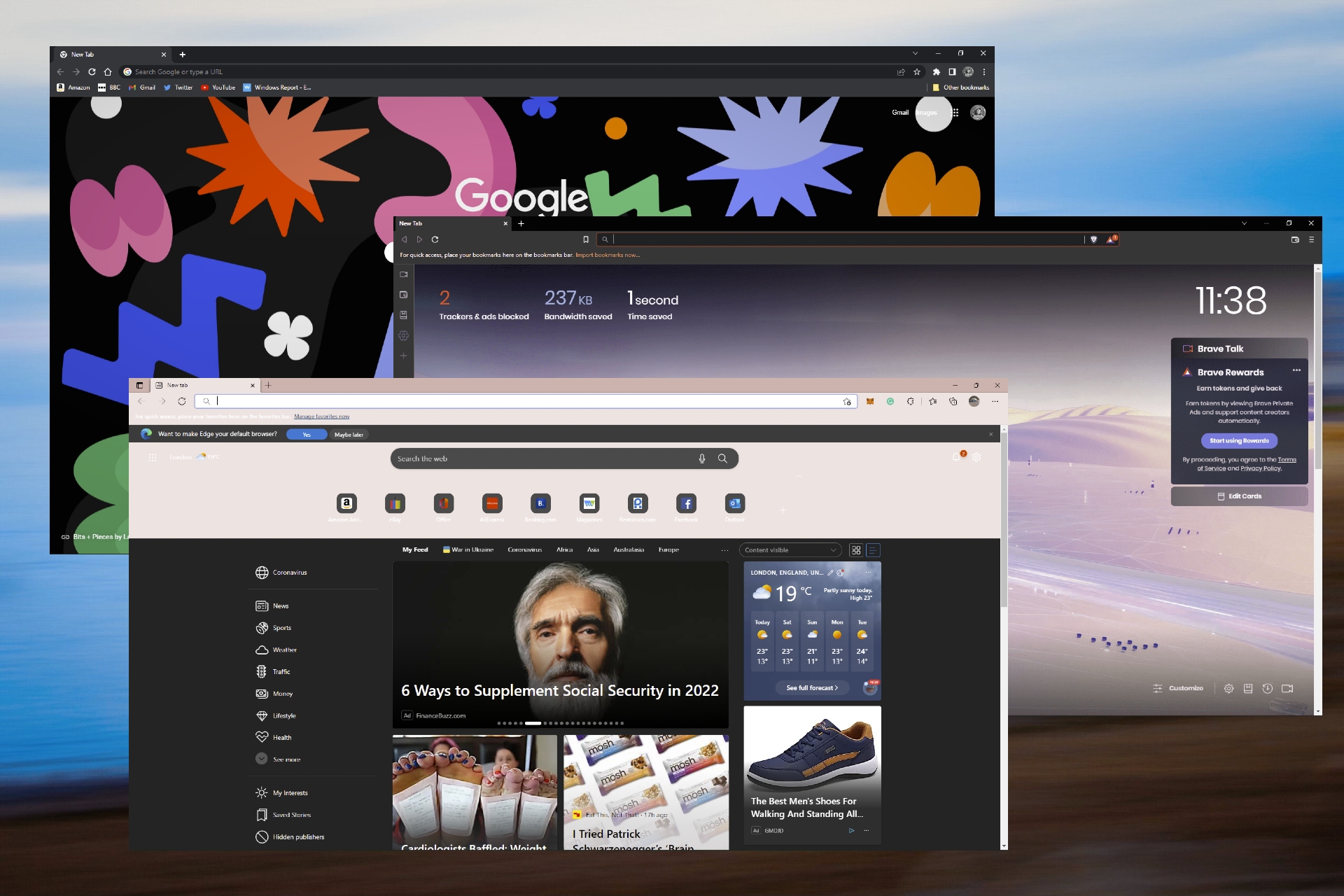 The main difference between Brave, Edge, and Chrome has everything to do with security and the first one clearly spares no efforts to provide a safer, end-to-end private web experience to its users. When it comes to Brave vs Edge or Chrome benchmarks such as RAM usage, battery life but also design, and customization tend to tip the scale in Chrome's direction. But that is only when we're talking about speed, not resource effectiveness, while personalization and accessibility work more in Edge's favor.
Microsoft Edge, Brave Browser, and Google Chrome are browsers built on the open-source Chromium engine, which provides secure browsing. However, each browser is unique in its way.
All three browsers are also supported on most platforms, including Windows, macOS, Linux, iOS, and Android. However, only Google Chrome is compatible with Chrome OS.
And that's about all they have in common. So let's look closely at each and determine the best overall based on design, privacy and security, performance, and unique features.
Everyone needs a good browser that is fast, secure, and easy to use. Each browser is known for something.
Whether it be Brave's security, Chrome's speed, or Edge's accessibility, we're going to put them to the test in a head-to-head comparison. Keep reading to find out which one comes out on top.
🖊️ Quick Tip!
If you want a multi-purpose browser that combines the most notable features of Chrome, Edge, and Brave, check out Opera.
You can integrate tons of add-ons, customize it with themes, organize your bookmarks, and stay secure with an adblocker and built-in VPN that hides your IP.
Chrome vs Brave vs Edge benchmark: How to choose
With so many browsers on the market, it can be hard to find the perfect one if you don't know what to look for in a browser. Therefore, having at least two browsers on your PC is a good idea.
The reason for this is to have one as your default browser and one as a backup in case anything goes wrong with the default browser.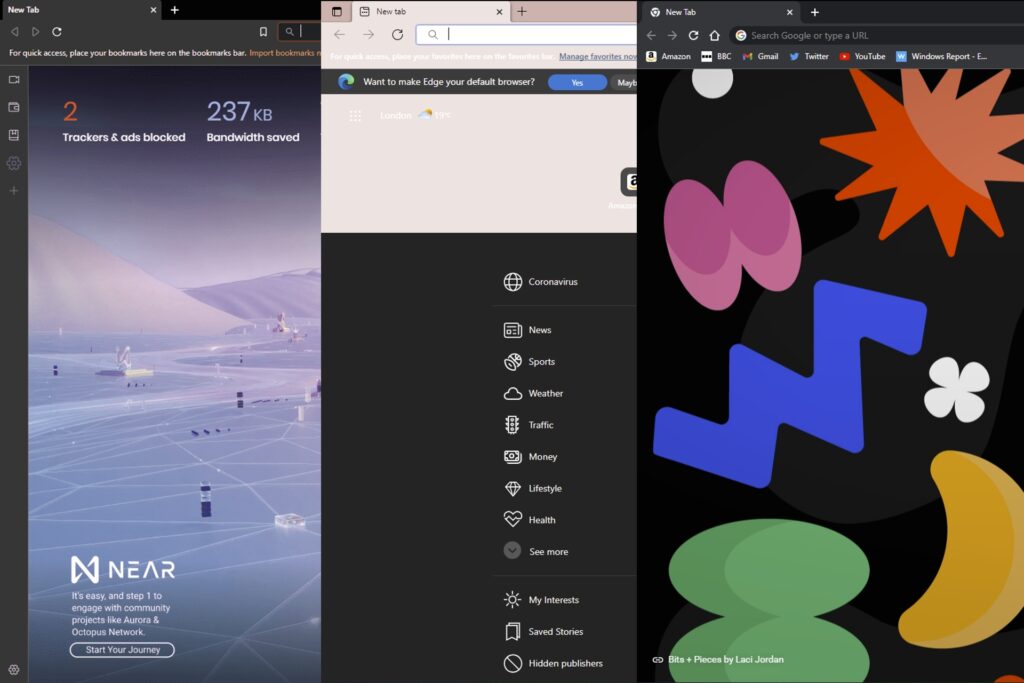 Another thing to remember is that just because a browser is famous and well-known does not mean it's the best. A massive selection of alternative browsers holds their own against the more prominent names.
Also, consider what purpose the browser will serve for you. For example, speed might be your priority if your primary use for a browser is for streaming.
On the other hand, security is crucial if you need a browser for handling confidential or sensitive information.
Remember, not all browsers are the same, and many offer unique features you won't find in another browser. Determine the features and functions you want in a browser and what aspects might be a dealbreaker before diving in.
Which is better: Brave, Chrome, or Edge?
➡️ Design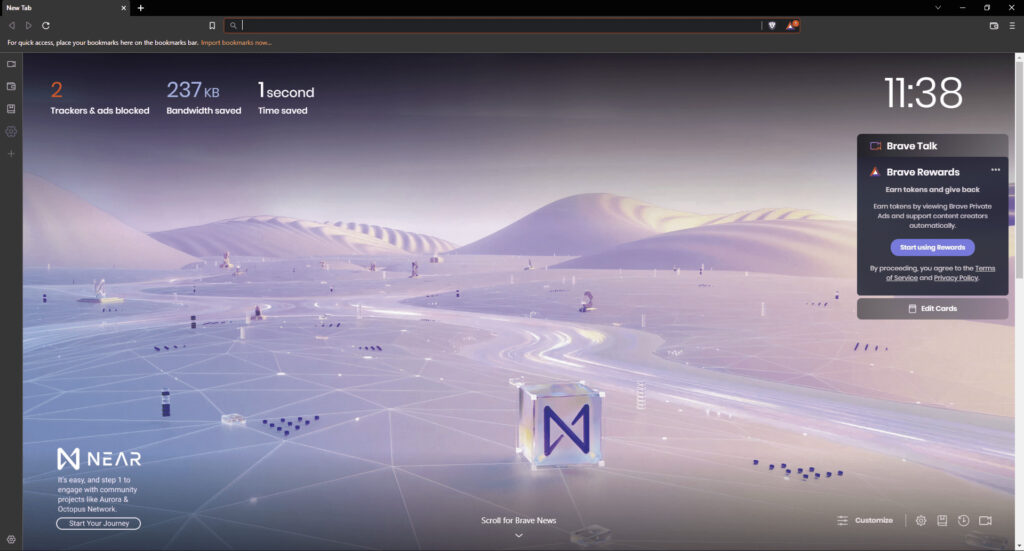 As far as appearances go, Brave Browser has a unique-looking interface that is distinct from other browsers. Users can choose between light and dark modes and customize and download themes from the Chrome Web Store.
The Brave homepage lets users know how many trackers & ads have been blocked, the amount of bandwidth and time saved, and how many crypto tokens are earned through Brave Rewards.
Brave also has a sidebar where features can be personalized with shortcuts like the crypto wallet, bookmarks, and more.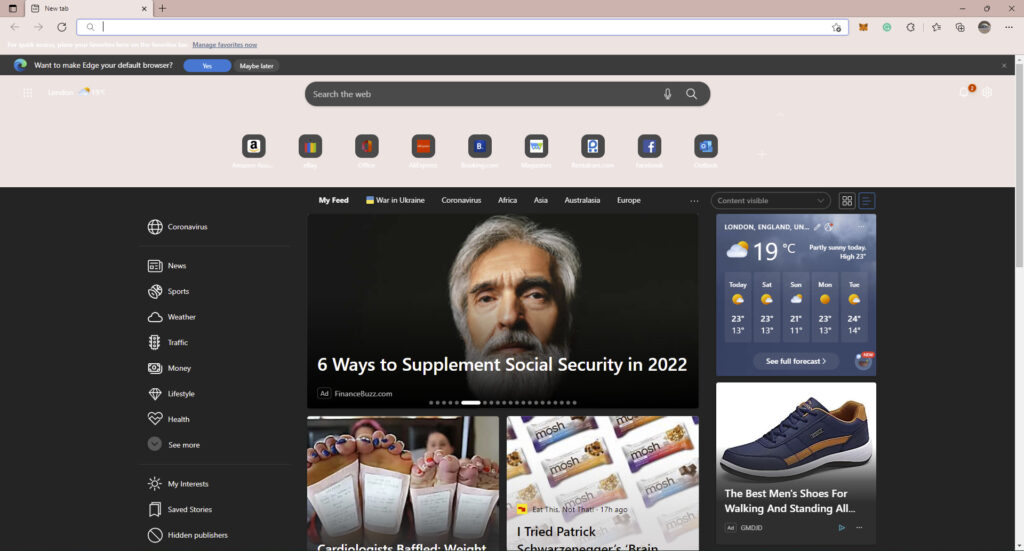 With the My Feed page in Microsoft Edge, users get a personalized homepage featuring news stories, articles, videos, and more that caters to users' interests.
Edge also has the Collections feature, allowing users to group pages into a category to stay organized and productive. In addition, with Edge Bar, users can stay updated on news and weather and have quick access to certain features.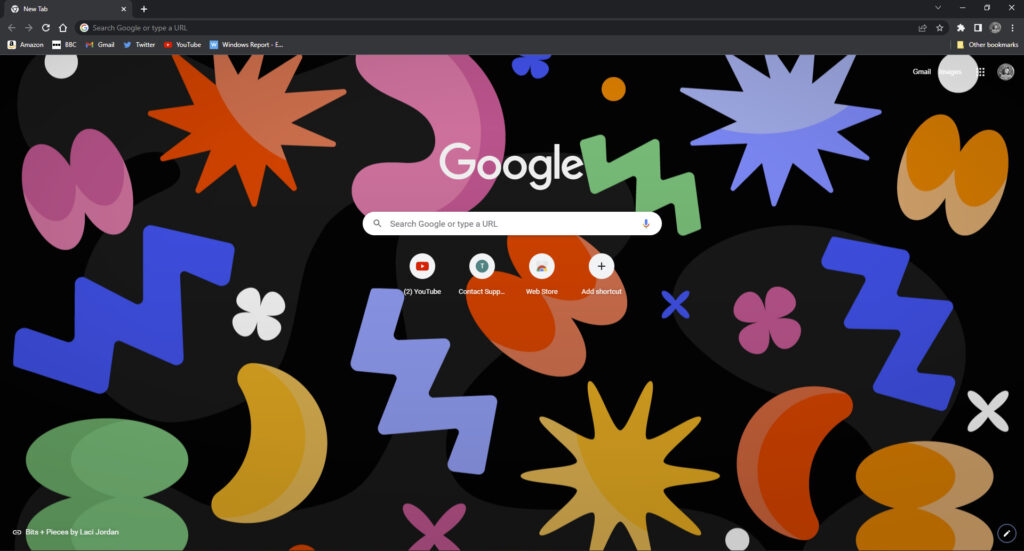 Google Chrome has a sleek, minimalistic design. However, users can change their theme from the Chrome Web Store and switch between light and dark modes. Users can even place tabs into groups in Chrome for a well-organized browsing experience.
The background on the New Tab Page can be customized for some extra flair. For example, it can be set to one background, or Chrome can cycle through different backgrounds for another image each day.
➡️ Privacy & Security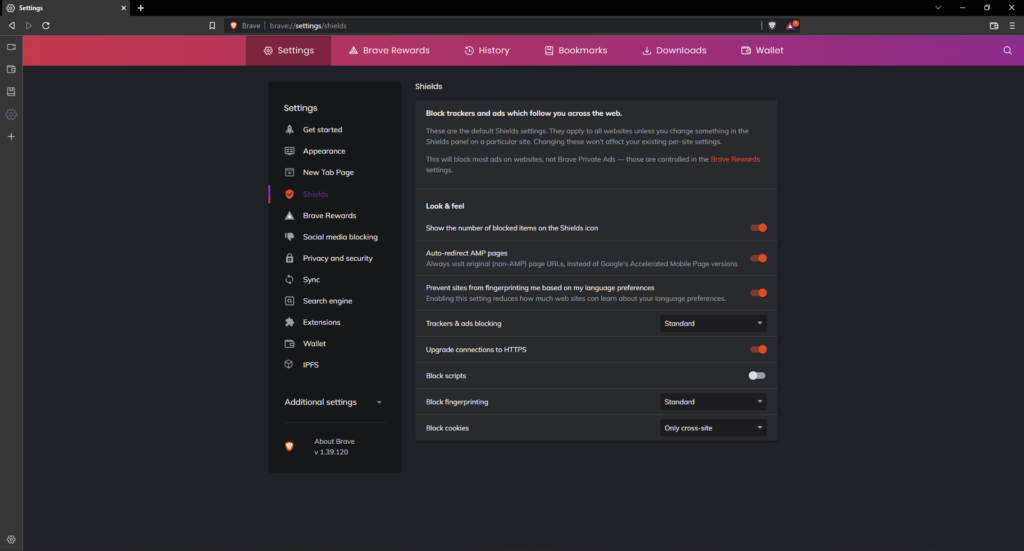 When it comes to user privacy and security, Brave Browser takes the cake, with a built-in adblocker and tracking protection.
So, why is Brave safer than Chrome? To being with, it bravely takes private browsing to the next level with Tor integration which hides your IP address.
Brave Shields is a feature that adds an extra layer of protection against malware while surfing the web. In addition, users can customize the levels of security in the browser settings for personalized security.
Google Chrome offers a clean-up tool that finds and removes any malicious software and will identify potentially harmful websites, addons, and downloads.
Chrome also provides an enhanced protection feature for extra security.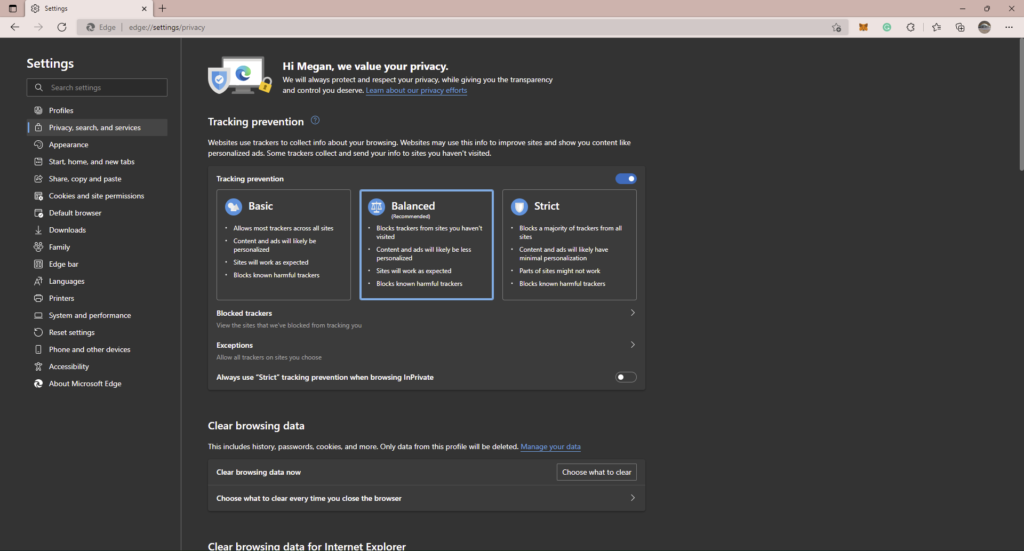 With Microsoft Defender SmartScreen, users can browse in Edge with peace of mind that their data is protected.
This feature provides users with a warning against potential phishing attacks and malware and will automatically block suspicious sites.
➡️ Performance
Brave Browser blocks ads and trackers by default and thus provides a faster page load and longer battery life and saves mobile data. Brave also claims to be 3x faster than Google Chrome because of its adblocking features.
Chrome has received a lot of heat over the years for its resource hogging; this is something that Google has improved slightly, but it still struggled with high CPU and RAM consumption.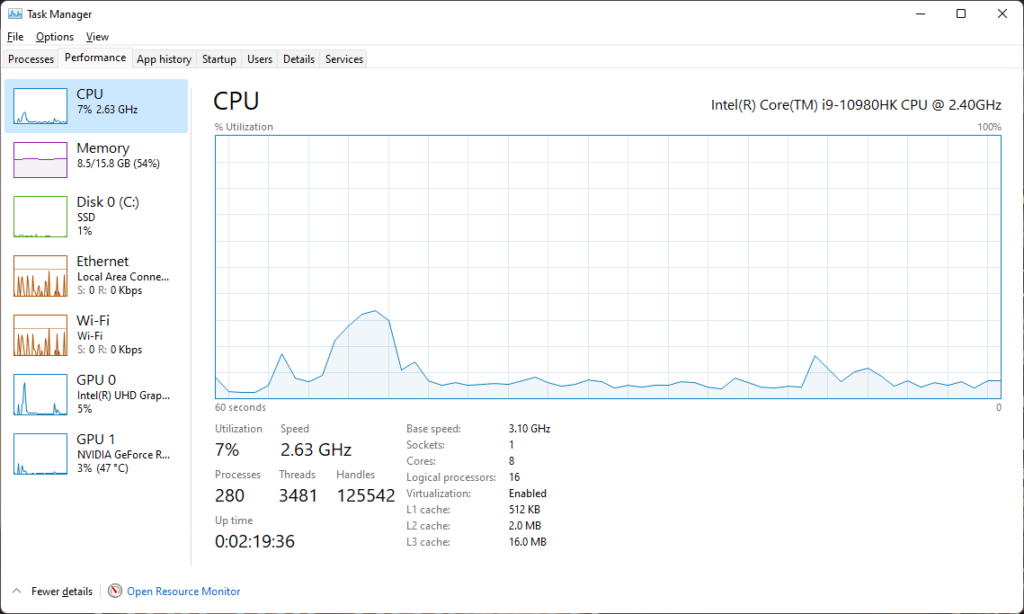 This is partly because Chrome has multiple processes once every page to ensure everything runs smoothly. While this makes pages load faster, it also uses many PC resources.
Microsoft Edge's predecessor, Internet Explorer, has a bad rap regarding speed and performance. However, since switching to the Chromium engine, Microsoft's new and improved Edge leaves IE in the dust.
Edge uses fewer resources than Chrome while being on par and faster in some cases in terms of speed and performance. This makes running easier on older PCs or computers with less RAM storage.
So, why is Brave better than Edge? If we were to establish a Brave vs Edge benchmark, we'd say that RAM usage is not a clear differentiator.
Even if it's generally not a resource-intensive browser, there are occasions when you can struggle with Brave's high CPU usage.
When it comes to Brave vs Edge battery life comparisons, we did capture notable differences and we dare say, they are roughly similar when it comes to energy consumption rates.
If you'd like to through Firefox in the mix as well, we recommend you take a closer look at our in-depth Chrome vs Firefox vs Brave comparison. We guarantee it will help you get a clearer picture.
➡️ Unique Features
Brave Rewards allows users to earn crypto tokens by opting for Brave's first-party ads from the Brave Private Ads network.
Brave also has built-in cryptocurrency features like its crypto wallet to make trading and earning tokens easy.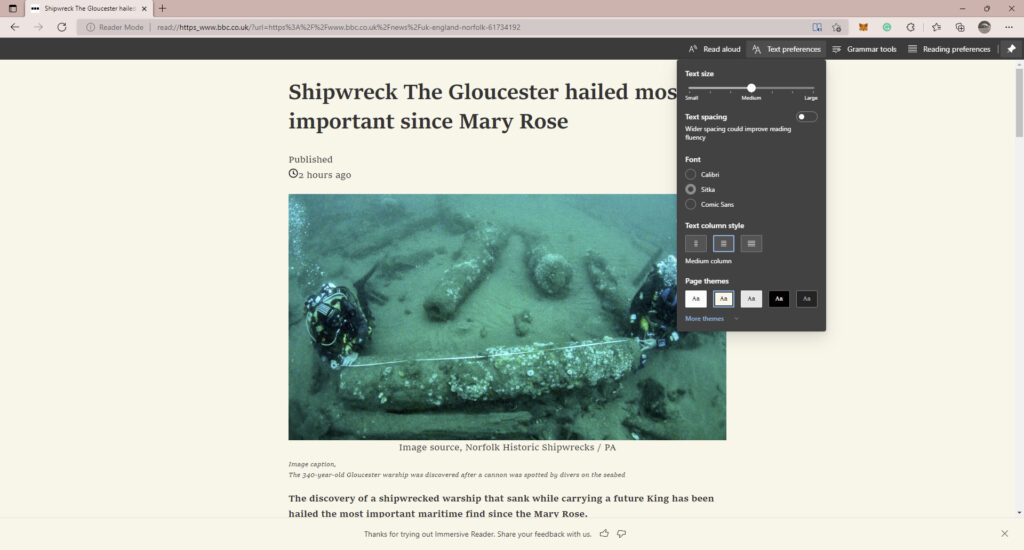 With a built-in reader view, Microsoft Edge removes ads and other distractions from a page for a more immersive reading experience.
It also has a Read Aloud feature that is a text-to-speech function and offers a grammar and spellcheck tool to do reading and writing online easier.
Google Chrome makes life a lot easier for those with Google accounts as it has all its apps integrated into the browser. Passwords and login data for Google Drive, Gmail, Calendar, and others are all synced for easier access.
Is it worth switching from Chrome to Brave?
Before we give our final verdict, here's a quick summary of each browser:
Brave Browser: Prioritizes user security and offers unique features such as Brave Rewards and the crypto wallet. It also beats Chrome's speed with the built-in adblocker and doesn't consume as many PC resources.
Microsoft Edge: Perfect for those who like to stay productive and organized while browsing. The Collections feature keeps pages categorized by topic. The most notable feature, however, is the immersive reading mode that eliminates distractions and is accessible to all.
Google Chrome: Compatible across all platforms, including Chrome OS, and has Google app integration. Users can stick with the minimalistic design or customize it to their liking with themes and backgrounds.
Now it's time to announce our top choice – drumroll, please – of the three browsers; we recommend using Brave Browser. While it's not a big-name browser, its top-notch security and unique features set it apart.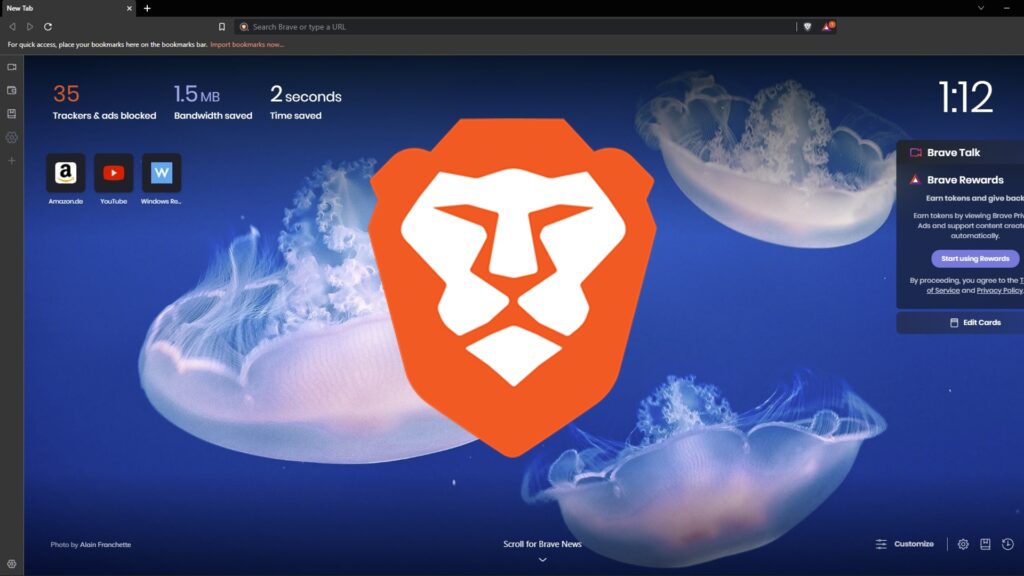 Brave Browser is fast, even faster than Chrome, and doesn't hog computer resources. It is also the most secure out of the three with Brave Sheilds and Tor integration.
Let us know in the comments which of the three browsers you prefer or if you use a different browser.