How to Stop Opera GX from Opening on Startup [Easy Fixes]
4 min. read
Updated May 17th, 2023
Published May 17th, 2023
---
Readers help support BrowserHelp. When you make a purchase using links on our site, we may earn an affiliate commission.
Read the affiliate disclosure page to find out how can you help BrowserHelp effortlessly and without spending any money. Read more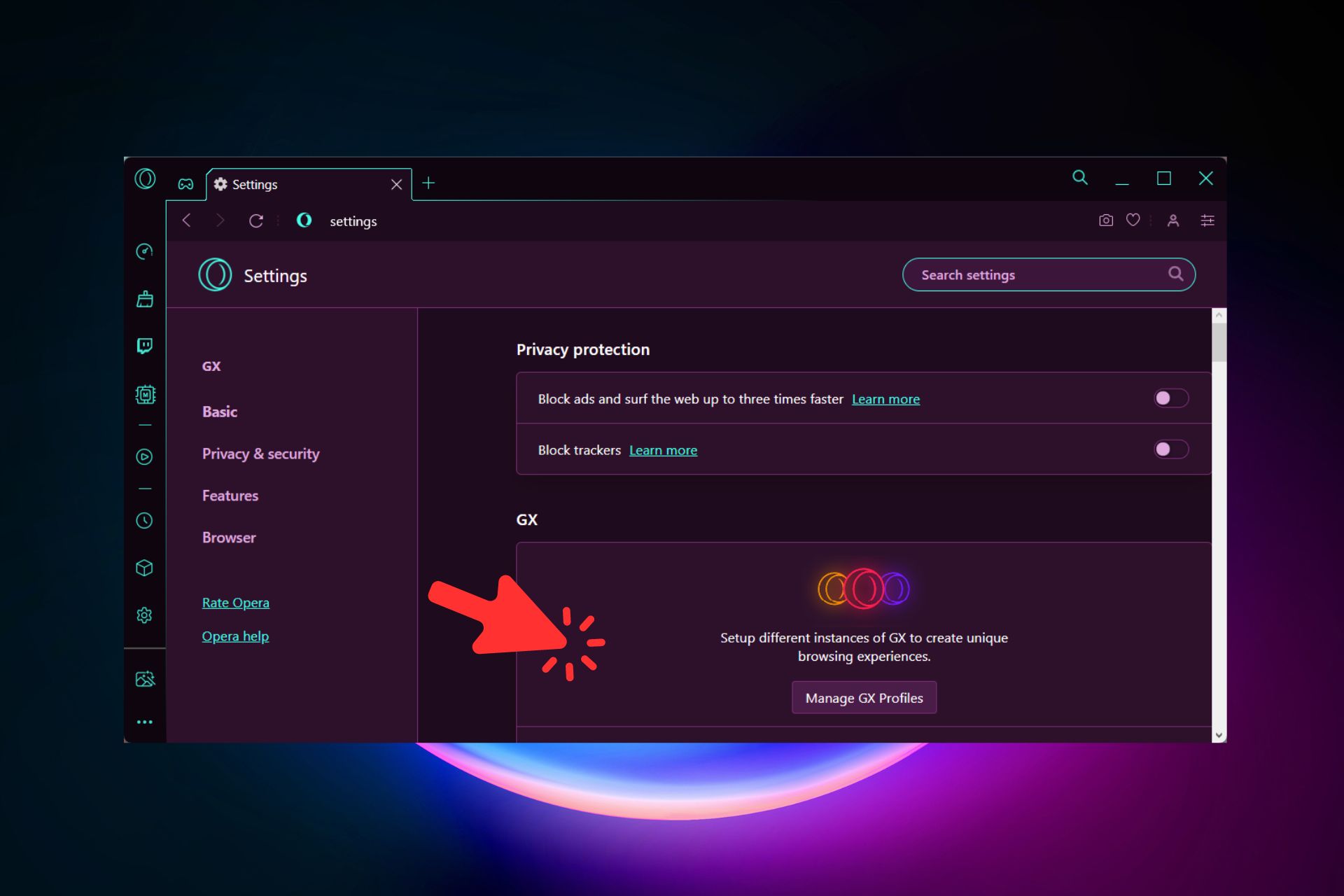 If you are a fan of Opera GX, you must have installed it and met launching issues like Opera GX auto startup. You needn't worry as we'll show you exactly how to stop Opera GX from opening on startup.
Various users reported this browser trouble on their devices and asked for more support. Luckily, that's why we are here today and we'll demonstrate how to disable Opera GX on startup in more than one way.
To get into the problem, this situation may occur every time you start your device and run the OS. Right away, Opera GX starts launching without you doing anything.
On another hand, other users complained about the browser's launching audio theme and asked how to turn off the Opera GX startup sound.
🎯 From the start, be aware that you can avoid this issue when you're installing Opera GX. Then, you should look for the Load at Startup option and simply uncheck it before you continue the installation.
That being the case, we're here to show you how to disable Opera GX on startup for your PC with descriptive methods.
How do I stop Opera GX from opening new tabs on startup?
1. Disable Opera GX browser assistant
Type Task Manager and Windows search bar and press Enter.

Go to the Startup tab from the options and click it.
Right-click on the Opera Browser Assistant icon.
Select the Disable option from the menu.

📑 How to stop Opera GX from opening old tabs
Go to browser Settings by clicking on the Opera icon.

Click on the Settings icon.
Scroll down to the bottom of the page and locate the On startup section.
Now, select Begin fresh with start page.


There are different users that encountered issues this kind of problem and asked how to stop Opera from opening new tabs.
2. Uncheck the option from the settings
Launch Opera GX browser and go to Settings.
Scroll down the list until you find the Basic section.
Look for the Run when my computer starts option.

Click on the option to toggle off.
Restart your browser.
3. Try internal third-party tools
Another practical solution you may try is to utilize dedicated software for monitoring your OS and finding the internal apps faster.
There are different applications that can measure the performance of your PC and improve app productivity by editing and settings up your desktop files and application.
To be more specific, you can use Microsoft Sysinternals service to employ tools and activate them without searching them manually.
4. Check the Task Scheduler apps
Type Task Scheduler in the search box and press Enter.

Click on the small arrow to expand the library.
Verify if Opera GX appears among the apps there.
If yes, click on it and select Delete folder.

Close the window.
This solution can be helpful if you installed the Opera browser and there are automated tasks involving this browser. Hence, you can solve it efficiently by following the presented steps.
5. Use another browser as the default
If any of the methods above didn't work your issue, the last workaround is to use another browser as default and then get back to GX:
Write Default apps on your home search bar.
Type in the name of another browser from your PC. (e.g Microsoft Edge)
Set it up as the default for particular file types or links.
Or, press the Set default button on the top of the window.


Close the window and see if the issue is fixed.
That's about it regarding this browser and how to stop Opera GX from opening on startup on Windows 10 or 11. Opera is a browser equipped to load high-traffic sites promptly but as you can see, it can sometimes face loading-related difficulties on its own.
As a last note, don't hesitate to reach us for other useful browser tips, and share your experience with our guide in the comments section.