Chrome Incognito is a great option for browsing the internet privately. Incognito mode does not save browsing history, cookies, site data, or information entered in forms. However, some users want to allow cookies in Chrome Incognito.
Many people prefer private browsing because it prevents trackers and protects browsing data. Check out our guide for a more in-depth look at how Chrome Incognito compares to Safari private browsing.
After ending an Incognito browsing session in Chrome, all cookies and site data are automatically cleared. Keep reading to learn how to enable cookies in Chrome Incognito.
Can I accept cookies in Incognito mode?
By default, Incognito mode Google Chrome blocks all third-party cookies. However, users can adjust their settings to allow cookies if they wish. Users can also customize which sites they want to enable cookies.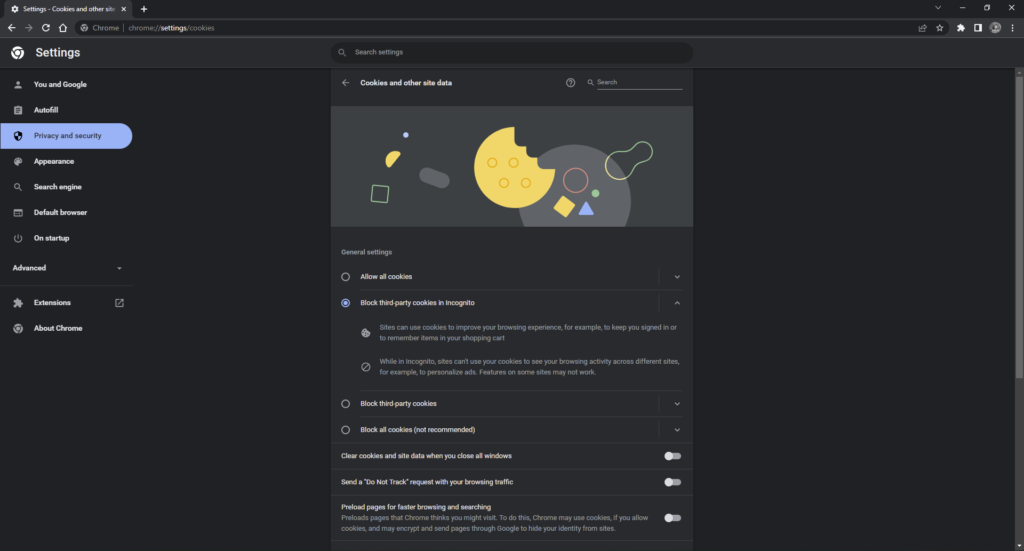 Which cookies are disabled?
Users can choose to block all third-party cookies or all cookies, including first-party cookies. However, if users want to enable cookies for one site and disable them for another, they can customize this in the browser settings.
How do I enable third-party cookies in Incognito mode?
1. Enable from New Tab Page
Open Chrome and click on the three dots in the top right corner.
Select New Incognito Window (or press Ctrl + Shift + N).
Toggle Block third-party cookies to off.
This is the quickest and most convenient way to allow cookies in incognito mode. First, however, check out the following solution for a more in-depth method that will enable you to customize which sites allow cookies.
2. Adjust browser settings
Open Chrome and click on the three dots in the top right corner.
Select Settings.
Under Privacy and security, click on Cookies and other site data.
Select Allow all cookies.
Alternatively, if you only want to allow cookies from a specific site, you can add the URL under Sites that can always use cookies.
You should now know how to enable cookies in Chrome Incognito or how to allow only cookies from specific sites while browsing privately.
Let us know in the comments below if you had any difficulty or issues when allowing cookies in Chrome Incognito mode.