The malicious program known as Browser Assistant is a Trojan Horse infection. If you can't uninstall Browser Assistant from your computer, you've come to the right place, as we will address it today.
It is considered rogue software, and it is well-known that the Browser Assistant Trojan can install other unwanted applications on a computer that has been infected by it, in addition to taking control of the user's browsers and modifying them in undesirable ways.
Furthermore, it is pretty likely that you are dealing with the Browser Assistant Trojan if you have seen any unexpected changes in your primary browser or if one or more unknown apps or programs have lately been installed on your computer without your informed authorization.

It should be noted that this Trojan Horse virus is not the most harmful one that exists, and it appears that its primary objective is to increase and distribute other malicious software and applications. Such as browser hijackers, adware, and PUPs/PUAs.

This indicates that the Browser Assistant Trojan is probably not a direct threat to your computer. However, the fact that it is present in the system raises the possibility that your computer will eventually become infected with a more malicious piece of malware.
What is BrowserAssistant.exe?
Different antivirus software identifies Browser Assistant as a Trojan because it is an application that has the potential to harm.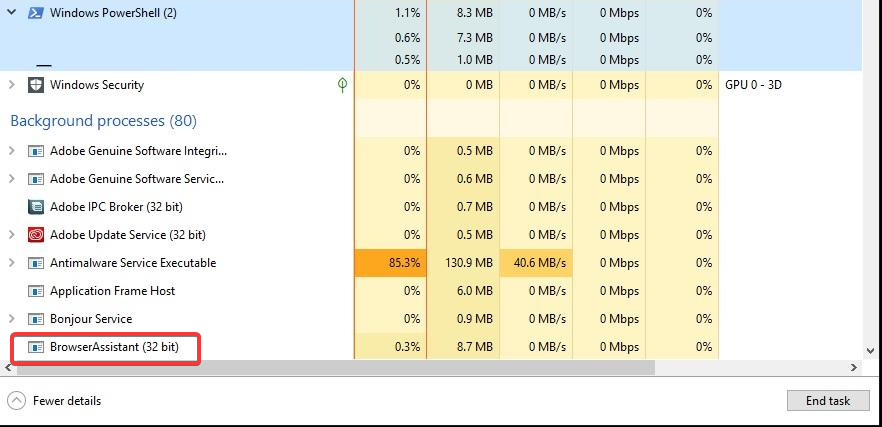 BrowserAssistant.PS is malicious software that has the potential to secretly install unwanted programs (PUPs) on a user's computer. Because of this, Browser Assistant is classified as a Trojan Horse that puts your computer at risk of infection with adware and hijackers.
It has been determined by several different security applications and antivirus software that Browser Assistant is a Trojan Horse infection that should be removed from the system as soon as possible.

We will make every effort to provide you with any and all assistance that you might require to successfully remove this Trojan Horse infection from your computer.
Is Browser Assistant important?
BrowserAssistant.exe is not required for Windows, and its presence almost always results in complications. However, it is possible to find BrowserAssistant.exe in a subdirectory of the user's profile folder or, occasionally, in a subfolder of C:Program Files.
Is Realistic Media safe?
Badly enough, there is no way to tell you exactly what an infection like Realistic Media may have been designed for until it finishes its illegal work and the effects of that attack become evident.
The vast majority of Trojans may be used to easily ruin your system, remove specific files, or clear your computer of any and every data that you have ever stored on it.
Furthermore, theft is another specific purpose for Trojans. For instance, a virus known as Realistic Media may make copies of files and transfer them to the servers controlled by the hackers even though it does not exhibit any outwardly evident symptoms.
Trojans may also be used for spying by criminals, and there are several ways such malware might monitor your activity and gather information about you.
That said, let's see how to uninstall Browser Assistant Realistic Media from your computer and get your security back on its feet. Keep on reading!
How can I uninstall Browser Assistant?
1. Uninstall Browser Assistant with a specialized tool
Download Malwarebytes, and check for AdwCleaner, then save the file to your Downloads folder.
Double-click on the file to run the program and accept the End User License Agreement.
Patiently wait until the database is updated, then on Scan Now.
Once the scan is finished, click on the Quarantine button if there are any items found. Note that your PC will reboot as well.
After reboot, a log file containing information about existing malware on your computer will open on your Desktop.
You can eliminate all the adware that is currently installed on your computer in a matter of seconds with the help of AdwCleaner integration on Malwarebytes, which is a user-friendly security application that scans your system quickly.

Moreover, PUP/LPI (Potentially Unwanted Program) and Hijacker applications can all be located and removed by the program once they have been identified.
2. Uninstall Browser Assistant from Windows
Here, navigate to Programs followed by Programs and Features to find all the installed apps from your computer. You may come to this place to get rid of any app you want.
Look for Browser Assistant, select it and then click on the Uninstall button. Confirm any prompts that may pop up during the uninstall process as they are trying to impede you from deleting the Trojan.
Hold CTRL + SHIFT + ESC together to open Task Manager and look under the Processes tab for any Browser Assistant tasks running. If you find any, right-click it, open its File Location folder, then right-click it again and choose End Process. Return to the File Location folder and erase the folder.
Start your computer into Safe mode. If you are unsure how to do that, follow the article link for an in-depth, step-by-step guide.
Next, open the Windows Search function again and look for File Explorer Options.
Once you select it, navigate to the View tab and enable the Show hidden files, folders, and drives option. Click OK to save the changes made.
Next, in the Windows Search function, type %AppData% and sort the contents of the newly opened folder by date of creation, and remove any file or folder that appears to be associated with the Browser Assistant Trojan.
After that, repeat the process with the following three folders: %LocalAppData%, %ProgramData%, and %WinDir%. Finally, go to the %Temp% folder and erase everything in there as you won't lose anything important.
If you did not observe a process for the Browser Assistant inside Task Manager, as well as in the event that you did observe such a process, you should search for other processes that give off a dubious appearance.

These processes should have an unusually high use of memory and/or the processor (CPU), as well as names that are unfamiliar and appear to be associated with a malicious program.

If such processes are visible in the Task Manager, use the Internet to search the names of everything you find suspicious.

If it is genuinely a risk, there will most likely be a post about it on security forums that will confirm your concerns.
Lastly, we recommend you look at the best free antivirus apps for Windows 11 to ensure you won't get infected again with different malware.
Alternatively, check out what to do if Windows Defender fails to remove Trojan threats.
Was this guide useful to you? Let us know by leaving a comment in the section below. Thanks for reading!