If your browser is not allowing redirects and you wish to change it, you've come to the right place. Pop-ups and redirects can be helpful, but they can also be annoying and raise suspicions about the website's integrity.
Therefore, the level of authorization granted to pop-ups and redirects will change depending on the requirements of the users.
Pop-up windows and redirection were utilized on websites belonging to merchants and payment providers. This would enable retailers to collect payments without having to close current sessions in the browser, which would be a huge time saver.

The merchant site was able to detect payment completions and revenue attribution in the most straightforward manner possible using this method.
These two main features—pop-ups and redirect—were, however, frequently exploited in order to spam the user or compromise their credentials due to a large number of spammers and phishing sites on the internet. This results in cons and frauds being committed online.
As a consequence of this, merchant and eCommerce websites are now collecting payments through the use of payment gateway redirection.

Following the same procedure, you input the card data in the same window inside the merchant sites, and the banking websites are simply used for the authentication component of the transaction.
It is acceptable to employ redirection for the purpose of payment gateways. Nevertheless, several websites abuse this capability in order to trick their consumers.
Why are my redirects not working?
The blocker for pop-up windows and redirection is a useful tool that, by default, prevents certain types of interruptions from occurring.
Additionally, Chrome, as well as other browsers, have the option to add the URL of a particular website, which can then be set to either deliver pop-up windows or be prohibited from doing so.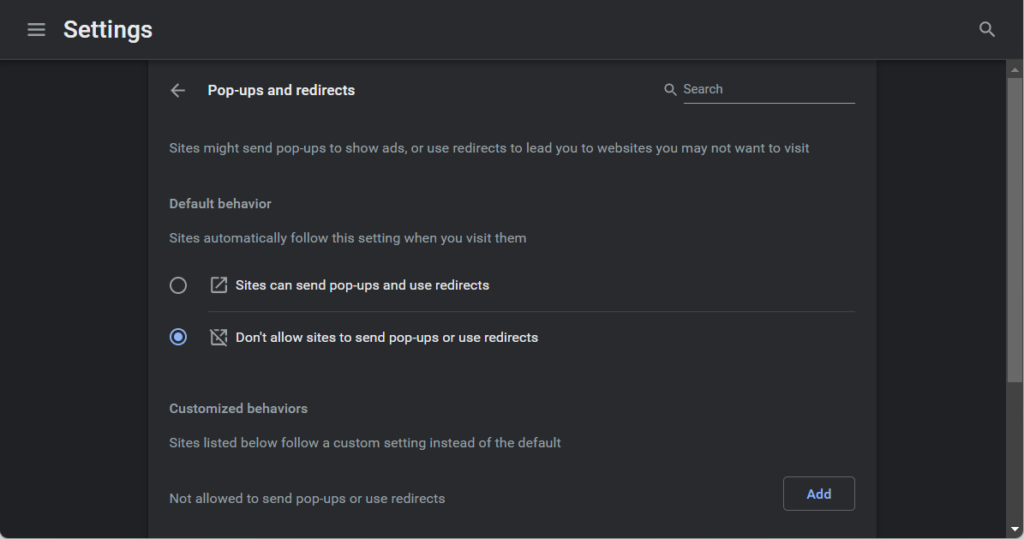 After enabling the pop-ups and redirection blocker on your machine, you will be able to navigate between websites without having to worry about accidentally landing on a malicious website while doing so.

However, this option won't allow benign redirects from occurring either. This is the primary cause of the redirects not working.

In a similar manner, you have the option to either block or enable pop-ups while using the Chrome browser on Android. Moreover, you have the option to whitelist specific websites so that they are allowed to transmit pop-ups on mobile devices.
If, on the other hand, you require the website to deliver pop-ups, you may disable the pop-up blocker that is included in the web browsers. Follow along as we will show you how to achieve that!
How do I enable redirects?
1. In Chrome
Open Google Chrome and click on the three-dot menu from the top right corner.
Select Settings and scroll down to the Privacy and Security section to select the Site settings option.
Scroll down and check the box next to the Sites can send pop-ups and use redirects option. The Chrome not allowing redirects issue will now be resolved.
2. In Safari
Open the Safari browser app on a Mac computer and select Safari from the menubar options.
3. In Opera
Open Opera Browser and click on the Settings option from the sidebar.
Scroll down until you find the Advanced Settings section and go to the Privacy and Security section.
Tap to open the Site Settings tab and scroll down to the Content section.
Next, click on Pop-ups and redirects options.
Enable the toggle button to allow pop-ups and redirects on the Opera browser. This way the browser not allowing redirects problem will be resolved.
4. In Firefox
Open Firefox and click on the burger menu on the top right corner to choose Settings.
5. In Edge
Select the Pop-ups and redirects option within Site permissions.
How do I fix browser redirect problems?
The process of resolving an existing URL to a different URL is known as redirecting URLs. This successfully communicates to both your website visitors and Google Search that a page has moved to a new address. The following are some examples of situations in which redirects are very helpful:
You have decided to transfer your website to a new domain, and now you want to ensure that the change goes through without a hitch.
People can go to your website through a variety of different URLs.
You are in the process of combining two websites and want to ensure that any connections to obsolete URLs are moved to the appropriate pages before you do so.
You've decided to delete a page and direct readers to a different one instead.
The browser redirects not working issue may be fixed on your computer by either installing the most recent version of your browser or deleting it and then reinstalling it.
For more information check out our post on what to do if you get too many redirects on Chrome in order to fix them.

The activation process of pop-up blocker for Internet Explorer 11 is typically difficult for users. When you use this option, your online browsing experience will be less disrupted by the appearance of brief pop-up windows.

Take a look at how to enable or disable the pop-up blocker on IE 11 in order to achieve your desired result when browsing the Internet.
Don't hesitate to leave a comment in the section below and tell us what you think. Thanks for reading!