Users of Brave are able to travel to websites, operate web applications, and see material that is hosted online. However, some users reported their Brave browser is not working on Mac as it should.
In part due to the fact that one of its co-founders was one of those who helped kick-start Mozilla's Firefox, and in part due to the fact that its business strategy is somewhat unconventional – some would even say parasitical – Brave has received more attention than the majority of alternative browsers.
It is possible to prevent advertisements from displaying on websites that you visit by using this browser, which, similar to other browsers, does not cost anything to download or use.
Its developer, Brave Software, is one of the more recent companies to enter the browser wars, having just released a trial version of the browser in January of 2016.
By way of reference, Google Chrome was introduced to the public in September 2008, while Microsoft Edge can trace its roots back to July 2015.
Does Brave browser work on macOS?
Brave has a rapid and responsive performance, proving to be speedier than Firefox and Vivaldi, two other alternatives that are included on this list. This is despite the fact that Brave has built-in security and privacy protections.

In spite of the fact that it is not the quickest Mac browser, users will have a pleasant surfing experience because of the browser's mix of speed and economical RAM utilization.

And yes, Brave Browser (desktop) is available for download on macOS, Linux, Windows 64-bit, and Windows 32-bit computers.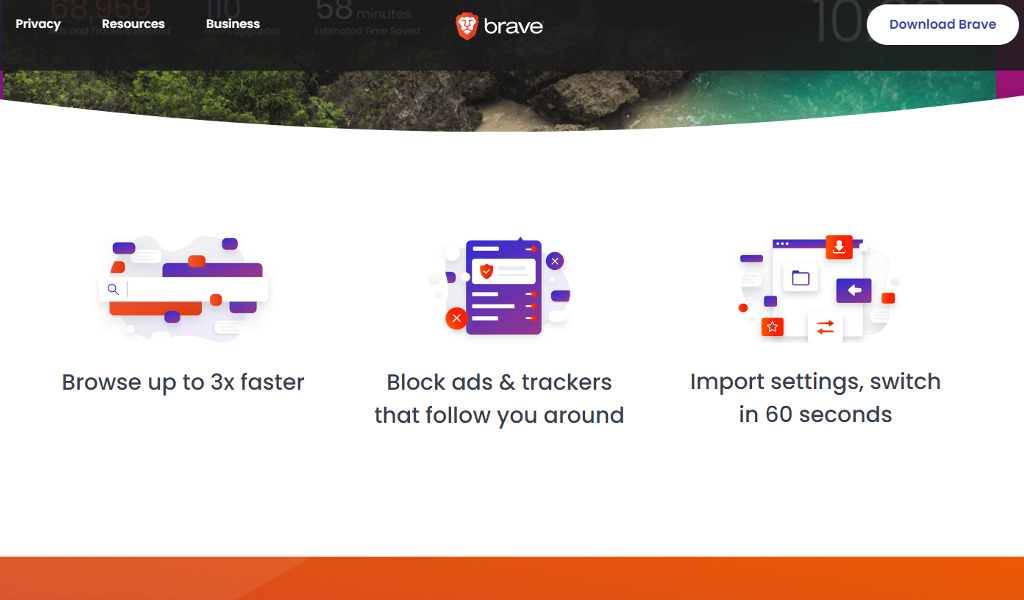 Chromium, an open-source project that is maintained by Google and others, serves as the foundation upon which Brave was created. Chromium is the open-source web browser that Google uses to give the source code for its Chrome browser.
Brave is powered by the same back-end technologies that are used to power Chrome. These technologies include the Blink rendering engine and the V8 JavaScript engine.
Instead of relying on Apple's Safari browser, Brave for iOS uses WebKit, an open-source foundation that also drives Apple's Safari browser. Any third-party browser that is going to be submitted to Apple's App Store has to include WebKit as its core component.
Other web browsers, such as Edge, Opera, Vivaldi, and even Qihoo 360, one of the most widely used browsers developed in China, are dependent on Chromium.
Quick Tip:
Try a different browser with integrated ad blocking. A good alternative for macOS is Opera. The feature is easy to enable/disable in just one click.
According to Opera, this feature can help load pages up to 90% faster. Pair with the customizable shortcuts and speed dials to improve overall speed and performance even more.
How do I use Brave browser on Mac?
Head to Brave Browse's website and click on the macOS option from the center of the page.
Once the file downloads, double-click on it in order to start the installation process. That's it! Brave will be installed on your computer and you will be able to use it after you set the language you desire.
Is Safari more secure than Brave?
Safari performs comparably well to the majority of cross-platform browsers like Chrome, but it does not have the additional security and privacy features of browsers that put an emphasis on protecting users' privacy, such as Brave.

Because Safari is regarded to be lacking in relation to more recent web platform capabilities, many users opt to switch to a browser that offers a higher level of security.

Brave is the finest option for a safe browser for your Mac because it includes Shields that can prevent trackers and annoying advertisements and because it has an unrivaled emphasis on the protection of your security and privacy.

Brave, in comparison to Safari, possesses all of the security features that you desire, in addition to others that you were not even aware that you need.
For more information, check out our post on a full security comparison between Brave Browser, Chrome, and Opera.
What errors are addressed in this article?
Brave, like any other browser, can encounter different bugs and errors, resulting in different scenarios. Some of them are the following:
Brave browser not opening on Mac
Brave browser quit unexpectedly on Mac
Brave not working on Mac M1
Brave browser is not working on macOS Monterey
Brave browser is not working on macOS Big Sure
This being said, let's see what you can do if your Brave browser is not working on Mac. Keep on reading!
What can I do if Brave isn't working on my Mac?
1. Delete your Tor profile data
Open a new Terminal by clicking on the Launchpad icon in the Dock and typing Terminal inside the search bar.
Users mentioned this solution as the one doing the magic for them, thus we recommend it for you to try as well.
2. Delete the BraveSoftware folder
3. Reinstall Brave and update it
In order to reinstall Brave, you can head to their website and download the macOS file. Once you double-click on it to run it, you will be asked whether you want to uninstall the software. Select Yes.
Now, double-click on the same executable file in order to install Brave. When the process is done, open a new Brave window and click on the burger menu from the top right corner, and select Settings.
Scroll down the left menu and click on the About Brave option. On the right side, you will be shown whether Brave is up-to-date or if it needs to be updated.
These are the three ways in which you can fix the Brave browser not working on Mac issue and get back to navigating the Internet safely.

If you're running Mac, we recommend that you check out our dedicated article on Brave browser bugs in order to learn what to do in different scenarios.
Was this guide useful to you? Leave a comment in the section below and tell us what you think. Thanks for reading!