If you too are wondering why isn't Brave Browser working or connecting to the Internet while other browsers work just fine, know that you might be dealing with an app-related problem.
Brave Browser issues obviously happen just as often as you'd find them on any other program. Sometimes, you may have problems installing it. Other times, you might be dealing with high CPU and/or memory usage in Brave or the browser simply won't connect to the internet.
If your network connection is fine, then it's possible that Brave Browser isn't working because of a problem with the app itself.
🖋️ Quick Tip:
To get back online quickly, without having to troubleshoot Brave, try connecting to the web using a more responsive browser like Opera.
It runs on a fast Chromium engine and gets updated regularly to keep track of the latest performance requirements. It's secure, with its own anti-tracker and VPN, plus it offers smooth, ad-free browsing.
Why Brave Browser is not working?
You are using a cracked version – If you are using a pirated or cracked version of Brave Browser, then it might not be connecting to the Internet. You will need to remove it and reinstall the genuine copy of Brave Browser.
Intermittent connection – Sometimes, your Internet connection may be unstable. Try disconnecting your router and plugging it back in. You can also disconnect other devices that may be hogging up your bandwidth.
Router settings – Check your router or modem settings. You may need to reset your modem or router and reconnect it again with your device.
Firewall settings – Some firewalls can block websites by default and so you may need to add exceptions for Brave Browser for them to work correctly.
Faulty or problematic extensions or even malware can cause issues in this regard
How do I fix Brave Browser not connecting?
Before we start troubleshooting, here are a few prerequisites that you should check. Take a look:
➡️ Force quit the browser and reopen it
↪️ Make sure that your PC is connected to a WiFi network or Ethernet cable, and that it's turned on, respectively unobstructed (remove anything that can cause a breakdown in your wireless connection)
➡️ Restart your computer and modem/router. If you still can't connect after restarting both devices, it may be necessary to reset them back to their original factory settings.
↪️ Use your antivirus to scan the system for malware or viruses as these can often cause Brave Browser issues.
1. Update your browser
Old versions of browsers sometimes tend to have issues connecting to the Internet because some features are no longer supported.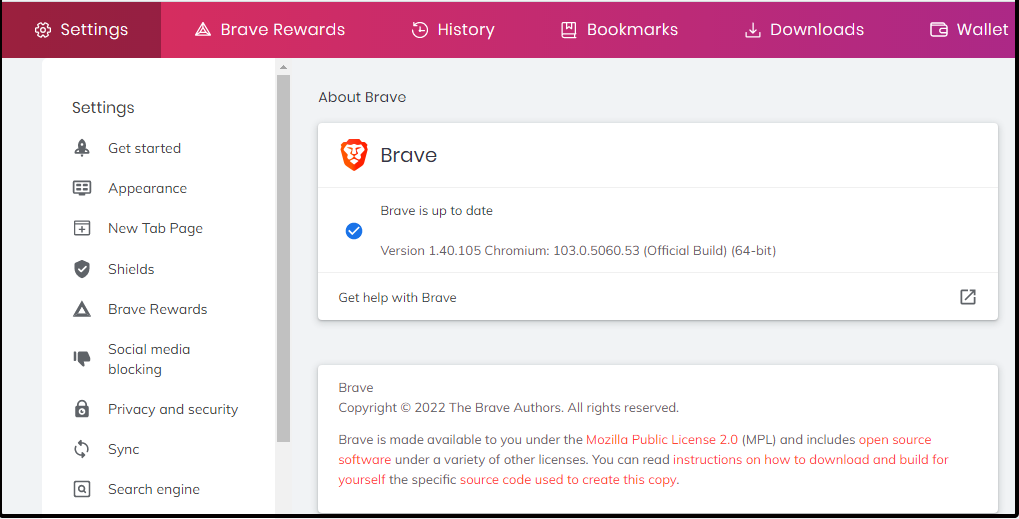 If your browser does not automatically update, you will need to uninstall the current version and install the latest stable release.
2. Check extensions and/or reinstall the browser
It's not a secret that add-ons can cause disruptions in a browser's behavior and make it act erratically. Brave makes no exception. For instance, third-party extensions can cause Brave Browser to drain your PC's battery.
Or, in this case, they can prevent it from connecting to the Internet. If so, we suggest you turn off extensions completely.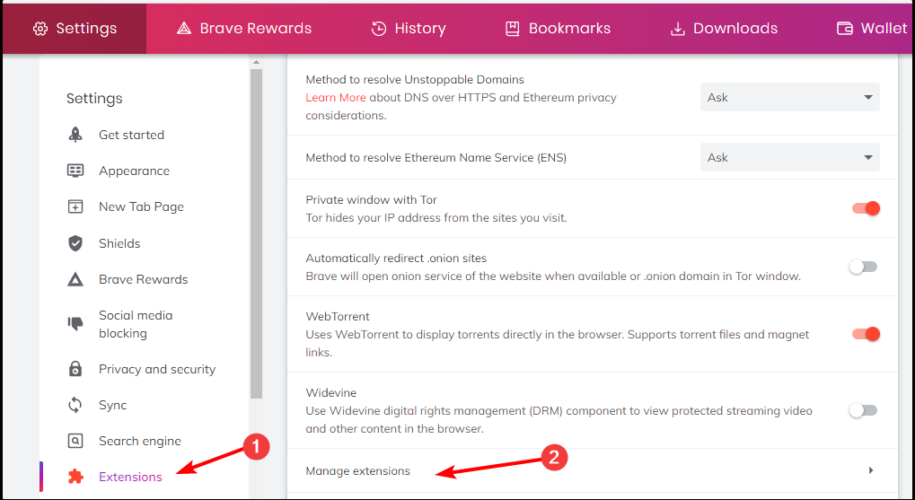 We were also made aware of a more particular case regarding UBlock origin. It seems that this specific extension is responsible for Brave Browser not connecting to Internet issues.
If you're worried about Brave Browser no longer blocking ads, don't sweat. You can uninstall and reinstall the extension or even reinstall the browser altogether.
3. Whitelist Brave Browser or disable firewall/antivirus
First thing first – make sure you have firewall and/or antivirus exceptions in place for Brave Browser. If not, set them accordingly as soon as possible.
Alternatively, you could disable any firewalls or security software running in the background of your computer. Some firewalls may block your Brave browser as malware.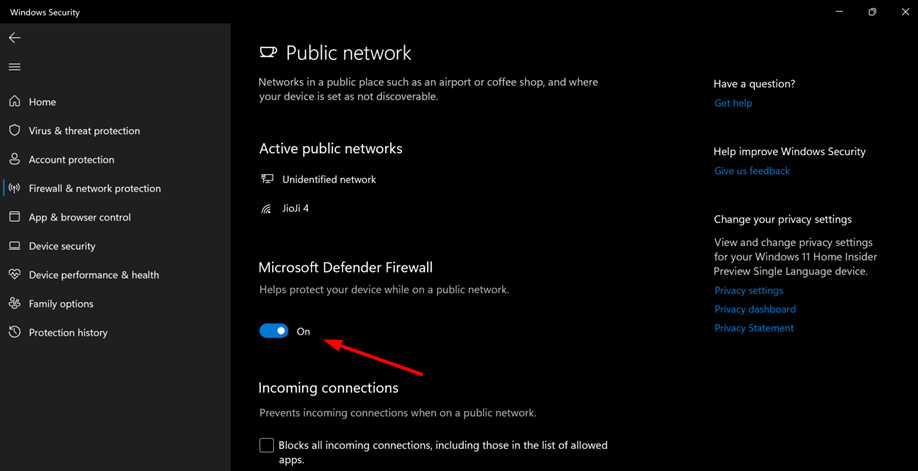 Disabling your antivirus will allow your browser to work properly with no interference from third-party software or the Windows Defender Antivirus program.
Some users were struggling with Brave Browser not working or not connecting to the Internet due to running two antivirus programs simultaneously.
Since this setup can potentially cause interferences and conflicts, we suggest you stick to one app and uninstall the other.
Feel free to use CCleaner or any other uninstaller tool to remove all registry entries, or temp files and prevent future issues generated by software leftovers.
4. Disable VPN/Proxy
If you are using a VPN or Proxy service then it might be the reason why your browser is not connecting to the internet properly.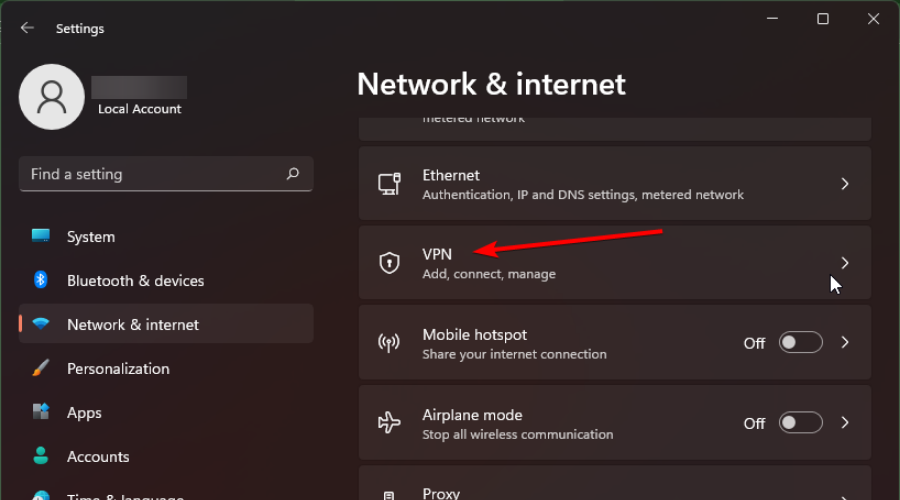 Whenever Brave Browser won't connect to the internet, you may get different error messages and of them refers specifically to these cases: the proxy failed to connect to the web server, due to TCP connection timeout.
VPNs tend to interfere with your DNS configuration settings hence causing issues during connection. Try disabling VPN or Proxy and connect your Brave browser again.
5. Clear Brave's DNS cache
Speaking about DNS, Brave Browser issues can be closely linked to DNS cache piling up or getting corrupted.
In the meantime, you could try disabling the Secure DNS feature in Brave.
To do so, launch Brave and type: brave://settings/security. Locate the option and turn it off.
Moving back to the DNS. Open a new tab in brave and this time, type in: brave://net-internals/#dns
Click on the Clear Cache button. Finally, restart the browser.
While you're at it, you could also flush the DNS at the system level. To do so, you simply need to open Command Prompt with admin rights and type in: ipconfig/flushdns
Hopefully, the above solutions have been able to help you restore the Internet connection on your Brave browser. Let us know of any other fixes that have worked for you.