With in-browsers games rising in popularity, it's essential to have a fast and reliable browser. Here's a look at the best browsers to play Diep.io, Slither.io, and Wormate.io.
All of the browsers on this list are compatible with Windows, macOS, Linux, Android, and iOS so that users can play .io on any device. In addition, if you're interested in other browser games you can play with friends, we have a list for that.
What is the best .io game?
There are many different types of .io games, so it's hard to determine one that is best overall. There are platform .io games, puzzle .io games, speed .io games, and more. It's up to you and your preference to decide the best.
However, one of the most popular—and addicting .io games—is Slither.io, where players play as a worm-like creature and collect glowing orbs to grow as big as possible without running into other players, which is more difficult than it sounds.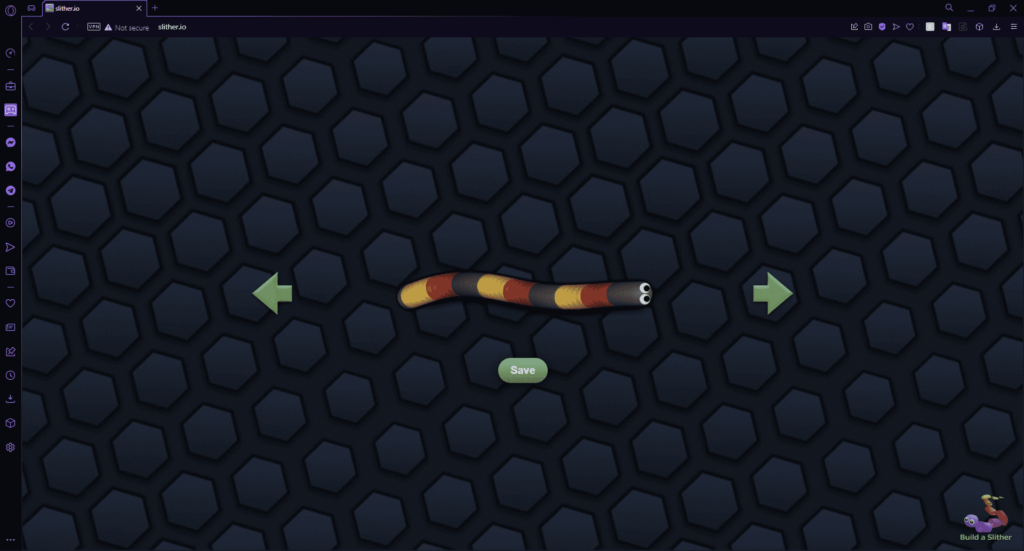 How do I play Slither.io on my browser? First, visit Slither.io in your preferred browser and create a nickname to begin playing. After that, there is no sign-up necessary to get going. Users can also customize the skin of their snake-like creature to set them apart from others.
How can I play Diep IO on my laptop? Diep.io is like Slither.io, where users visit the website, create a nickname, and can begin playing. In addition, players can adjust their region to play with others.
Can you play Wormate.io with friends? Like Slither.io and Diep.io, Wormate.io is another online multiplayer game where users play with others on a server. However, while there is a chance to end up on the same server as one of your friends, there is no way to play in an arena with only your friends.
What are the best browsers to play .io games?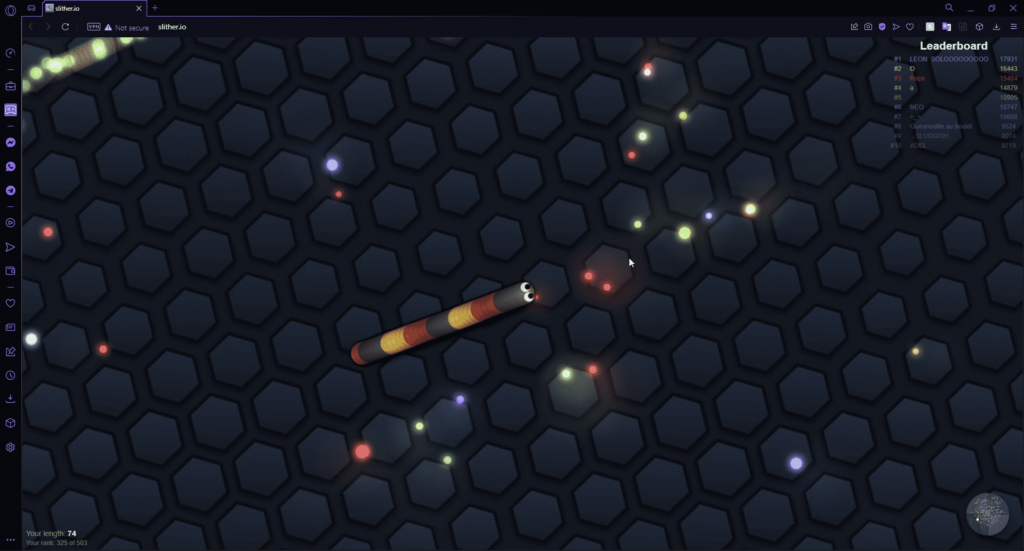 Opera GX is a browser developed by Opera that caters to gamers. This browser is optimized for playing browser games, especially .io games, and even provides exclusive access to GXC, a gaming website where users can play games only using Opera GX.
In addition to being optimized for browser games like .io games, Opera GX is also easy on PC resources. With the GX Control panel, users can limit the amount of RAM, network, memory, and CPU that the browser uses.
With an integrated messenger system easily accessed from the handy sidebar, users can connect with friends using Discord, Twitter, WhatsApp, and more. In addition, Opera GX doesn't only have enhanced gaming functions, and it also has a ton of customization features that gives users a personalized gamey feel.
Key features of Opera GX:
Exclusive access GXC
GX Control panel to conserve PC resources
Integrated messaging apps
Gamey customization options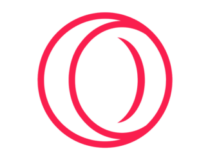 Opera GX
Optimize your .io gaming experience with the GX Control panel.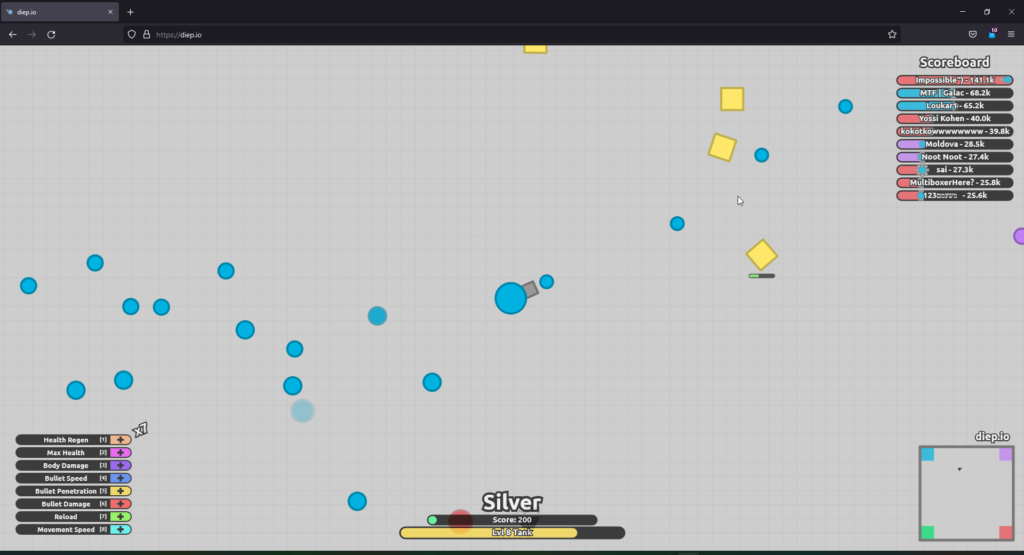 Firefox has been a fan favorite for many years, but it makes number two on our list because it's light on your PC's memory without sacrificing performance or speed. This is especially helpful for .io games as it makes for fast and smooth gaming.
Firefox also values user privacy with a built-in security feature that prevents trackers and crypto miners from harming your PC. Users can choose between standard or strict security protection or customize which trackers and scripts to block.
With a massive extension library, users can install add-ons that enhance their gaming experience for a fully customized browser.
Key features of Mozilla Firefox:
Open-source browser
Enhanced tracking protection
Adjustable and customizable security levels
Extensive add-on library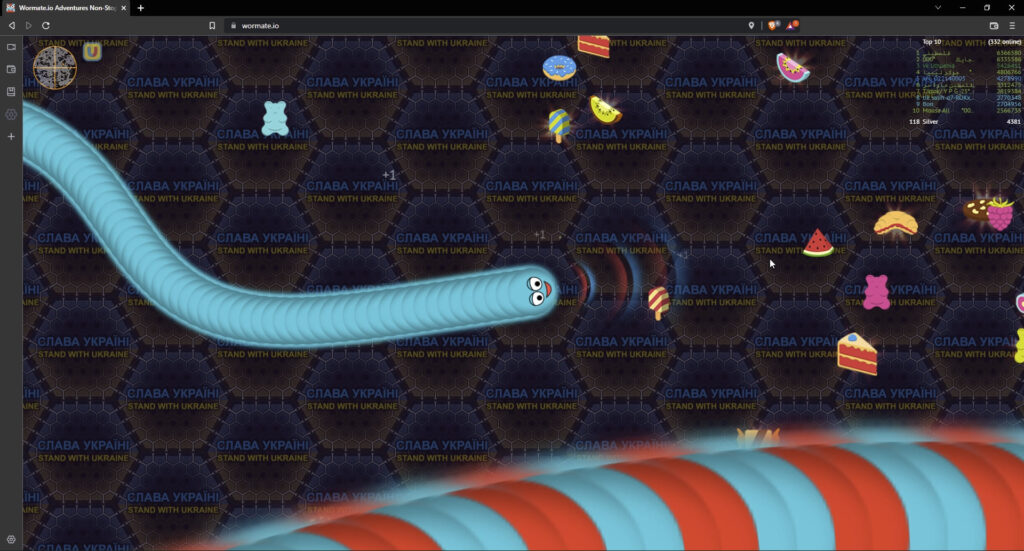 Brave Browser is an excellent choice for .io games if you value speed and security. Another Chromium-based browser allows users to install extensions from the Chrome Web Store. It was also the first browser featured on the Epic Games Store.
With built-in tracking protection and Tor integration, users can play the .io game securely and with peace of mind that their privacy is protected. Users can also customize their level of security using Brave Shields.
Key features of Brave Browser:
Chromium-based
Built-in tracking protection
Tor integration
Brave Shields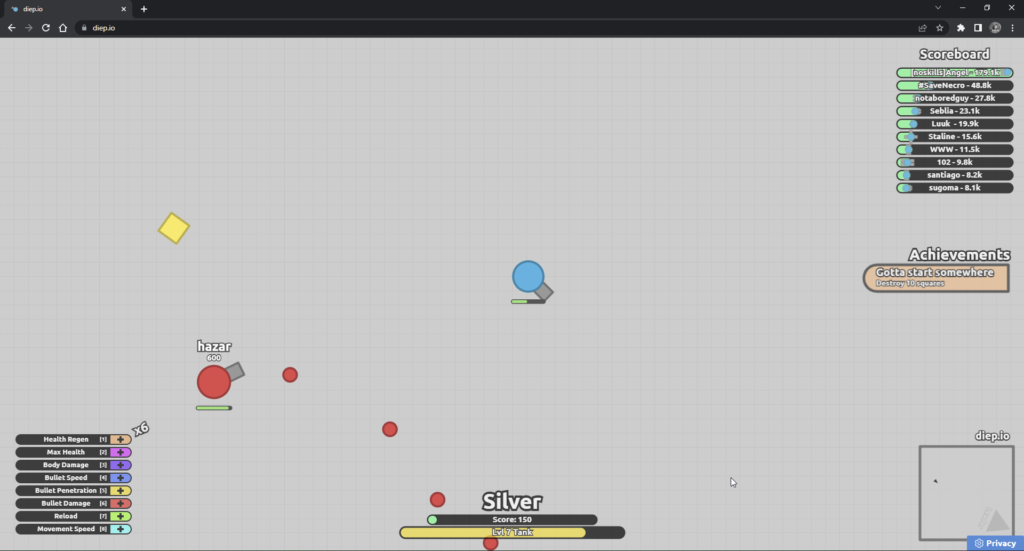 Because of its cross-platform compatibility and speed, Chrome is arguably one of the best browsers for HTML5 games like Diep.io, Slither.io, and Wormate.io.
Google is constantly adding to and improving Chrome, and one recent update is the built-in ad blocker that prevents ads that violate the Better Ads guideline from slowing down page loads.
However, Chrome is notorious for hogging PC resources like RAM and memory because it runs several processes in the background to ensure seamless and lag-free browsing. It also consumes a lot of resources to support its efficient multitasking functions.
Key features of Google Chrome:
HTML5 support
Built-in ad blocker
Lag-free gaming
Multitasking functions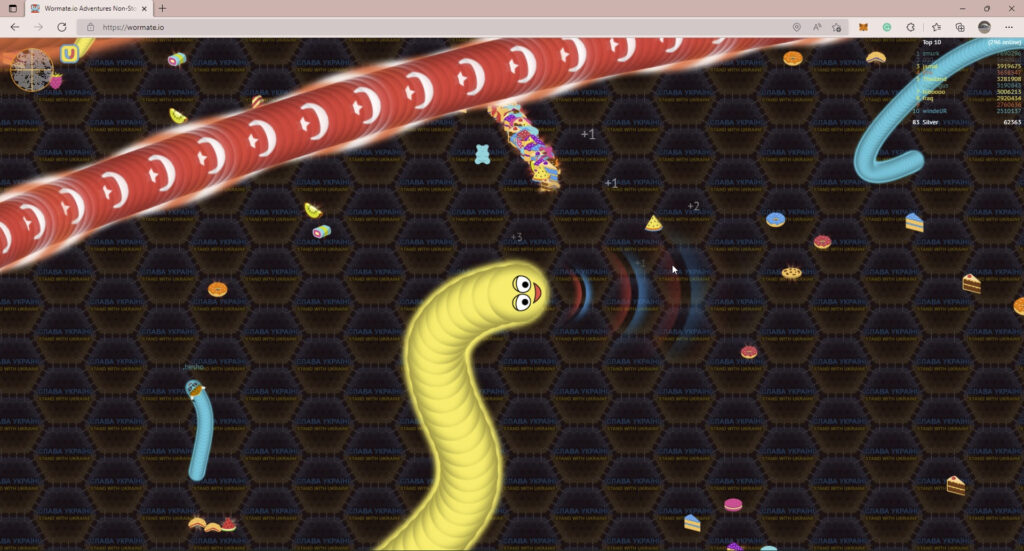 In Microsoft Edge, users can customize their My Feed page to load only content that interests them, including the latest gaming news and information.
The Collections feature allows users to group pages and organize them based on topic. This is perfect for users that want to group .io games in a collection to keep it separate from other pages in Edge.
Efficiency mode reduces the browser's resource consumption while gaming on Windows, making for a lightweight browser that can handle any browser game.
Key features of Microsoft Edge:
Customizable My Feed page
Organize pages with Collections
Efficiency mode conserves PC resources
Chromium-based
How do I stop my .io game from lagging?
You can do several things to improve game latency, including connecting your device directly to your routing using an ethernet cable instead of WiFi. Also, using public WiFi with many connected devices might cause lagging.
Why is my Slither.io so laggy? Lagging in Slither.io might be caused by overcrowded servers or a high ping rate. One solution to this issue would be to use a VPN so you can be on a less entire server.
Why is Diep.io not connecting? If you're having difficulties connecting to Diep.io even after ensuring your internet connection is stable, make sure you have the correct link. The URL should be https://diep.io; any other links may be old and faulty.
How do I run Wormate.io smoothly? To make sure Wormate.io runs smoothly, users can clear their browser cache. Another solution is to play in private or incognito mode to decrease data usage.
For more tips on how to improve FFPS and stuttering in games on your PC, we offer some quick and easy solutions.
Let us know in the comments below which browser you use to play .io games and which .io game is your favorite.