Zwift is a popular online app for cycling and running. But it also rises a few questions. For instance, does Zwift work on PC or laptop? Can you use Zwift on a browser? If you're also wondering how Zwift works, you're in the right place.
It's a lot like an MMO video game where people from all over the world join to race each other. You've probably heard a lot about the Zwift browser, also known as the Zwift Companion browser, and obviously how to use Zwift and Zwift Companion. Know that it's not what you think.
Zwift Companion is simply another app that you can use in conjunction with your main Zwift app. It acts as a controller, making it easier to manage certain features and in-game actions such as maps, chat, and so on.
So, if you were hoping to use Zwift in browser, you'll be a bit bummed. It turns out you can't. There are still heated arguments around this topic. Here's what a user had to say about this in the Zwift forum:
Zwift does not run in a browser at all and does not use browser technologies for the game experience. The graphics and the game engine are not based on web technologies and they run native on the hardware. That is what drive the system requirements. The game does a lot of internet communication like all games now a days. That does not make them web app.
Can I use Zwift in browser?
First things first, let's see what devices can run Zwift. The app can run on Windows, macOS, iOS, Apple TV, and Android devices.
It runs natively on your PC and it provides a bunch of different environments where you can exercise, so no more wondering if you can use Zwift on a computer or laptop. You can bike ride in France, in the desert, and even in a theme park with a lot of Tokyo influences.
While you won't need a full-fledged gaming PC, you won't be able to run Zwift in browsers either. It is an app that runs on your computer and as such, it's incompatible with all browsers.
Here's why:
it uses a proprietary game engine that is not web-based
Zwift is resource intensive and it relies a lot on hardware acceleration
it's not HTML5-optimized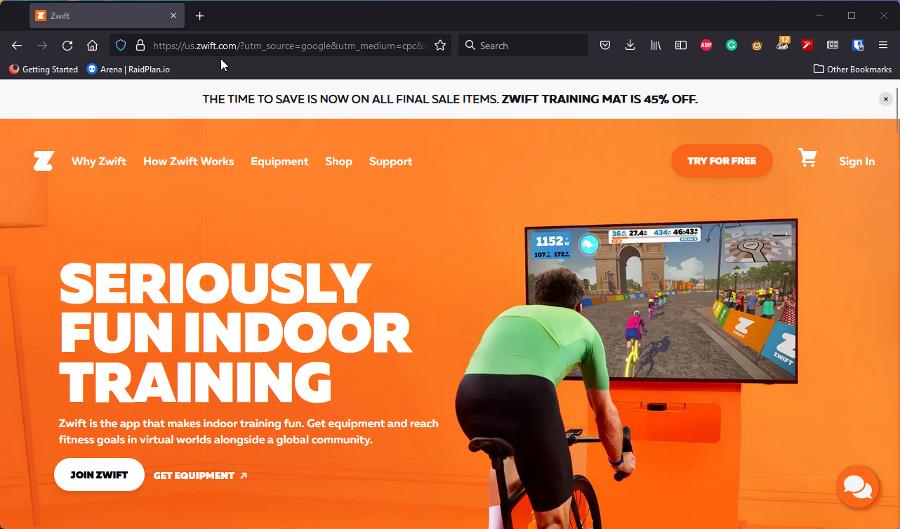 Can you use Zwift Hub without the app?
Nevertheless, you can use Zwift Hub without the app and have access to all sorts of data, statistics, and screens. So, the launcher is web-based and can be accessed through a browser.
There are also extensions that you can install on a Zwift browser to enhance your experience. What's more, you can share your outcome with web services like Strava.
So you'll also be able to enjoy the best Strava extensions and add-ons, among others.
The difference between Opera and Opera GX is that the former is more streamlined.
Fortunately, Opera still has great features like integrated music players and support for social media platforms. Since Zwift connects to Facebook, you can share Zwift results there and message friends on Opera.
The third place goes to Mozilla Firefox and its support for ZwiftMap for Strava.
So, Strava is an online service that lets you track your physical exercise using some social media-like features. You can connect Zwift to Strava using the aforementioned ZwiftMap for the Strava plug-in.
While using Strava, the extension replaces the maps with Zwift's animated maps. It's not a crazy game-changing extension, but it's still nice to have the ability to customize your experience.
In addition to ZwiftMap for Strava, Chrome also has other Zwift extensions. Another interesting one is Zwift Charts which provides demographic and performance charts for in-app events
It provides useful information on who's competing and where for example.
And finally, Brave does the same thing as previous entries as it can also support Chrome extensions. The developer even posts instructions on how to do this on their website.
What is the best Zwift computer setup?
All you really need is a PC that runs Windows 7 (64-bit) or higher that has an Intel Core 2 Duo processor and 8GB of memory. For Apple computers, all you need is macOS 10.10 or higher with the same hardware.
If you have an iPhone, you'll need to have an iPhone 5S or higher. And for Android devices, you'll need to check the Google Play Store to see if it's compatible with Zwift.
Feel free to comment below if you have questions about web browsers. Also, feel free to leave comments about guides you'd like to see or information on browsers and their features.