2023 Most Popular & Used Browsers for Privacy: Australia/US/UK
12 min. read
Updated May 4th, 2023
Published April 19th, 2023
---
Readers help support BrowserHelp. When you make a purchase using links on our site, we may earn an affiliate commission.
Read the affiliate disclosure page to find out how can you help BrowserHelp effortlessly and without spending any money. Read more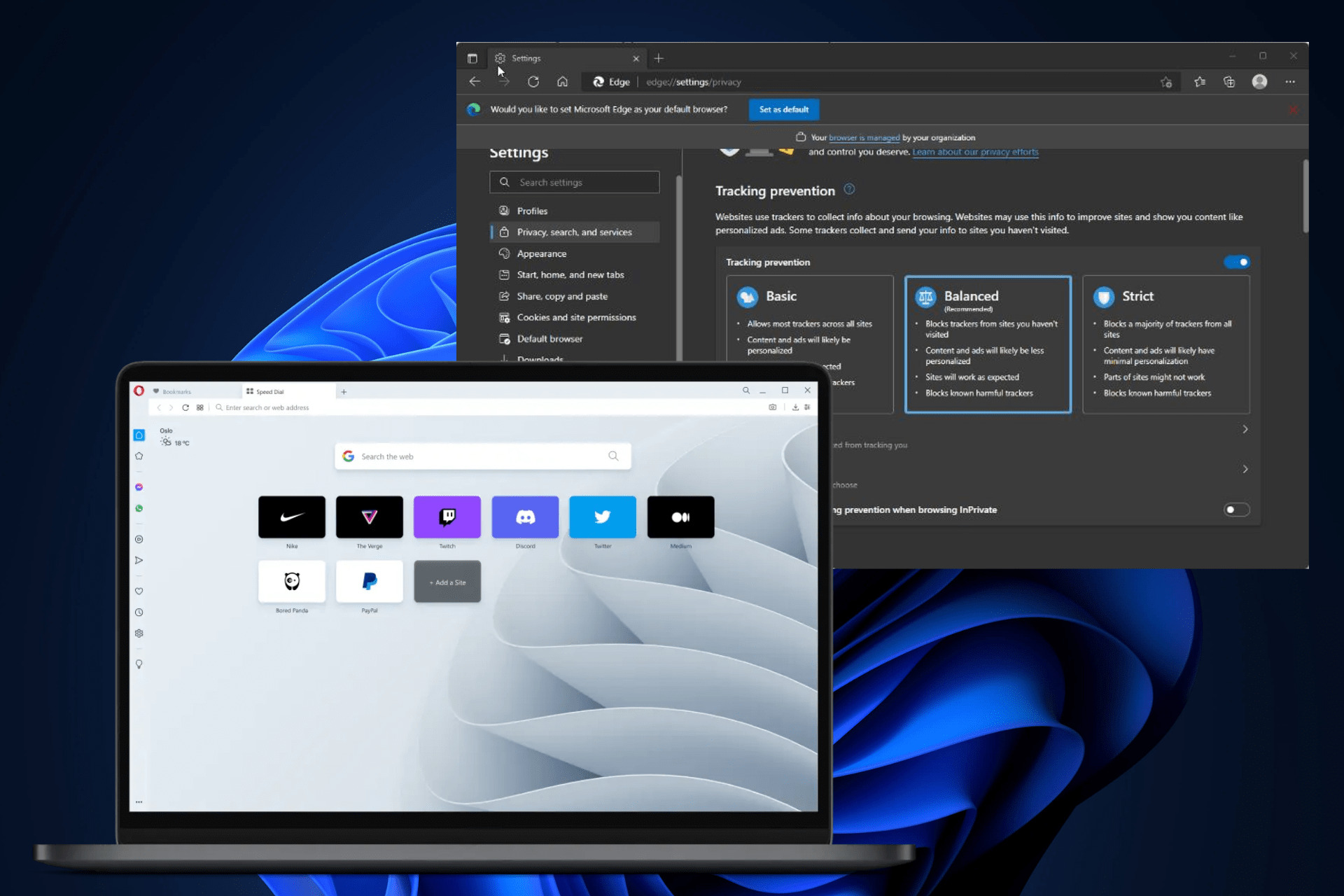 Everyone cares about internet privacy, especially those who live in the land Down Under. Obviously, we're targeting some of the most used browsers but the ultimate goal is to find the best browser for privacy.
Now, privacy and protection are among the few things that people all over the world can agree upon. This is why we won't simply be chasing the most popular browsers in 2023.
In addition to finding the no 1 browser in the world, we'll be answering important questions such as: what is the best browser for privacy? What are the most used browsers in Australia? What is the #1 most used browser in the US? In short, we'll focus on privacy-focused browsers only.
| | |
| --- | --- |
| Opera | Best browser for privacy overall + Adblocker |
| AVG Browser | Private Guard & Cleaner, Private mode included |
| Vivaldi | Useful backup encryption key |
| Brave | Dedicated Shields to block ads & fingerprinting |
| Tor | Total anonymity to websites |
It's safe to safe that cybersecurity infrastructure could use a boost pretty much everywhere. On the other hand, internet speed is actually pretty good according to Speedtest as it currently sits at:
16th place for Australia
19th place for the United States
46th place for the United Kingdom
All that speed is good for nothing if your internet is not protected which is what this guide will be going over.
What is the most commonly used browser?
Unsurprisingly, Chrome is the no 1 browser in the world when it comes to popularity. This information comes from Stat Counter which released a report on web browser market share worldwide from Mar 2022 to Mar 2023.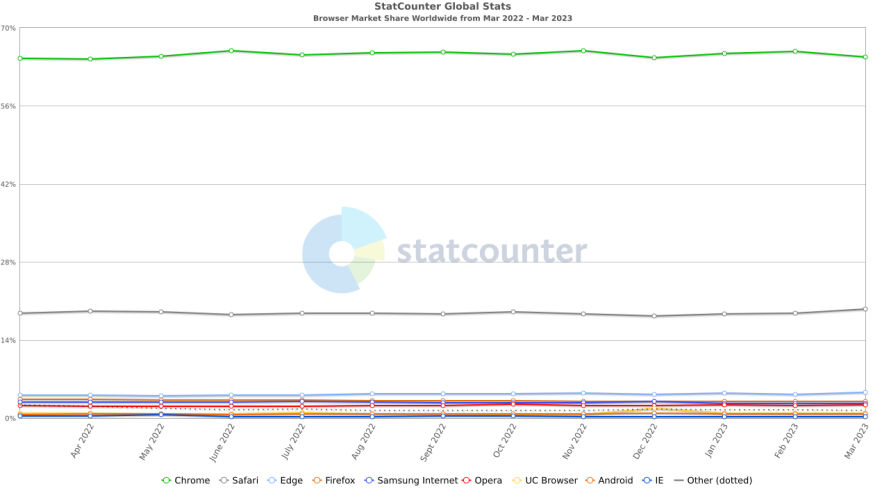 As you can see from the image, Chrome is king with over 60 percent of the market share. Chrome is among the most popular browsers in the world so it stands to reason that the situation is pretty much the same:
What is the #1 most used browser in the US? → Chrome with around 50%
Europe → Chrome is the most popular and used browser with around 60%
United Kingdom → Chrome is the most popular and used browser with around 50%
What browser does Australia use? → Chrome is the most popular and used browser with around 60%
Globally, Safari is second with around 20% due to it being the premier browser of macOS. And then you have Edge, Firefox, and Samsung Internet because of their prevalence in Android phones.
When it comes to picking out this year's privacy champ, comparing names such as Safari – Chrome – Firefox – Brave comes naturally. But we have a few options that might surprise you.
That said, popularity alone only gives reveals the most used browsers but not necessarily the best browser for privacy. The following recommendations have good privacy features but they're not made equally.
Which browser is best for privacy (worldwide)?
1. Opera – best browser for privacy overall +Adblocker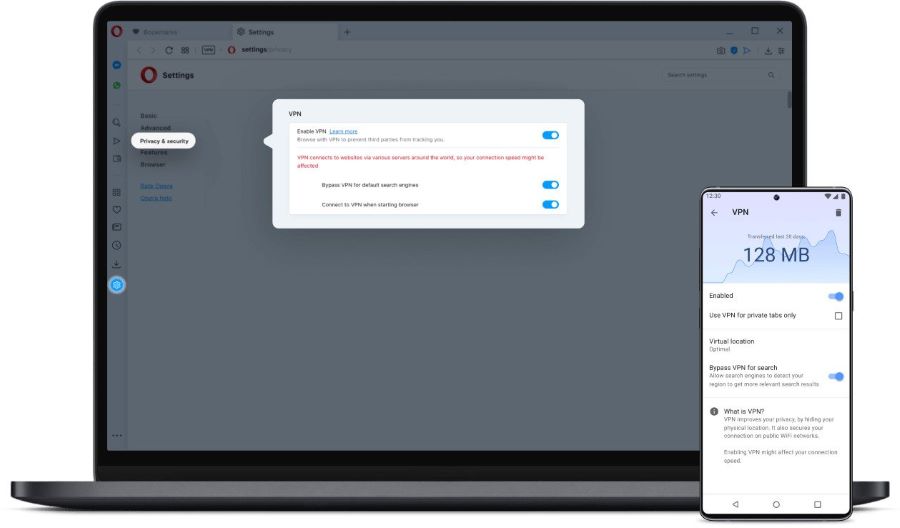 The cool thing about Opera is that you can install Chrome extensions on it. You will need a special extension to do so which is the aptly named Install Chrome Extensions. So all the great security extensions Chrome has can be moved over to Opera.
Aside from the Chrome extension support, Opera does have some pretty security features. For starters, it comes with an ad blocker already installed on it. This protects you from malware and ensures browser speed stays high.
The browser can also prevent third-party websites from tracking you with its patented tracker blocker. This ensures your privacy. And to top it all off, Opera comes with a free VPN, one of, if not the only browser that does this.
The browser's security settings are easy to access and easy to configure, You can change them without having to open a new window.
Additional features
Built-in VPN and adblocker
You can access recently closed pages
The browser also comes with a password manager to save log-in information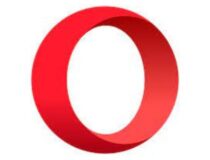 Opera
Secure your digital presence with cutting-edge tracking adblocker and VPN protection.
2. Tor – Total anonymity to websites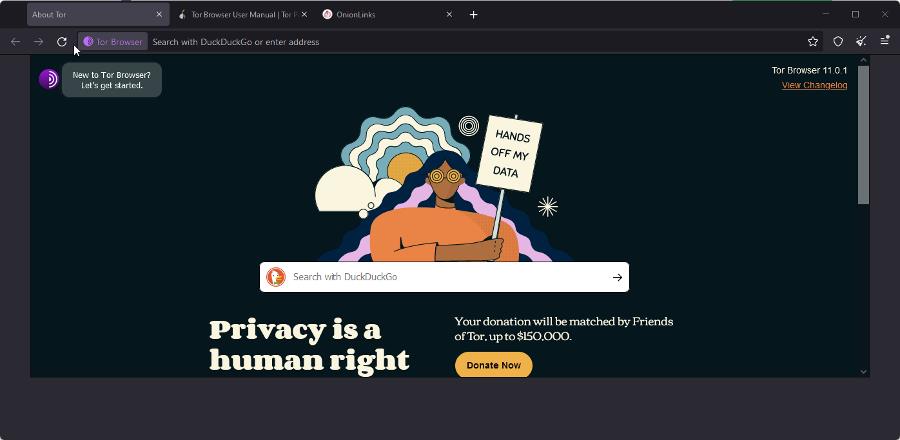 Arguably, the most secure and best browser for Australia has to be the infamous Tor. So, is Tor browser legal in Australia? For sure. Tor got famous for the ability to access the dark web which is a series of hidden websites on the internet.
Certain websites may be tucked away for a variety of reasons, usually for security purposes. It was created by the U.S. Navy for totally anonymous online communication and that's exactly what you have with the best browser for privacy.
It uses Tor's wide-reaching network to hide your IP, then secures your connection. The browser does this by jumping through multiple nodes in order to make it incredibly difficult for anyone or anything to track you.
Tor is mainly used by journalists to hide their information. Other notable features include the same anti-fingerprinting feature that Brave has and the ability to browse blocked websites.
That said, using Tor to browse the internet casually is a bit overkill. You probably won't be actively using all the features it has, but it's still one of the best.
Additional features
Automatic data decryption on client-side
Provides total anonymity to websites
Possible to visit locked websites
⇒ Get Tor
3. Brave – Dedicated Shields to block ads & fingerprinting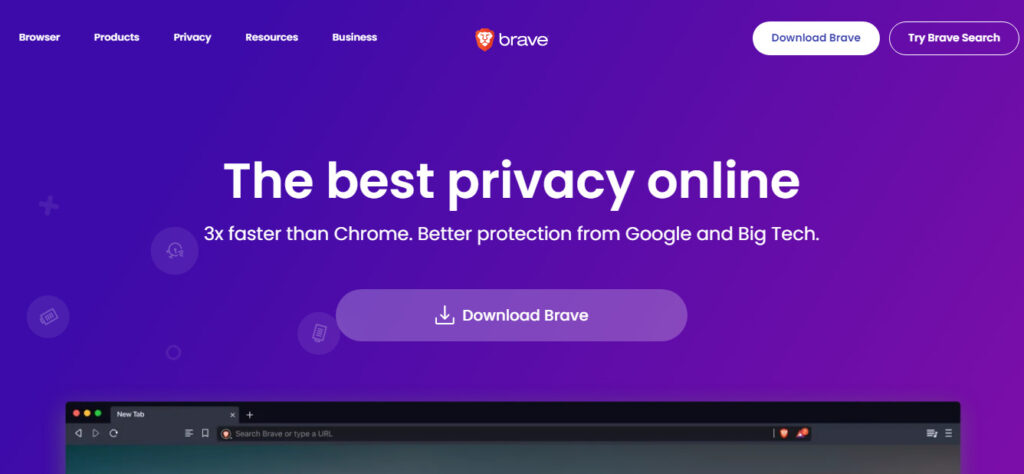 Brave deserves a high placement on this list. It's built on Google's Chromium browser engine, the same as Chrome, but greatly improves upon it. Because of the Chromium base, some users are suspicious of Brave.
Chrome has had a reputation for tracking users in the past. First, Chrome gives people the option to opt out of user tracking. And second, Brave doesn't do anything as close to what Chrome did in the past.
Brave has a suite of protection features which is called Brave Shields. In this suite, you have a built-in ad blocker that can stop websites from tracking you. It also boosts fingerprint protection.
Fingerprint protection doesn't refer to literal fingerprints. It's a type of online tracking where a third-party entity creates a profile of you based on your browsing behavior.
Things you click on, things you like, the sites you visit; all of this can be collected. Brave prevents this from happening making it truly unique.
Adaptive browser
Can import bookmarks from previous browsers
Security features are simple and easy to understand
Has a VPN, but you'll have to pay
4. AVG Browser – Private Guard & Cleaner included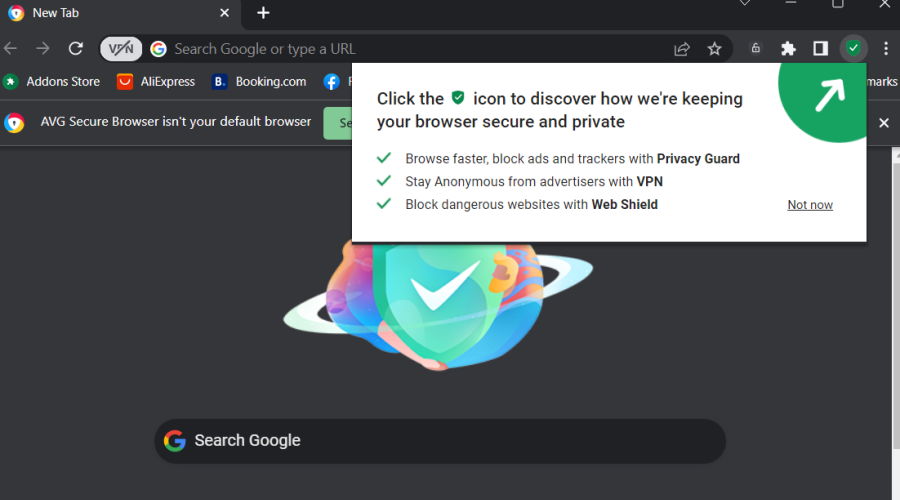 It may be a newcomer and it's surely not as famous as its giant-scale rivals that make for the most used browsers and the most popular browsers in the world. However, AVG is not one to be easily pushed aside.
Whatever it lacks in notoriety and market share percentage, it compensates in privacy features – starting with a dedicated Private mode that leaves no tracks after you close your current navigation session.
If your goal is to find out what are the 4 famous web browsers, you won't find AVG there but you might have just discovered the best browser for privacy.
Another interesting feature is the Privacy Guard, which blocks anything and everything from ads to trackers and beyond. There is also a dedicated Extension Guard that will check and prevent untrusted add-ons from installing.
And speaking of trust, you'll be most pleased to know that AVG Browser boasts a Web Shield feature that will detect and repel fake sites, phishing tentatives, and many other fraudulent behavior patterns. What's not to like?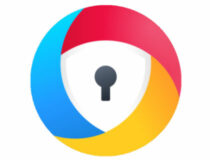 AVG Browser
Block untrusted sources such as websites, or extensions and browse at will, tracking-free.
5. Chrome – Various extensions at your disposal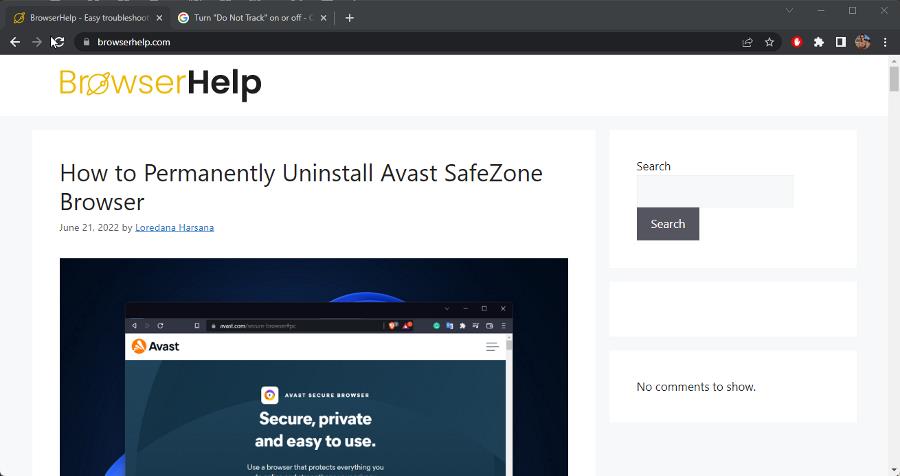 Google Chrome is next on our list. Credit where it's due, the browser is consistently getting new security updates that boost its protection. It's certainly a great choice in the world in this regard.
But the problem with Chrome is that developers frequently find holes in Chrome's security and it makes you wonder whether or not Google actually has good protection for its browser.
You can always supplement Chrome's security with a wide variety of browser extensions, but it should be great from the get-go. You shouldn't have to fix Google's work. Plus, Chrome has been known to track users.
You can turn off tracking features, but it's a little difficult to trust Chrome completely.
Additional features
Sync Chrome profile across multiple devices and share passwords
Keep accounts separate with different profiles
Control media across different tabs with the media hub
6. Microsoft Edge – Great Password Monitor feature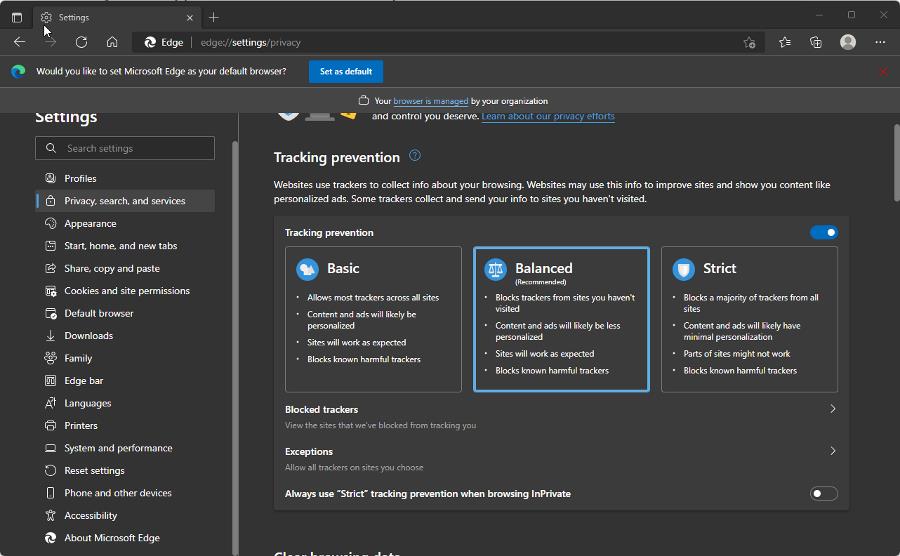 Microsoft has come a long way since the days of Internet Explorer. The old web browser was finally put to rest as Microsoft will no longer support it. Instead, it'll focus its efforts on Edge.
Internet Explorer had security problems for its entire lifespan with government organizations telling people to get rid of it. So what's different? Basically, Edge is now on par with other mainstream browsers.
You can now open private browsers and add extensions to them that can be used to enhance their security. Its main security feature, Microsoft SmartScreen, will protect people from malicious websites and downloads.
With SmartScreen, Edge will actively scan whatever you download to make sure it's okay. If not, it'll reject the file. Plus, it has a robust tracking prevention feature with various levels of protection.
Additional features
Organize search results with Collections
Know if passwords are compromised with Password Monitor
Browse and search privately with InPrivate
7. Safari – Safety Check included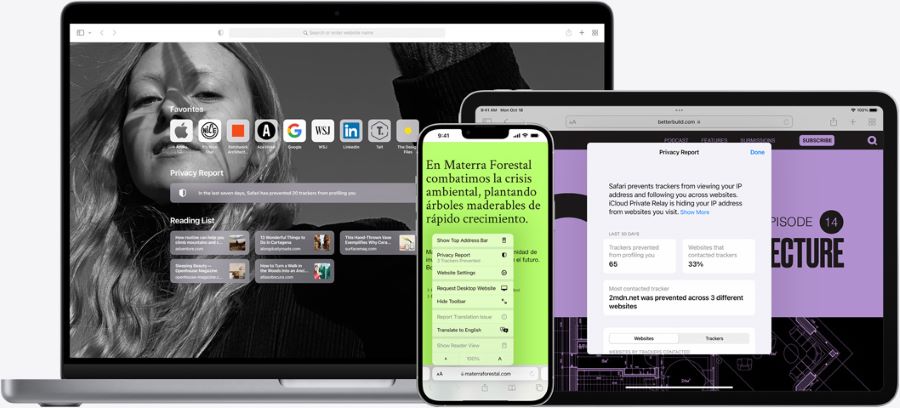 The premier browser of Apple devices just had to make this list. Safari doesn't have any unique privacy features that other browsers don't have. You can create private windows and prevent websites from tracking you on Safari.
But what makes Safari so good is how it incorporates macOS security features. The browser's security features work best when used in tandem with macOS or iOS. Let's look at the recent Apple WDCC event.
WDCC showed off a bunch of new features coming to Mac computers. For example, Apple wants its users to move away from passwords and use passkeys instead. These keys utilize biometric identification to create a unique login for Macs.
Safari will be getting the ability to translate images from the internet via Live Text plus Shared Tab Groups as a new way to collaborate with friends. A lot of nice quality-of-life changes are coming to the browser, but that's really it.
The interesting new privacy features like greater Hide My Email support and Safety Check are for the overall macOS environment.
Additional features
Built-in sharing feature to share websites with others
Will soon switch to secure HTTPS protocol completely
Enhanced tracking prevention coming soon
8. Firefox – Enhanced tracking protection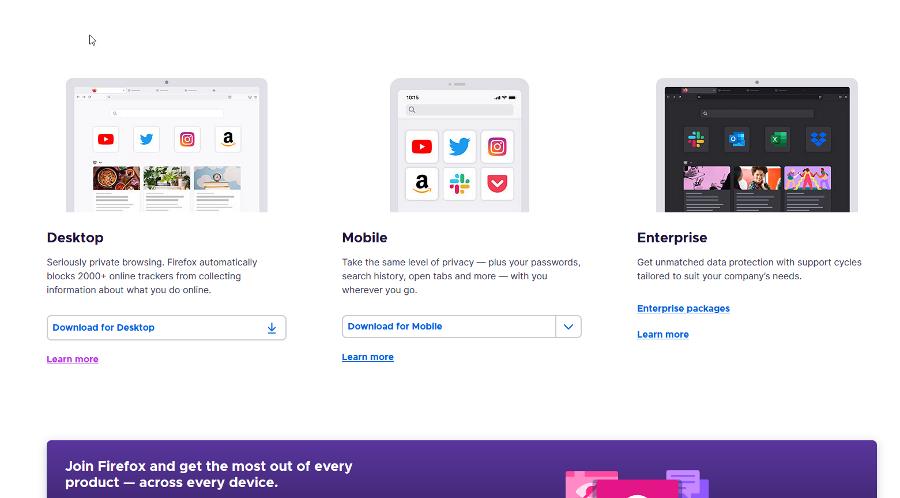 Next, we have a personal favorite in Mozilla Firefox. Compared to something like Chrome, Firefox blows it out of the water. Natively, Firefox will block third-party websites from using cookies to track you.
It'll block trackers from social websites. It can prevent annoying videos from playing automatically. The browser has DNS over HTTPS to prevent internet service providers from selling your data.
It's available in over 90 languages and is compatible with Windows, Mac, and Linux computers. There's a version for mobile devices so you can take high-quality security features on the go.
Firefox has a built-in password manager so you don't have to remember any of it. Mozilla also included a cryptocurrency-blocking feature to prevent minors from using their computer for crypto tokens.
There is so much to Firefox that it's difficult to go over everything. On top of that, you have an entire suite of extensions to enhance your browsing experience.
Additional features
Private browsing tabs now have enhanced tracking protection
SmartBlock will prevent common tracking scripts from working
Sync profiles across different devices
9. Vivaldi – Useful backup encryption key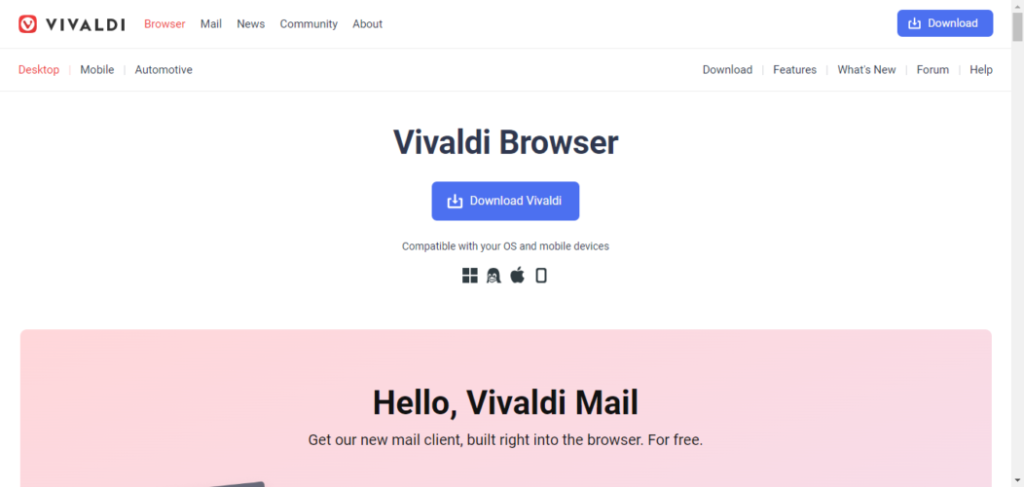 Now we have Vivaldi. This browser has multiple security tools laid out in an easy-to-understand menu. Approachability is a major factor that some tech companies tragically overlook.
It's not enough to have a secure browser with lots of cool features. You have to display them in such a way that people instantly understand them. People don't want to dig through menus just to find one thing.
According to Vivaldi, the browser will protect you from websites and itself trying to track you. The app doesn't collect data on its users, which is quite refreshing to hear. It comes with an ad block pre-installed.
And like other browsers, it comes with private browsing. But Vivaldi takes it one step further. The browser lets users change the search engine used. Plus, if you forget your password, you can download a backup encryption key to recover data.
People have complained in the past that Vivaldi is a little slow and may freeze. So do be aware of that.
Additional features
Visual Tabs let you preview what's in a tab before clicking it
Trash Can to restore closed tabs or block pop-ups
Adaptive Interface lets you customize aspects of the user interface
10. DuckDuckGo – With HTTPS protocol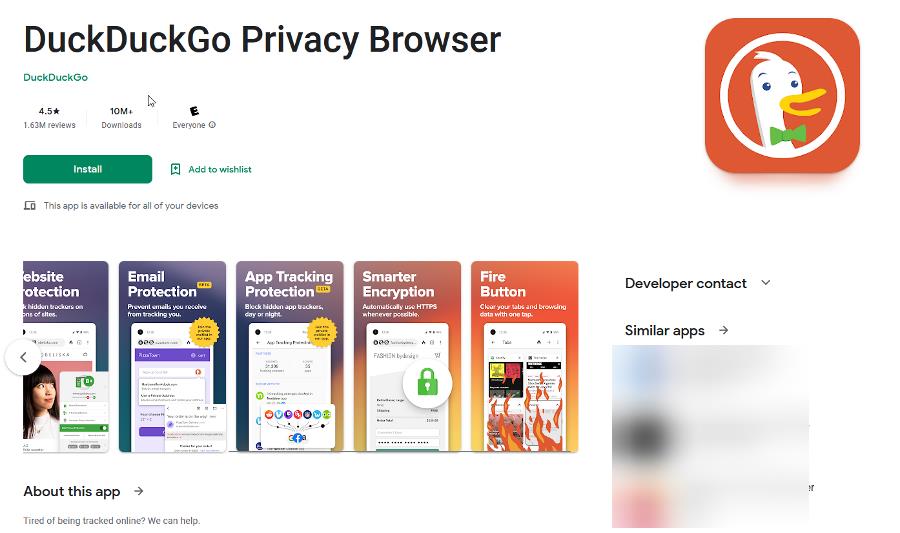 In case you didn't know, yes DuckDuckGo has a web browser but it's only for mobile devices. It came out in late 2021 and has seen a ton of positive reviews for its security features.
DuckDuckGo markets itself as the anti-Google search engine. Google Search is known to track its users which the company claims are a way to better serve people. Others see it as an invasion of privacy.
DuckDuckGo keeps zero track of your information while you use its search feature. The browser will protect you against websites and apps tracking you, although the latter is still in beta so it isn't perfect.
Also in beta is an email protection feature that, as you can probably guess, stops people from hiding trackers within your email. And then there's the Fire button which clears out your browsing data with a single tap.
No other browser, mobile or desktop, has these features. It's unknown if the developers plan on creating a desktop version besides the extensions but we hope they do.
Additional features
Automatically uses HTTPS protocol when possible
Lots of features for developers to play with
Has a simplistic design
Feel free to comment below if you have questions about the most used browsers. Also, feel free to leave comments about guides you'd like to see or information on browsers and their features.