Apple TV+ is an online streaming service run and operated by Apple. It's a lot like Netflix in that it has its own original content. The platform even has some award-winning movies.
There are lots of different shows that you can watch on the service like Ted Lasso, Loot, and Prehistoric Planet. It's available on gaming consoles, smart TV, and various streaming devices.
And you can even watch Apple TV+ on your computer with a web browser, although the number of supported browsers is pretty limited.
Can you watch Apple TV+ in a web browser?
According to Apple, it's possible to watch Apple TV+ on either Chrome or Firefox. Beyond that, there are no other browsers that have official support. Don't get this confused with the Apple TV device as some people have on the internet.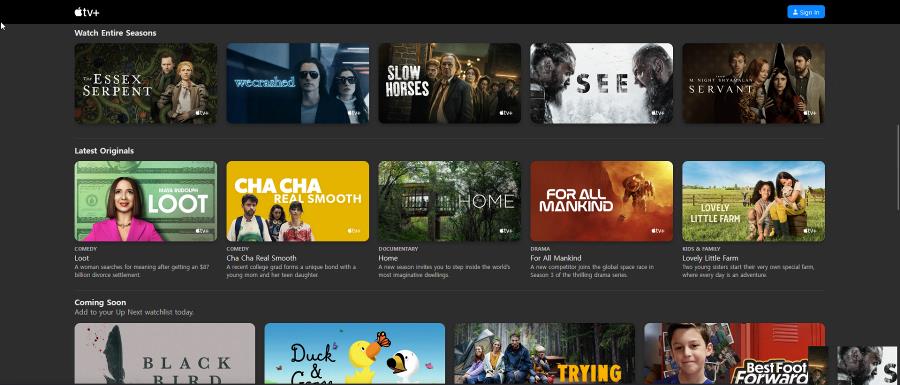 Apple TV is a streaming box that lets you stream Apple TV+. It does not support any browsers officially. It is, however, possible to install third-party browsers onto Apple TV to enhance your experience.
You may ask yourself Why doesn't Apple TV have a web browser? and Can you watch Apple TV+ on Safari? The answers to both of these questions are directly related.
For whatever reason, you cannot watch Apple TV+ on Safari. It appears that Apple would strongly prefer its users to use a combination of Apple TV and an iOS device to serve as the browsing experience.
Since Apple TV+ does not have Safari, some developers took it upon themselves to create browsers for Apple TV. As such, this guide will go through what are the best browsers for Apple TV+; both on-device and on a desktop.
What are the best browsers for Apple TV Plus?
1. Chrome – Password manager included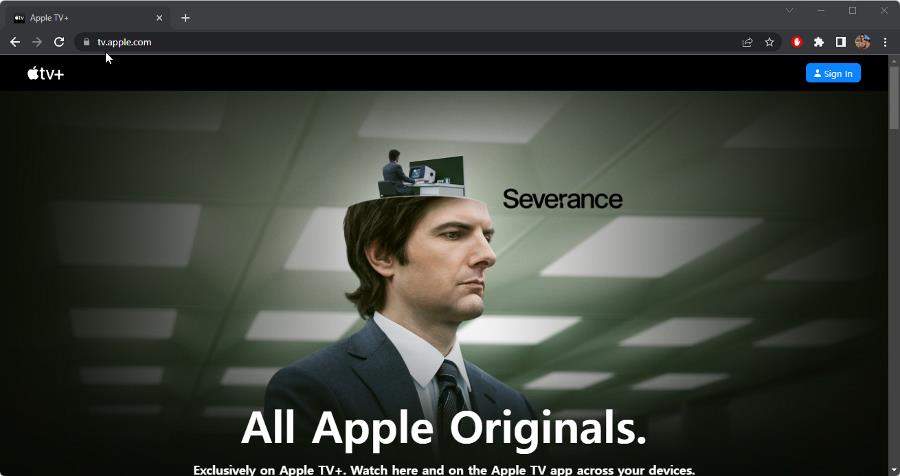 Starting off the list is the world's most popular browser, Google Chrome. This browser is one of the few that's officially supported by Apple for its streaming service. And like with any good Chrome support, there are browser extensions.
The first of which is called Apple TV Skipper which lets you skip episode introductions and recaps during the beginning. It even automatically goes to the next episode whenever one finishes.
The second is Apple TV Extended which adds new controls to Apple TV Plus. With this extension, you'll be able to control the playback speed of an episode, customize subtitles, and even zoom into the video.
Additional features
Chrome also has a lot of productivity like organized tabs and separate accounts
Browser's password manager will generate strong passwords and keep them secure
You can add a near-infinite amount of features with extensions
2. Firefox – Supports picture-in-picture viewing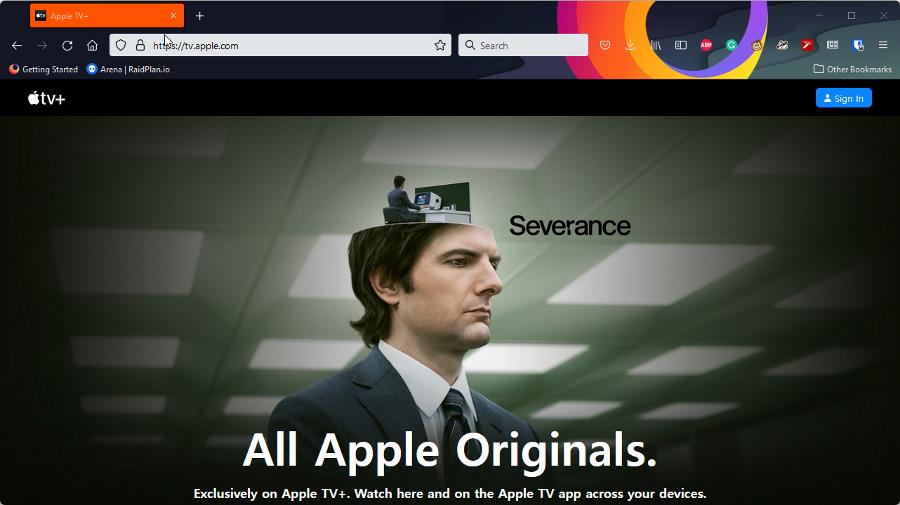 Next up is Firefox which is the only other web browser that is officially supported by Apple TV Plus. Unfortunately, Firefox doesn't have any unique or cool extensions for the streaming service.
You may see a few tangentially related extensions, but they're simply themes. They change the look of Firefox to have it match Apple TV Plus. But that doesn't mean you get a lot of the web browser.
Firefox is still a great browser with loads of security features to protect your information. Plus it has a password manager that you can use to store your Apple TV Plus password.
Additional features
Firefox has private browsing that protects users from being tracked
You can sync the browsers to others on different devices
Firefox supports picture-in-picture viewing
3. AirBrowser – Supports hand controls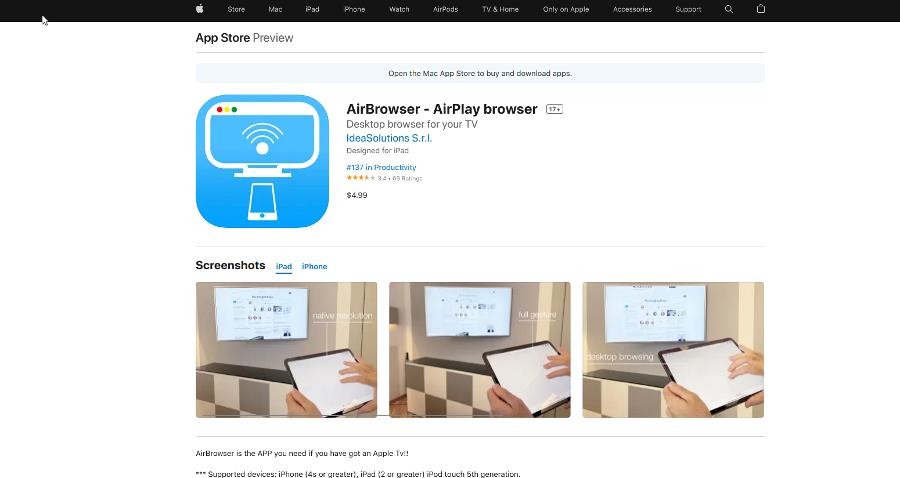 From this point forward, the browsers being discussed are the ones that be uploaded to the Apple TV device. These apps are meant to enhance the Apple TV Plus experience. The streaming device allows you to watch content already.
The first browser of this new group is AirBrowser. This particular app essentially brings a desktop experience to Apple TV. All you really need in addition to the app is an iOS device to control it.
With AirBrowser, you can surf the internet, watch videos from your favorite websites, and basically everything else that you do on a regular computer.
Additional features
It supports hand controls like pinching to zoom or swiping to navigate
AirBrowser supports photo and video uploads
Optimizes fonts to allow reading on TV more comfortable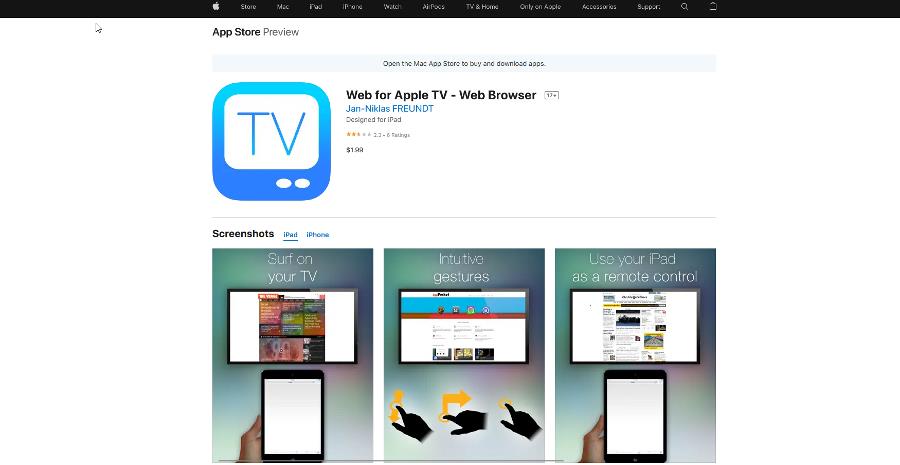 Web for Apple TV is one of the cheaper options on the streaming platform. It's a premium service that comes with some pretty cool features and it's available in a ton of languages from Danish to Italian to Turkish.
The main draw of this app is the ability to use either an iPad or iPhone to browse the internet on an Apple TV device. You utilize hand gestures to scroll through pages like the previous entry on this list.
Web for Apple TV even displays webpage content in high definition, so you don't have to worry about sudden poor quality.
Additional features
Web for Apple TV also comes with a private mode to hide your web history
It can run on all devices that support AirPlay Mirroring
The browser takes full advantage of large HD screens
5. AirWeb – Multitasking support on iPads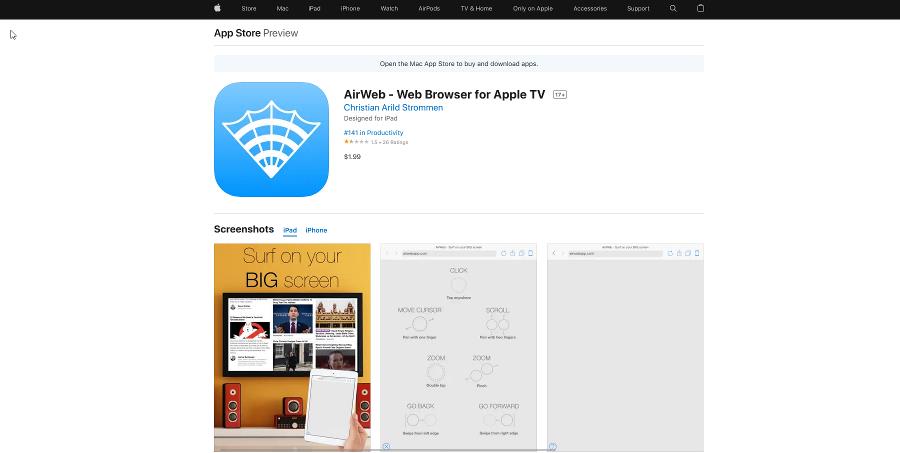 And the last entry on this is AirWeb. The description page on the Apple App store claims that it's one of the very first browsers for Apple TVs. But it doesn't feel like one because it frequently gets updated.
Like previous entries, you can control the internet on Apple TV using either an iPad or iPhone; really anything that supports AirPlay Mirroring. It has similar touch controls too. What's great is that the description page actually shows you what the gestures are to control the app.
Some people have complained in the past that AirWeb is a little clunky to use and there are problems with logging into secure websites.
If you experience that, the developers ask that you reach out and let them know so they can roll out a fix.
Addition features
AirWeb takes full advantage of the size of a TV screen
Developers recently added multitasking support on iPads
You can easily browse the internet without having to look at your iOS device
Feel free to comment below if you have questions about web browsers. Also, feel free to leave comments about guides you'd like to see or information on browsers and their features.