ADP is the largest HR firm in the world and hundreds of thousands of companies rely on its services for employee payrolls and taxes. ADP isn't compatible with every browser, so here are our picks for the best five browsers for ADP.
While most browsers offer security protection features, a VPN is the best way to ensure total privacy. Check out our recommendations for the best VPNs for laptops for an added layer of protection.
What browser works with ADP?
ADP supports the latest versions of Chrome, Firefox, Microsoft Edge, Opera, and Safari, all of which tested and approved for key functionality. The latest versions of Firefox, Chrome, and Safari are the browser requirements for ADP Freedom.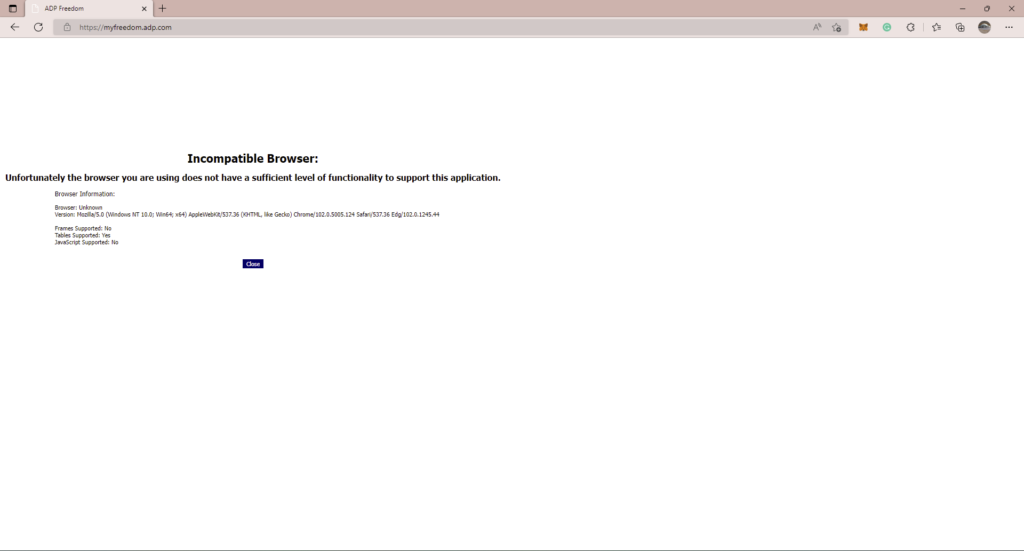 Does ADP work with Internet Explorer?
ADP does work with Internet Explorer Version 11 on Windows 7, 8.1, and 10. However, to print checks on blank check stock, users must enable Microsoft ActiveX. Support for Internet Explorer will end in June 2022.
Does ADP use Flash?
Adobe no longer supports Flash, however, ADP will still function with Flash Version 17 or higher. Users need Adobe Reader DC for printing reports, pay statements and other PDF documents with ADP.
What browser should I use for ADP?
1. Opera – Ideal for quick and secure browsing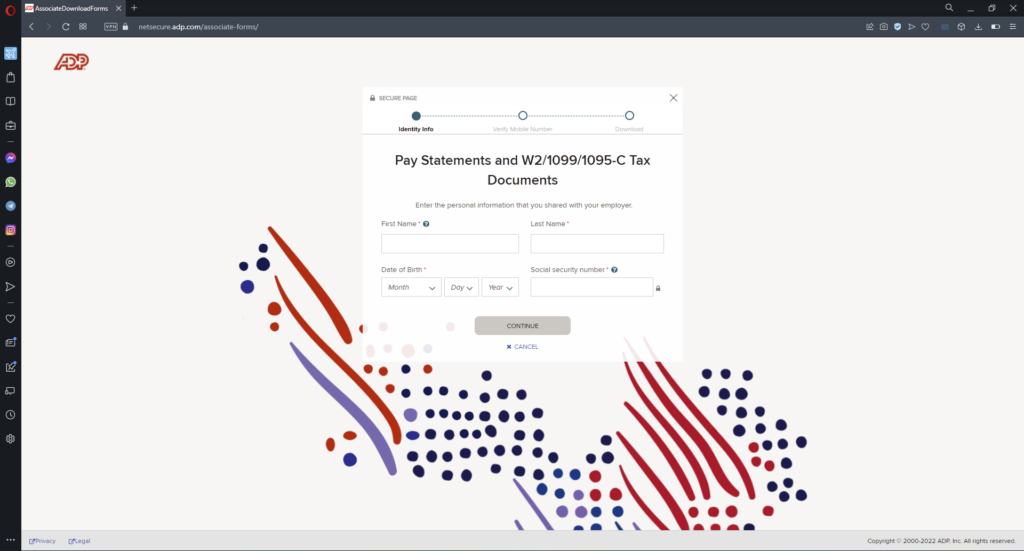 Opera Browser makes the top of our list as the best browser for ADP because of its privacy and security measures. The built-in VPN provides an extra layer of security for users, which is essential for websites like ADP where sensitive information is handled.
With a built-in ad blocker that is easily accessed from the address bar, users can browse quickly and securely. Users can also create a whitelist for websites, like ADP, that need the ad blocker disabled to function.
Key features of Opera:
Built-in free VPN
Ad blocker whitelist
Accessible security features from the sidebar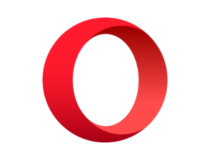 Opera
Keep your sensitive information protected at all times with Opera's free VPN.
2. Mozilla Firefox – Most secure password manager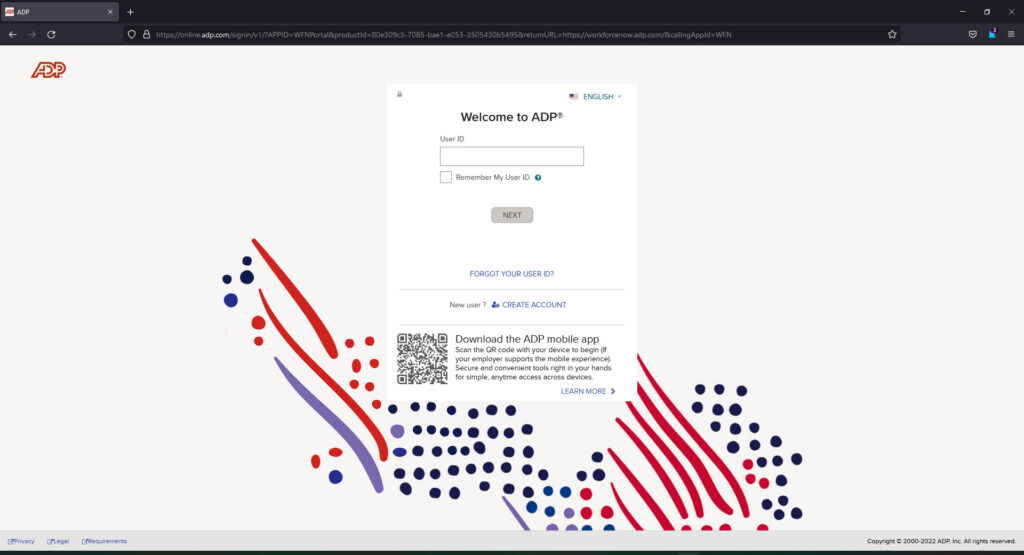 Firefox is the default browser for many users because of its compatibility with websites like ADP and simple user interface. With the extensive add-on library, users can customize Firefox as much as they like.
The password manager helps users create strong passwords and encrypts them on your hard drive so you don't have to worry about remembering complex logins.
Key features of Firefox:
Simple user interface
Extensive add-on library
The password manager encrypts login data
3. Google Chrome – Most efficient tab management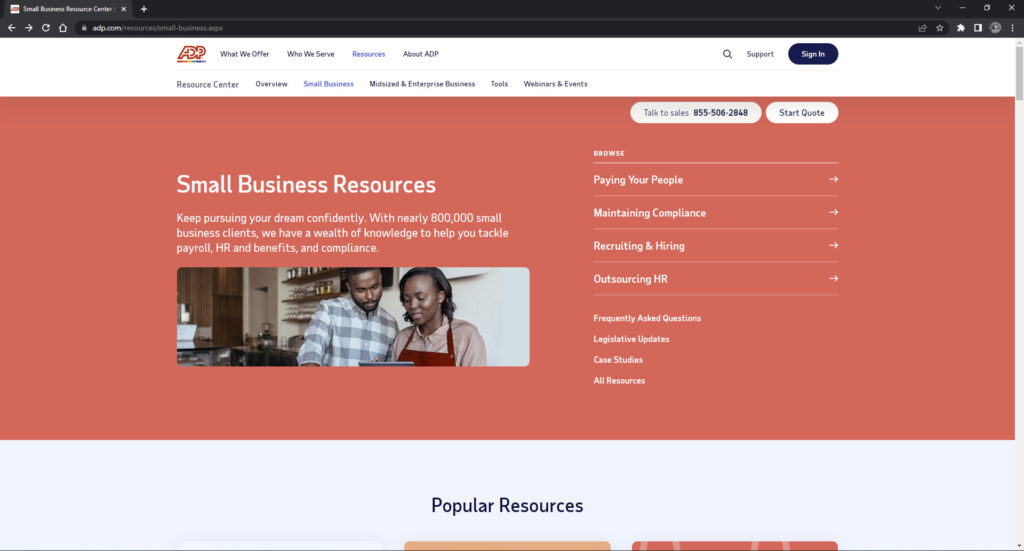 Chrome allows users to have separate accounts on one browser which is great for users with shared computers or those who want to keep their work and personal life separate. The password manager also works with separate profiles and remembers login information.
Users can stay organized with its efficient tab management system by grouping tabs or pinning them for easy access.
Key features of Chrome:
Separate profiles
Password manager
Tab management system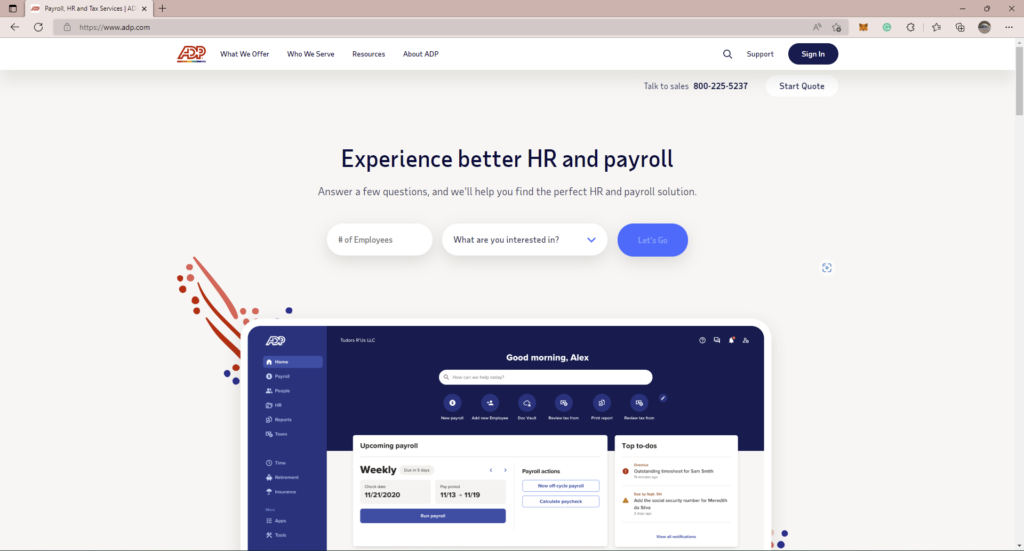 Edge is a popular browser among employees and businesses because of its usability and productivity features. In addition to its usability, Edge provides business-grade PDF support which allows users to access PDFs from the browser with features like information protection and digital signatures.
With malware protection and an HTTPS security indicator, which will let users know if they are browsing on a secure website.
Key features of Edge:
User-friendly interface
Enterprise-grade PDF support
HTTPS security indicator
5. Safari – Optimized for macOS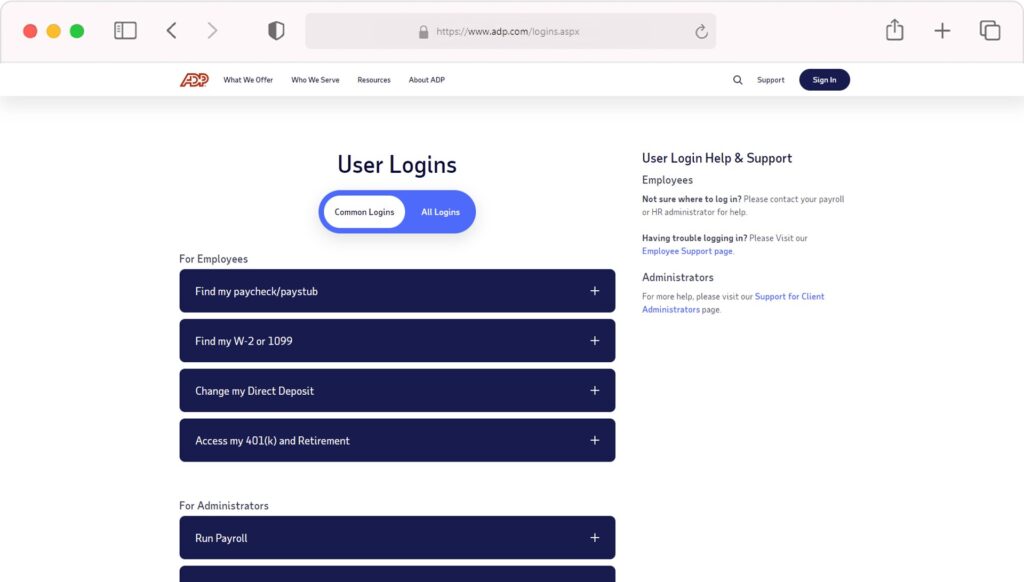 Safari is the default browser for Apple users and is optimized to work on Macs, claiming to be the fastest browser for Apple products. Moreover, with Apply Pay integration, users can complete online transactions with Touch ID or Face ID for safe finance management.
However, the latest version of Safari that is required for ADP is only available for Apple devices and will not work on other operating systems.
Key features of Safari:
Password protection system
Apply Pay integration
Optimized for Apple devices
Has ADP ever been hacked?
Unfortunately, APD has fallen victim to hacking attacks. With the internet growing and evolving, cyberattacks and hacking are also getting more sophisticated. In recent years, ADP has taken extra steps to enhance its fraud protection program to keep user information safe.
Does ADP have 2-factor authentication?
ADP does have a two-factor authentication process, where users are asked to confirm their identity at login by verifying a code via phone or email.
Does ADP sell data?
ADP does not sell user data to third-party companies and only shares data with ADP Group Companies, business partners, and service providers that are bound by law to protect personal data.
We hope you enjoyed our list of the best browsers for ADP. Comment below which browser you prefer to use for ADP.