Ad blockers on Android devices enhance your browsing experience by blocking unwanted ads from popping up. Intrusive ads not only spoil the user experience but also pose a real threat. These ads can compromise your privacy by collecting personal data and tracking you online.
While advertisers may claim they collect data to serve you better, there is often more happening behind the scenes, and users remain unaware of this. This is where ad blockers come in to shield you from potential threats and provide a smoother and more enjoyable user experience.
Adblockers block malicious ads, speed up page loading times, reduce data usage, and help extend battery life.
How to Block Ads on Android Devices?
There are a variety of methods using which you can block ads on your Android devices. You can either use ad-blocking apps, use a browser with a built-in ad-blocking feature, or configure DNS-based ad-blocking.
We will be discussing some of the apps and browsers as best adblockers for your Android phone and tablets. Ad-blocking apps are available for free on the Google Play store. These apps remove ads from Android phones without rooting and offer you system-wide control. Some of these apps come with additional features as well to give you more options around your privacy.
Most of the advertisements pop up while browsing the internet, so you can use a browser that has built-in ad-blocking capabilities. These browsers take care of your privacy as well by enabling inprivate browsing.
What is the Best Ad Blocker for Android phones?
There are many free ad-blockers available on Google Play Store that you can install on your Android phones and remove intrusive ads from all the installed apps. Some of the most renowned ones include AdGuard, AdAway, and Blokada.
Here are some ad-blocking apps for Android that do not require rooting.
Blokada (feature-rich ad blocker for Android)
AdGuard (also available as Chrome extension)
AdAway (best overall ad blocker to block ads on all Android apps)
DNS66 (DNS-level filtering)
Also, here's a brief on certain key points, which you need to consider when choosing the best adblocker for your Android devices. First and foremost, always check for compatibility with Android and browsers.
While browsers now offer built-in adblocking features, they can't go beyond websites. Hence, a system-wide ad blocker is required that could block ads from Android apps. Adblockers should include blocking filters, customization options, privacy measures, and additional features that could bring a smooth user experience.
1. Blokada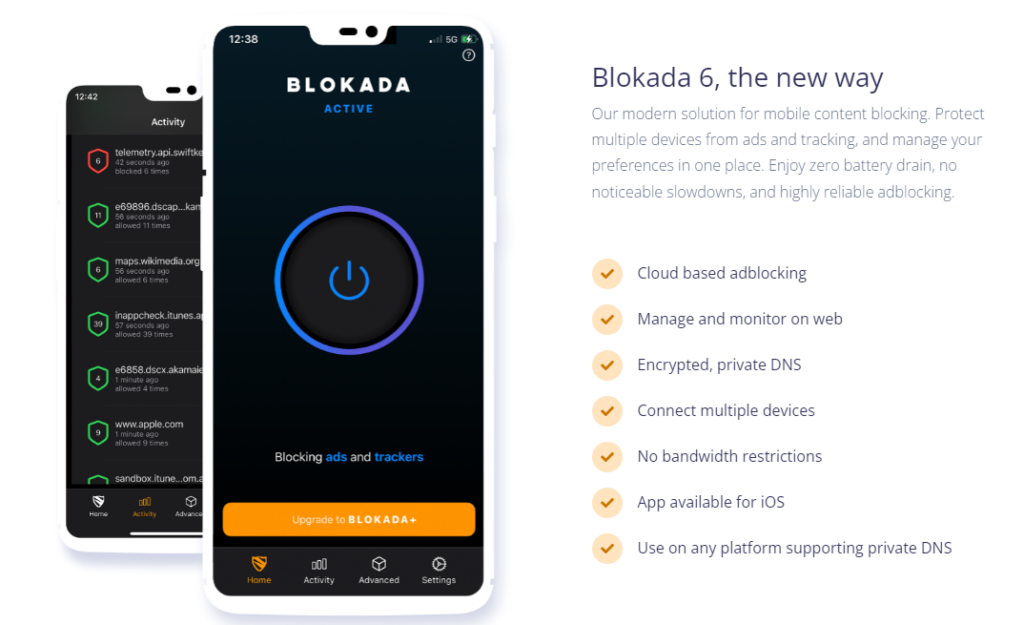 Blokada blocks pop-up ads, malware, and trackers. It works on most Android devices, be their phones, tablets, or even FireStick and Android TV. It creates a local VPN to block ads and tracking across different apps and browsers. It has a user-friendly interface and offers easy customization of blocklists and whitelists.
It requires no root or jailbreak. It prevents apps and browsers installed on your device from sending your private data. It uses VPN to filter out all of the ad trackers and stop them from displaying on your phone. It is an effective ad-blocking app for your Android phone that blocks ads from YouTube, Twitter, Chrome, and even in-app ads in games.
You can also configure Blokada to block unwanted content on the system level. This means it can block ads across all apps and browsers installed on your device.
2. AdGuard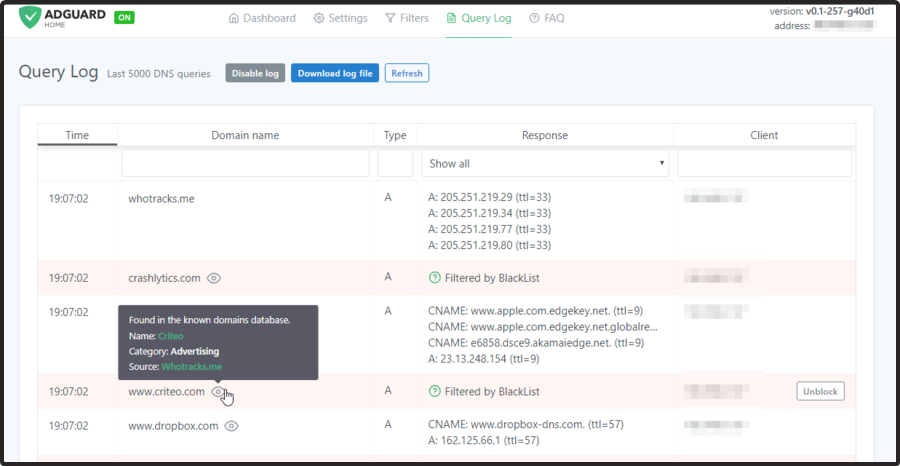 AdGuard ad-blocker app is available for Android and as a browser extension as well. It is one of the best adblocking extensions available on Chrome browser. You can use it on both rooted and non-rooted devices.
It blocks all types of ads, including pop-ups, banners, video ads, and more. It uses filtering techniques to identify and block ads across different apps, browsers, and websites. It also blocks web trackers and analytics scripts that collect your browsing data and helps protect your privacy.
With the help of the customization options, users can whitelist specific websites to help support their favorite websites. DNS-level filtering is also available in the premium version.
3. AdAway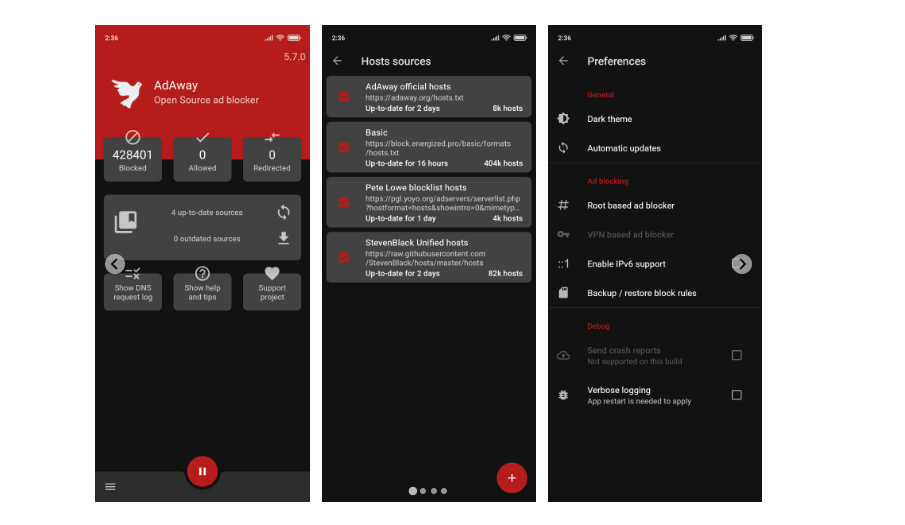 This is another ad blocker for Android devices that you can install to prevent unwanted content and advertisements from popping up. The adblocker works across all the apps installed on your Android device. It offers system-level blocking by modifying the Hosts files of your smartphone or tablet.
Additionally, it offers benefits like malware protection, increases page loading speed, and reduces data consumption by blocking pop-ups and video ads on websites. The app is, however, not available on Google Play Store, which might concern users. It can be installed from the app's official website. It is one of the apps that is continuously monitored by its developer for bugs.
It is worth mentioning that access to the root filesystem is not necessary. Just download the AdAway app from the official website directly and follow the instructions.
4. DNS66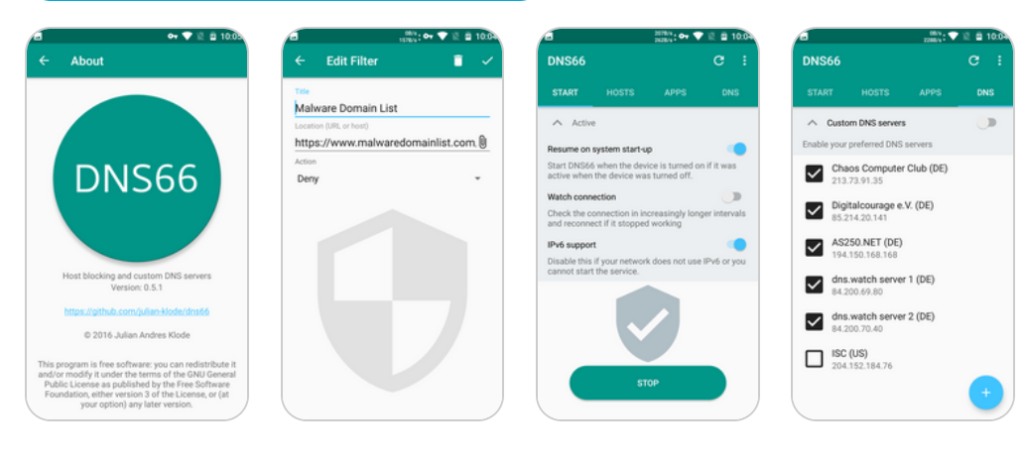 It's one of the best ad blockers for Android that many users swear by. It creates VPN to filter out advertising and tracking domains. It intercepts DNS requests and redirects them to a null IP address, thereby effectively blocking the ads from being loaded.
The adblocker allows you to whitelist specific domains so that you could support your favorite websites. It works on the DNS level which means it targets ad domains and may not be able to block ads served through other methods.
5. AdShield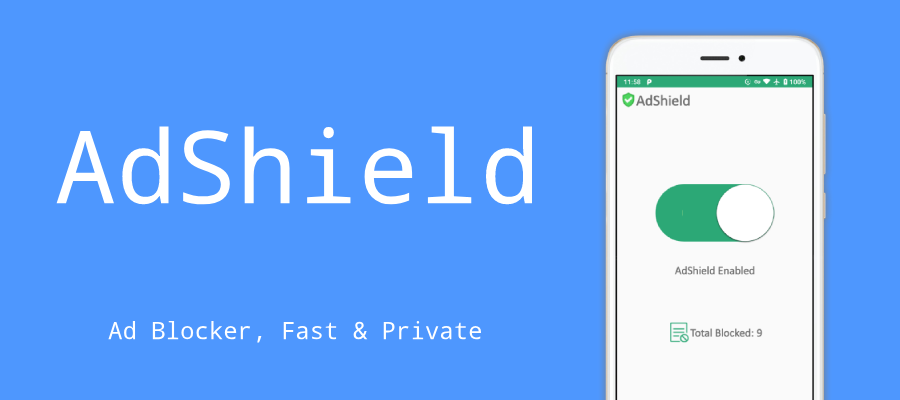 AdShield is an ad blocker and DNS changer that supports Wi-Fi, mobile data, and IPv4 and IPv6, running on your Android phone and tablet.
It can block ads, banners, and adult websites while consuming less data to load web pages.
AdShield adblocker can also prevent advertisers from tracking your behavior and saves battery as well as a data plan. It runs on almost all Android browsers, including Chrome and Firefox.
Note: It's worth mentioning that some advertisers know sophisticated techniques using which they bypass ad-blocking filters and display their ads. So, these apps may not work in that case. However, ad-blocking apps for Android devices launch new features that could combat such types of techniques.
How can I block ads on Android Browser?
If you don't want to install a system-level solution, you can rely on a browser with a built-in adblocking feature to block ads while you browse the internet. This is one of the best methods to keep malicious content at bay because the majority of advertisements pop up on web pages.
Several adblocking extensions are available for Chrome browser, one of the widely known browsers. But, Android browsers come with built-in adblocking features as well.
1. Opera Browser
Opera is one of the best Android mobile browsers that block unwanted ads. The browser comes with a built-in ad-blocking feature that can be activated in the browser's settings.
It simply blocks all kinds of apps and thus speeds up loading times and enhances the overall browsing experience. You can easily unlock ads on any website you want.
Additionally, it includes other features like a free built-in VPN for private browsing. The free VPN for Android doesn't log your activity or collect information, thus further improving privacy and security.
Install Opera Browser on Android device.
2. Brave Browser
It is another privacy-focused browser that blocks ads and trackers by default. The browser comes with its own ad-blocking technology called Brave Shields, which claims to offer a more secure browsing experience.
One can also customize ad-blocking settings according to their preferences. You can also follow our quick guide in case Brave browser stops blocking ads.
3. Vivaldi
It is another Android browser with an adblocking feature. Just go to Vivaldi menu > Settings > Tracker and Ad Blocking > Default Blocking Level and choose between No Blocking, Block Trackers, or Block Trackers and Ads. You can block trackers on all the sites where the ads are intrusive or distracting.
You can change the blocking level for a particular website, while the site is open in the active tab. You can also add sites to the Exception list from the Vivaldi menu. Just tap on the Add New Domain to get started.
Install Vivaldi on Android device
So, these were the top adblockers for your Android devices. If you have any other recommendations. Do let us know.